Pride parade breaks record
Read more below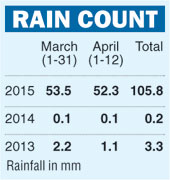 ---
Published 16.07.12, 12:00 AM
|
---
A rainbow descended on the city streets as hundreds of people dressed in thousands of hues took part in the oldest pride walk in south Asia on Sunday afternoon.
The number of participants in the 11th edition of the Calcutta Rainbow Pride Walk touched 1,500, a record.
Only 15 people had participated in the 1999 edition of the walk, the first in Calcutta as well as India.
The participants this year ranged from drag queens and kings and members of the LGBT community to those who support their cause and activists. They made their way from the Hazra crossing to the Academy of Fine Arts, dancing and waving multi-coloured flags to celebrate "diversity in sexuality". Many wore masks, displayed posters and raised slogans to "wave the flag and keep it high".
"The highest number of participants the pride walk had seen so far was about 350. This year, the number jumped to 1,500. It feels like the rebirth of the revolution. It shows that we are strong and we have the power to grow bigger," said Sonali Roy, a member of the organising group, Calcutta Rainbow Pride Festival, and founder of LGBT support group Velvet.
The number of women participants also went up this year. "Last year, women had joined the parade for the first time. About six had turned up for the walk in 2011. This year, 25 per cent of the participants were women," said Sonali.
Sushmita and her friend Sandy, sporting ties and shirts with sleeves rolled up, explained: "We are athletes and always travelling. This year, we found out about the pride walk for the first time, through Facebook. If we can face ourselves in the mirror, then we can face society too. We are not ashamed to be lesbians and happy to know that we have a secure space to voice our choices."
The American Center supported the rainbow pride walk this year. Extending solidarity to the cause were actresses Moon Moon Sen and June and gynaecologist Dipannwita Hazari, who cheered the walkers from atop the float decked out with balloons that was making its way through the crowd.
Scores of people lined the streets to watch the two-hour parade that culminated with songs and distribution of chocolates.