Prayers and human chain on Republic Day
The Preamble to the Constitution was read out after Sunday service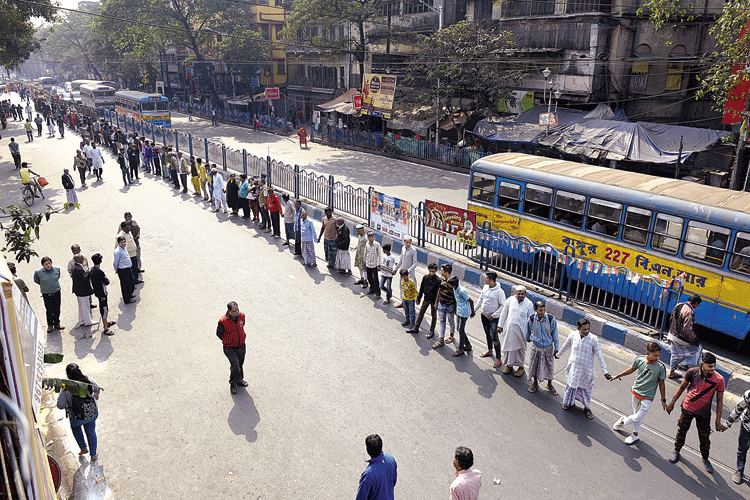 ---
|
Calcutta
|
Published 27.01.20, 08:18 PM
---
Priests, presbyters, parishioners and church-goers across the city prayed on Sunday for those protesting on the streets and those feeling insecure under the present circumstances.
The Preamble to the Constitution was read out after Sunday service in several churches to remind everyone about the principles of justice, liberty, equality and fraternity on Republic Day.
"On the 71st Republic Day, we prayed for all those who are feeling threatened, secluded and living in fear so that God's grace and blessings dispel the fear and they feel assured that all of us stand together as brothers and sisters," said Father Rodney Borneo, priest at St Ignatius Church in Ekbalpore.
Men and women from Nawab Ali Park, a few metres from the church, who have been out on the streets protesting visited the church in the evening to thank the priest and the congregation for keeping them in their prayers and for standing by them.
"We prayed for the nation and extended our prayer to include those raising their voice in protest and for justice to prevail," said Reverend Shreeraj Mohanty, presbyter-in-charge at St Thomas' Church on Free School Street. "We accept the authority of the government but simultaneously feel for the weaker sections if they are in anyway affected by certain policies of the government and we stand by them."
In churches of the Roman Catholic Archdiocese of Calcutta and some churches of the Calcutta diocese of the Church of North India, the Preamble to the Constitution was read out. Archbishop Thomas D' Souza had sent a circular to the parish priests and priest-in-charge of the archdiocese of Calcutta to read the Preamble aloud after Sunday service.
"It (the reading of the preamble) was a beautiful expression of one's own faith in the Constitution. It was not just a reading but reminding oneself and all others the importance of it and follow the principles in the Constitution in our normal life of both ordinary citizens and authorities in charge of the country," Archbishop Thomas D' Souza said.
Over 50,000 people, irrespective of faith, formed a human chain from Golpark to Shyambazar, covering a distance of over 12km, on Sunday. The human chain lasted for 10 minutes from noon.
"People sang patriotic songs or read the Preamble. What came across on Sunday was the spontaneous reaction of the people," said Satnam Singh Ahluwalia, the general secretary of the United Interfaith Foundation-India.