Pous Mela wall against Tagore ideals: CM
Over 5,000 people vandalised a pandal, demolished an iron gate and damaged construction materials to protest against the construction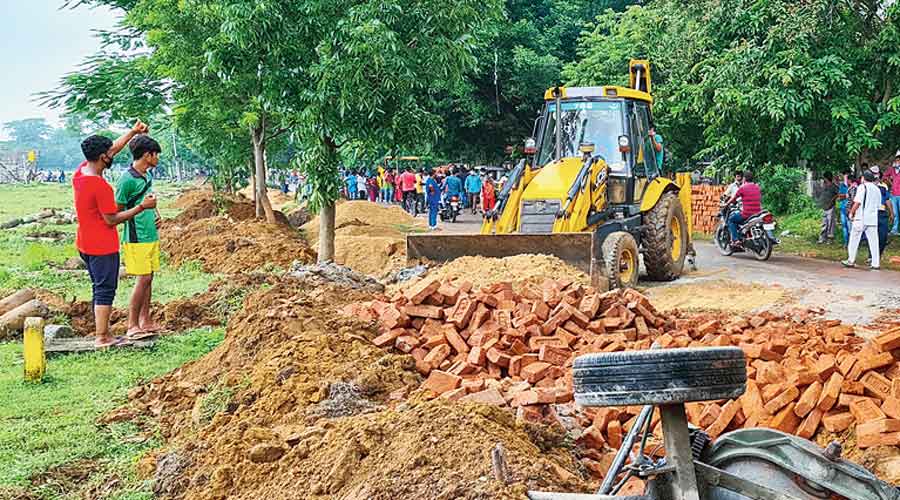 ---
---
Chief minister Mamata Banerjee on Monday said the wall being built by Visva-Bharati on Pous Mela ground went against Rabindranath Tagore's ideals, on a day thousands stormed the construction site to protest against the structure.
The central varsity, whose stand is diametrically opposite to Mamata, announced in the evening the varsity's closure in the wake of massive protests against the wall.
Over 5,000 people reached the Pous Mela ground in the morning, vandalised a pandal, demolished an iron gate and damaged construction materials to protest against the upcoming wall.
Protests had intensified in the past couple of days with many residents, students and traders calling "walls incongruous with the Tagore school of thought".
The developments indicate battle lines between the Trinamul-led state government and the central varsity — of which Prime Minister Narendra Modi is the chancellor — over alleged attempts by varsity authorities to saffronise it.
"I don't want any construction that would barricade the natural beauty of Santiniketan and its red soil," said Mamata at Nabanna, quoting a line from a Tagore song on Santiniketan's idyllic beauty.
"The purpose of Rabindranath Tagore in setting up Visva-Bharati was to conduct academic activities, besides programmes like Basanta Utsav and Pous Mela, in the lap of nature, in the open air, under the trees, amid chirping birds…. He set up Santiniketan as an abode of peace, it wasn't just about construction," she said.
Mamata brought up other issues from the recent past, such as the protest of Visva-Bharati students against a lecture on CAA by Rajya Sabha member Swapan Dasgupta in January, to make it clear that her objection to the varsity's current dispensation's actions was not restricted to the wall alone.
Sources in Mamata's party said she was particularly displeased to know that on Sunday Visva-Bharati authorities had allegedly involved BJP workers, along with 150 varsity employees, as "human shield" against the ongoing protests.
Mamata directed the Birbhum district magistrate to hold a meeting with police, Visva-Bharati VC Bidyut Chakrabarty, students and representatives of residents to resolve the issue peacefully.
In its news release later in the evening, Visva-Bharati said it "unanimously resolved" to close the varsity till the situation improved, citing vandalism on campus on Monday in the absence of police.
Visva-Bharati said it was within its rights to build a fence as a shield against the alleged misuse of the ground.
Birbhum's BJP leaders also claimed that Trinamul supported the violence to defame Visva-Bharati.