Potholes on two highways lead to bumpy ride and commute problems
A large number of vehicles from various south Bengal districts use NH14 to travel to and from north Bengal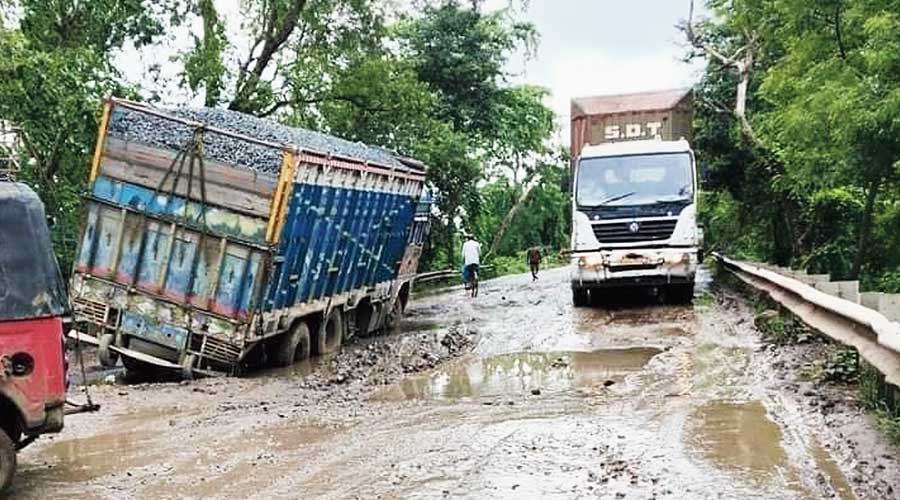 A potholed stretch of NH14 at Nalhati in Birbhum.
Telegraph Picture
---
Behrampore, Suri
|
Published 22.06.21, 01:31 AM
|
---
A 22km stretch of NH14 and a 25km portion of a state highway, both connecting north Bengal with the south of the state, have been lying in disrepair for a year-and-a-half, posing problems in commute between the two regions.
The condition is worse for the 22km stretch of NH14 — from Birbhum's Nalhati to Moregram — which has become potentially dangerous for commuters as it is peppered with countless potholes, some of them 3-4ft-deep.
The 306km-long NH14 starts from Kharagpore in West Midnapore, and ends at Moregram in Birbhum, connecting NH12, the arterial connector for north Bengal. The road also connects Odisha as it merges with NH16 near Kharagpore.
A large number of vehicles from various south Bengal districts, including Birbhum, East Burdwan, West Burdwan, Bankura and West Midnapore use NH14 to commute to and from north Bengal.
Sources in the Bengal public works department (NH) said they had nothing to do with the road as the Centre provided funds for repair and had allegedly been idle with the file since last year. The PWD (NH), which maintains the national highways in Bengal, said despite submitting a plea of Rs 18 crore last year, no fund had been released by the Centre.
"We sought funds from the Centre last year, with a reminder in January this year. But we are yet to get funds. We need huge funds for repair as the condition of that NH14 stretch is beyond regular patchwork," said N.K. Singh, an executive engineer of PWD (NH).
Police officers said it had become a tall task for them to handle traffic following frequent breakdown of trucks.
"It has been crazy trying to handle the traffic on that NH14 stretch. There are two problems — major traffic snarls because of the breakdown of trucks or other vehicles and guarding the goods of those vehicles. Local people have already stopped using the road because of the extremely bad condition," said a senior police officer in Birbhum.
"Thousands of overloaded vehicles plying through the road is one of the factors contributing substantially to the damage," he added.
Those who used to travel in personal cars through NH14 have stopped using the road because of its condition.
"Now I use local roads and take detours of about 20km, simply to reach Behrampore," said Hiranmoy Ghosh, a physician in Rampurhat, who often goes to Behrampore to visit his family.
Bangla Sanskriti Mancha, a social organisation, on Monday wrote to Union transport and highways minister Nitin Gadkari and the state government, seeking immediate repair of the stretch.
"There are hundreds of villages and small towns and people from those areas depend on NH14. Now they are crossing rivers at great risk for shortcuts. We want immediate repair," said Samirul Islam, the president the Mancha.
Trinamul Congress's Bolpur MP Asit Mal met Gadkari six months ago and asked him in writing to allot funds, but in vain. "I am in Delhi. I am likely to meet Gadkari in one or two days. We don't know why the Centre is not sanctioning money for this," said Mal.
Another way to connect to north Bengal is a state highway from Birbhum's Futisanko, near Nanoor. The 65km stretch connects with Moregram to meet the NH12.
Sources said a 25km stretch of the road, known commonly as the Badshahi Road, from Kuli to Futisanko, had become a similar nightmare for commuters. It is a key alternative road and most vehicles from south Bengal, including the Haldia port, use this road to reach north Bengal as NH14 is in a bad shape.
"This road is filled with craters and potholes…. The PWD has already floated a tender and the repairs will start soon," said Rajib Khan, the Murshidabad zilla parishad functionary responsible for public works.