Post-vandalism, a Vidyasagar boom in Calcutta
Demand for icon's statue picks up in Kumartuli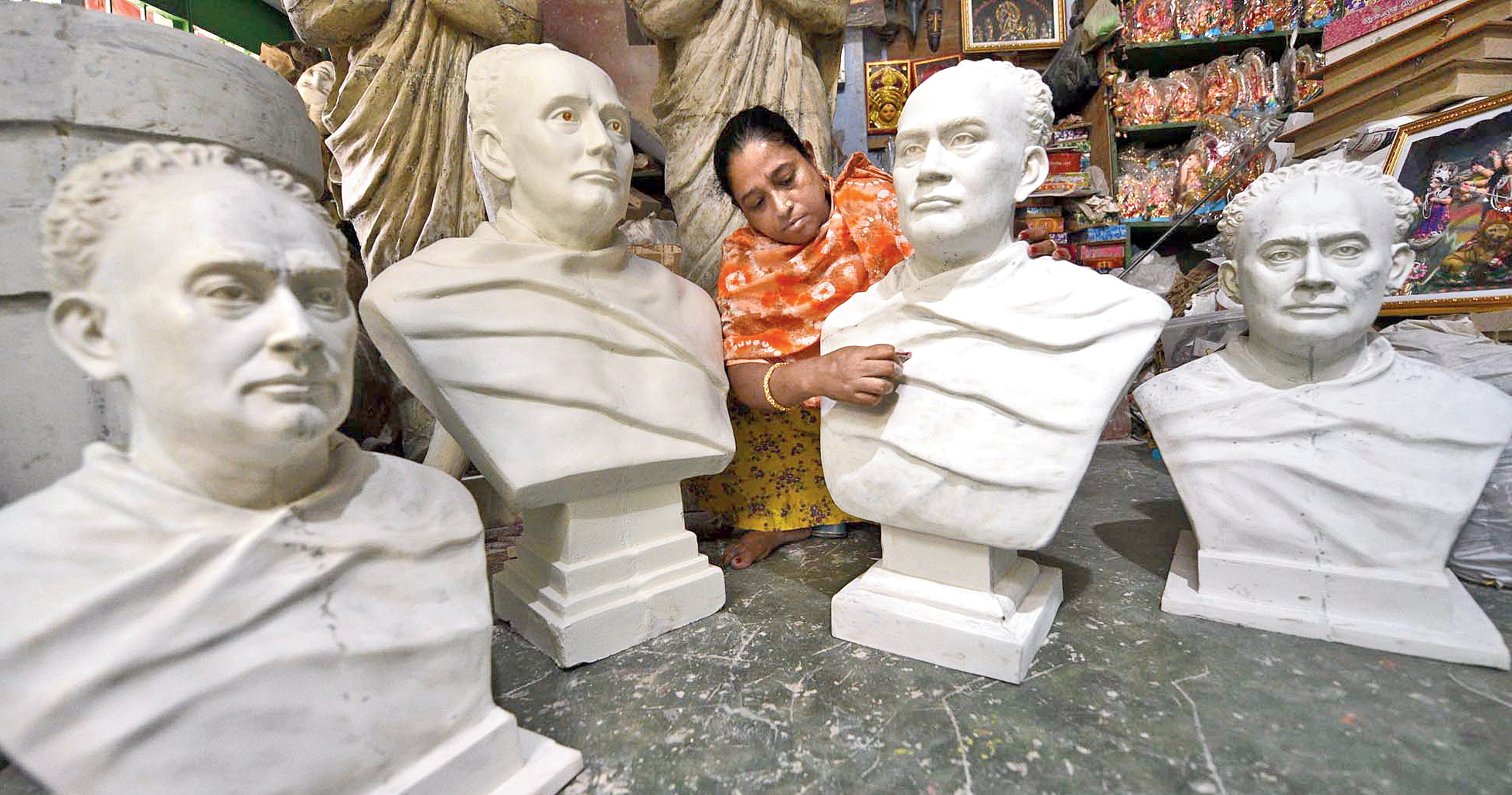 Smritikana Pal with busts of Ishwarchandra Vidyasagar at her workshop in Kumartuli.
---
Calcutta
|
Published 11.06.19, 12:58 AM
|
---
Ishwarchandra Vidyasagar appears to have pipped all other Bengali icons to the post.
Artisans in Kumartuli, the idol-making hub of Calcutta, have been getting an unusually high number of requests to make busts of the Bengal Renaissance icon since a bust of his was vandalised at Vidyasagar College on May 14.
Outsiders had barged into the Bidhan Sarani campus, in north Calcutta, while a rally led by BJP president Amit Shah was passing by and hurled the bust on the ground.
Kumartuli artisans failed to recall the last time they made so many busts of Vidyasagar.
In recent years, statues of Swami Vivekananda were in most demand among all icons of Bengal, but Vidyasagar has overtaken him suddenly.
While the artisans used to get seven to 10 orders to make Swami Vivekananda's statues in a year, two artisans said they had talks with four customers each for making Vidyasagar's busts over the past few weeks and negotiations were under way with a few more.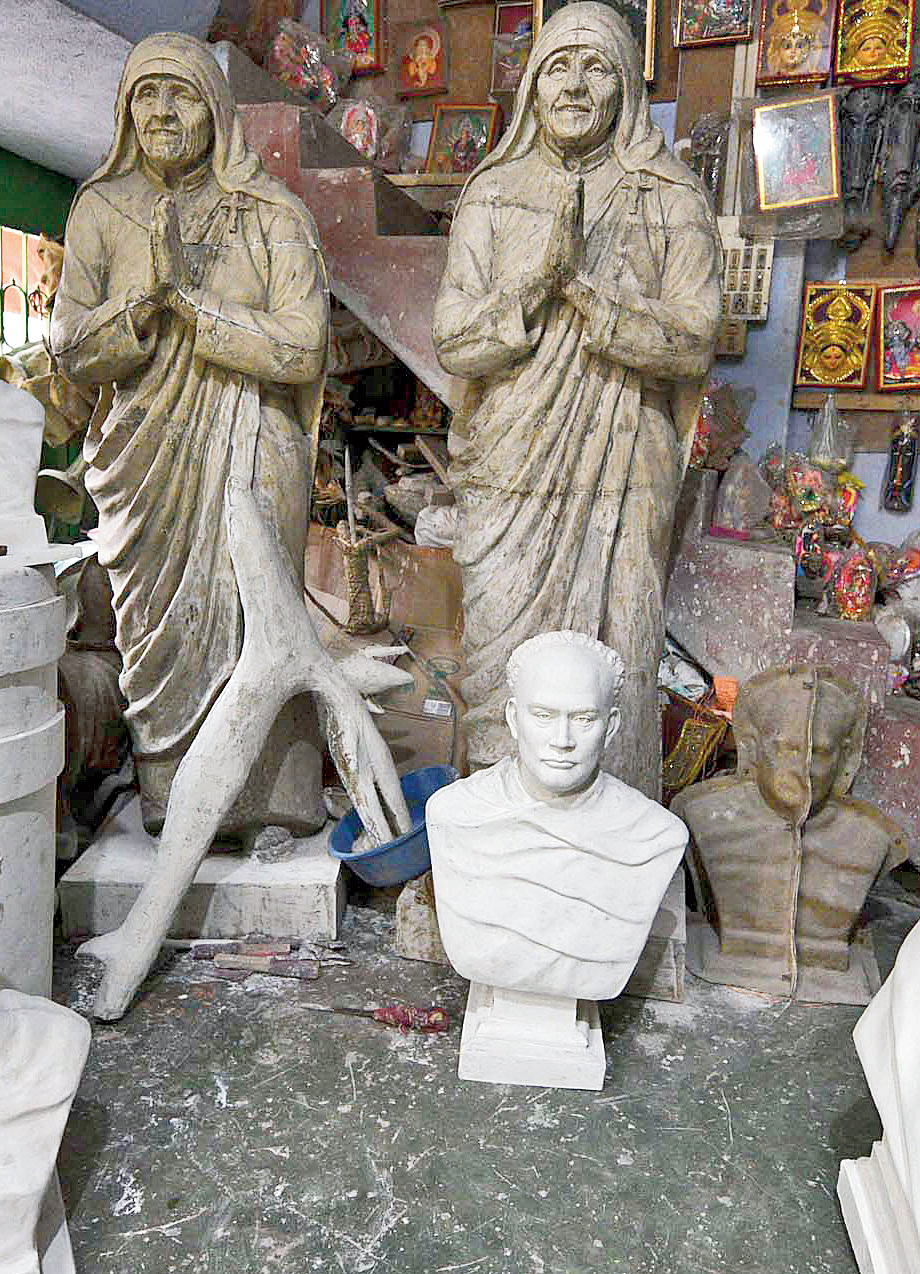 Commissions for Vidyasagar's busts are pouring in from clubs, charities, councillors and even educational institutions.
"I have delivered four busts made of fibre. One of the orders came from a school in Howrah's Domjur. Three others came from clubs, two in Calcutta and one in Jungle Mahal," said Biplab Pal, who helps manage the business of his brother Subol Pal.
Smritikana Pal, another artisan at Kumartuli, said she, too, was involved in negotiations with four customers. "We started making busts of Ishwarchandra Vidyasagar soon after the bust at Vidyasagar College was vandalised. We had anticipated there would be a surge in demand for his busts," said Smritikana, who helped her father, Sunil Pal, make the busts.
Within days Smritikana and Sunil started getting enquiries about Vidyasagar's busts and statues. "We have already made four fibre busts. Negotiations are under way with some parties and we hope to sell them soon," she said.
The price of a 2.5ft-tall fibre bust is around Rs 18,000, while a 5.5ft-tall statue made of fibre is expected to fetch Rs 60,000.
One artisan said a club in Howrah had promised to buy a 5.5ft-tall statue after a few months, by when they hope to create space on their premises for the installation.
Artisans attributed the abrupt rise in demand for busts of the author of Barnaparichay, a primer on Bengali language, to an urge among Trinamul Congress supporters to install them in their localities.
Arup Chakraborty, the councillor of ward 110 of the Calcutta Municipal Corporation, will install a bust of Vidyasagar in Garia's Briji. He hasn't bought it from Kumartuli, though.
"It is natural that any rational individual will feel angry if a bust of Vidyasagar is vandalised. But I will not vandalise a statue or bust of Veer Savarkar in protest. I will voice my protest by installing a bust of Vidyasagar," he said.