Pneumonia jabs await children aged between 6 weeks and 9 months
The initiative has been planned in the backdrop of a large number of kids falling ill with fever in a few districts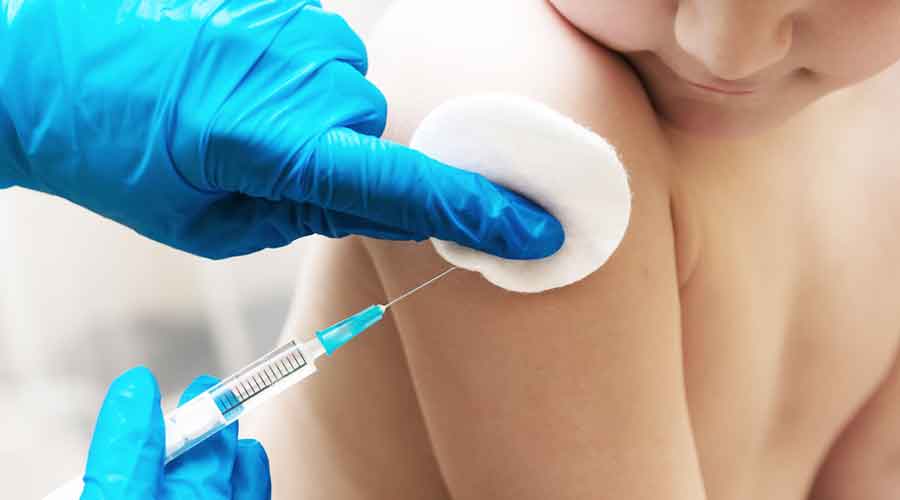 Health department sources have said infants would get their first jab when they are six-weeks old, second at 14 weeks and the final booster dose at nine months.
Shutterstock
---
Bolpur(Birbhum)
|
Published 21.09.21, 02:39 AM
|
---
The Bengal government is set to start its maiden immunisation programme against pneumonia in the second week of October for children aged between six weeks and nine months.
The initiative has been planned in the backdrop of a large number of children falling ill with fever in a few districts. Health department sources said they had already received one lakh doses of pneumococcal conjugate vaccine (PCV) from the Centre and sought another three lakh doses to kick-start the immunisation soon.
"We are ready to administer PCV to infants from the second week of October. Children in the age group of six weeks and nine months will be vaccinated with three jabs," said Jayanta Sukul, additional director of health services looking after expanded immunisation programme (EIP).
Health department sources have said infants would get their first jab when they are six-weeks old, second at 14 weeks and the final booster dose at nine months.
"Hundreds of fever cases are being reported among children from various places in the state and some among them are suffering from pneumonia. We are in a hurry to start the vaccination to protect children from fever-related diseases they are suffering from," Sukul said.
Sources in the health department said PCV was launched in 2017 in the country and several states, including Bihar, Jharkhand and Uttar Pradesh, had already enlisted the vaccine under their Universal Immunisation Programme (UIP). Bengal and Gujarat are among the two states that have decided to launch the vaccination drive now.
Health department data state around 36,00,000 children across the country are affected by pneumonia every year and approximately 70,000 succumb to the disease. In Bengal, over a lakh children suffer from the disease annually and around 3,000 die every year. The vaccination is expected to curb the count of kids getting affected with pneumonia.
The Centre has sent one lakh PCV jabs, which go by the brand name Pneumocil and is manufactured by the Serum Institute of India, to the state and are being preserved at the central vaccine store in Calcutta. "We need at least three lakh more jabs to start the drive in all districts and we hope we will receive them soon," said a senior health official.
As it is a new vaccine and the jab needs to be administered on the right leg of infants, the state health department has started the process of training ground-level health workers.
"We have already completed training of district nodal officers for the immunisation programme. Now, the districts are holding trainings for block and ground-level nurses and health workers," said an official.
Asked about administering the vaccine to children aged over six weeks, the official said such kids would be given the jabs at an interval of two months each till the age of 13 months.
He added the vaccination was expected to help address problems of fever among children in the midst of the Covid-19 pandemic. "If the vaccination for pneumonia starts, we think the number of children reporting with fever issues and pneumonia will drop," said a health department official said.
Paediatric Covid care
The state government has assigned two medical colleges — Bankura Sammilani Medical College and Hospital in south Bengal and Malda Medical College and Hospital in north Bengal — as Centre of Excellence for paediatric Covid care in addition to three other existing facilities.
"The aim is to treat paediatric patient suffering from Covid at these medical colleges," a health official said.