Plea for land to set up research hub
The NBMCH authorities have identified an area of approximately 1,600sqft and approached the health department for permission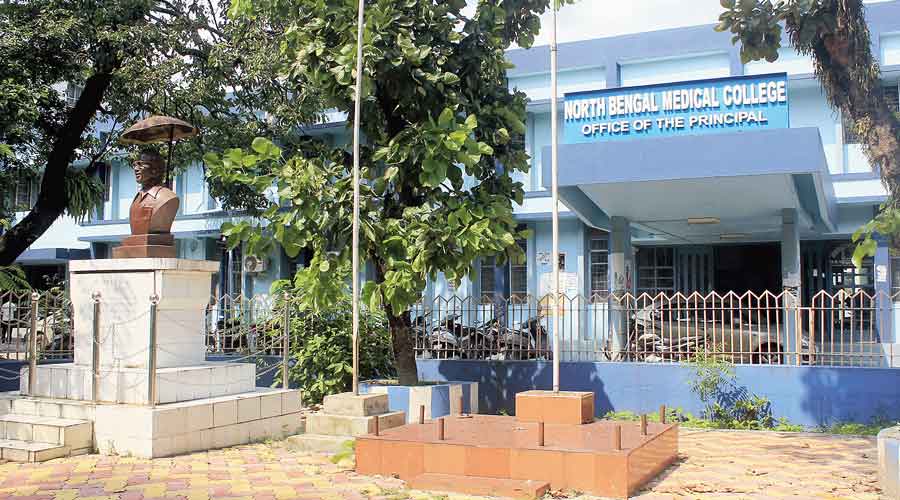 The North Bengal Medical College and Hospital in Siliguri.
Passang Yolmo
---
Siliguri
|
Published 25.11.21, 03:03 AM
|
---
 The ICMR-National Institution of Cholera and Enteric Diseases has approached the North Bengal Medical College and Hospital in Siliguri to set up a second campus.
The Calcutta-based NICED conducts research and develops prevention and treatment and control strategies related to enteric diseases and HIV/AIDS.
Sources said the institution had approached NBMCH a decade back in 2011 seeking land on the Siliguri campus.
"The NICED  had then sought 15 katha land for setting up its second campus here, but the land mutation was pending. Also, there was no boundary wall for the NBMCH campus then," said a source.
Gautam Deb, the chairman of the patient welfare committee at the NBMCH and also the board of administrators at the Siliguri Municipal Corporation, said the NICED was looking for a covered built-up area on the campus.
The new proposal was placed before the NBMCH about a month ago.
"The NBMCH authorities have identified an area of approximately 1,600sqft and approached the health department for permission," said Deb.
The sources said a meeting of NBMCH principal Indrajit Saha, superintendent Sanjay Mallik, dean of student affairs Sandip Sengupta and associate professor of pathology Kalyan Khan had been held recently to discuss the development.
The state government has sanctioned Rs 15 lakh for infrastructure development of a laboratory to test respiratory syncytial virus, adenovirus, enterovirus, H1N1, influenza A, B, parainfluenza 1, 2, 3 and 4 and others, said sources.