Plan for RG Kar Road
Since the closure of Tallah bridge to buses and mini-buses, RG Kar Road has witnessed a sudden surge in the number of vehicles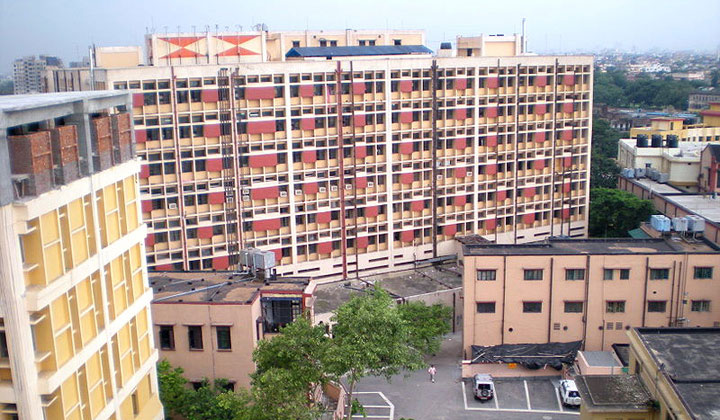 Aerial view of RG Kar Medical College and Hospital
rgkarmedicalcollege.org
---
Calcutta
|
Published 24.10.19, 12:22 AM
|
---
State government has decided to conduct a traffic survey to find out whether a foot overbridge or an underpass can be built near the RG Kar Medical College on RG Kar Road that is now experiencing heavy vehicular load following the closure of Tallah bridge to heavy vehicles.
Since the closure of Tallah bridge to buses and mini-buses, RG Kar Road has witnessed a sudden surge in the number of vehicles that are either headed for Dunlop or Jessore Road. Despite police deployment, what has contributed to the mess is heavy pedestrian crossover near RG Kar Medical College and Hospital.
"We have principally agreed to work out an alternative for pedestrians near the hospital," said a senior officer of the transport department. "Since we are looking at a three-year period before heavy vehicles can again start plying on Tallah bridge, it would be necessary to have some infrastructure for pedestrians around this point."
The gates of the hospital open on RG Kar Road and every day hundreds keep crossing over to the other side where rows of medicine shops are located. "We told the transport minister that this would only add to the mess over the next few months. If some alternative can worked out for pedestrians, vehicles would at least move," said Pradip Narayan Bose, a leader of the bus operators' union in north Calcutta.
Bus operators had flagged their concern at a meeting with Suvendu Adhikari on Monday last. Transport department officials visited the area on Tuesday to understand the mess and how pedestrians could be regulated.
"If we have to think of a foot overbridge then it must have escalators," said an officer. "But before that we have to see out how much of space would be available for it."
A senior officer said once the traffic survey was completed, the government would decide whether CMDA or the Calcutta Municipal Corporation would construct the foot overbridge or underpass.