Plan for AI-based traffic scan
The system will monitor vehicles for any abnormality in the 'driving behaviour'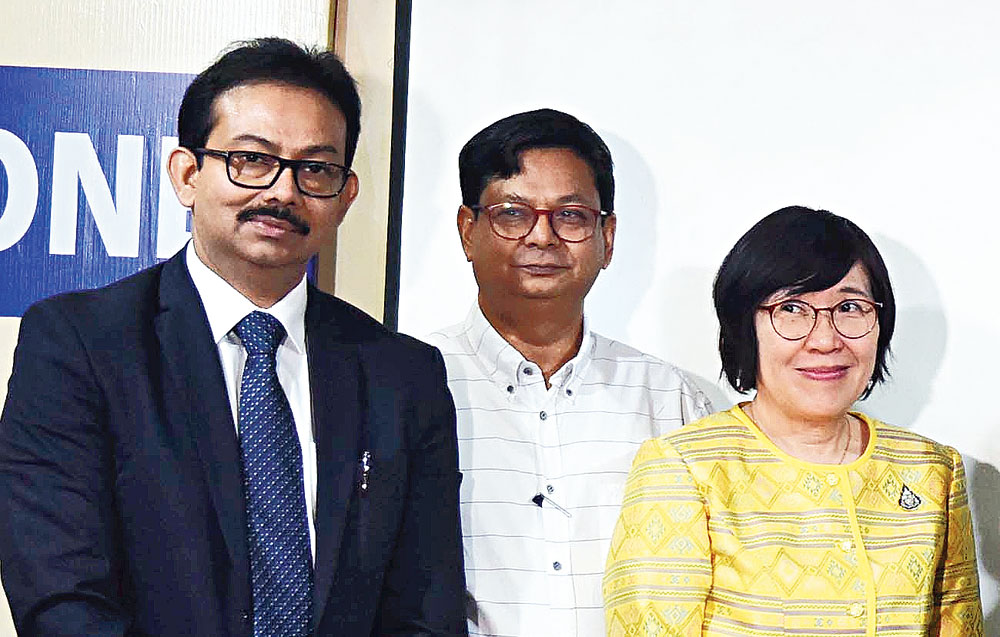 Satyam Roychowdhury and (right) Debashish Sen in New Town on Wednesday
Picture by Gautam Bose
---
Calcutta
|
Published 15.05.19, 08:58 PM
|
---
The state IT department and police are working together to devise a system using Artificial Intelligence (AI) that will monitor vehicles and send an alert to police if there is any abnormality in the "driving behaviour".
Debashish Sen, additional chief secretary, department of IT and electronics, said on Wednesday CCTVs had been installed on almost every major road in Calcutta and whenever there was an accident, the footage made it possible to find the details. CCTV monitoring, however, is not enough to prevent accidents, he said.
The new device being planned aims to upgrade the surveillance using the AI technology so that an alert can be received instantly by the police whenever there is a possibility of an accident, Sen said addressing a programme at a private university in New Town.
For example, Sen explained: "Say, a car is moving at a high speed in a zigzag way. The new device will track the vehicle and send an alert to the police. The irregular driving behaviour could be because the driver is drunk. One can understand and recognise human action using artificial intelligence-based technology. On being alerted, the police at the nearest location can stop the car."
When there is an accident, the existing system only help the police find out "who crashed whom".
"But we can't prevent accidents," he said.
Citing another situation that could result in an accident, Sen said: "Accidents often occur when two cars come closer. The AI-enabled device will track the vehicles if the distance between two speeding cars becomes too less. The device can send an alert immediately and tell the nearest traffic police to stop the vehicles."
Huge data need to be gathered for devising the system to predict accidents, the official said. "It is a huge task. But we are working with the police and the system will be devised soon," Sen said.
Similar AI-enabled devices will be also devised to prevent criminal activities on roads such as snatching and also to ensure better women safety.
The programme where Sen spoke about the government's initiatives to improve the road safety measures was organised by Sister Nivedita University, run by the Techno India group.
The university that was set up a year ago to this day opened a unit on its New Town campus where students studying computer science and engineering will be offered special hands-on training to develop the skill in the emerging technologies.
Satyam Roychowdhury, managing director of the Techno India group, said industry today needed a large pool of professionals trained in emerging technologies like AI, Internet of Things and Machine Learning.