Petrol century blow to north Bengal tourism
Transporters, in particular, are deeply concerned about the upcoming Durga Puja season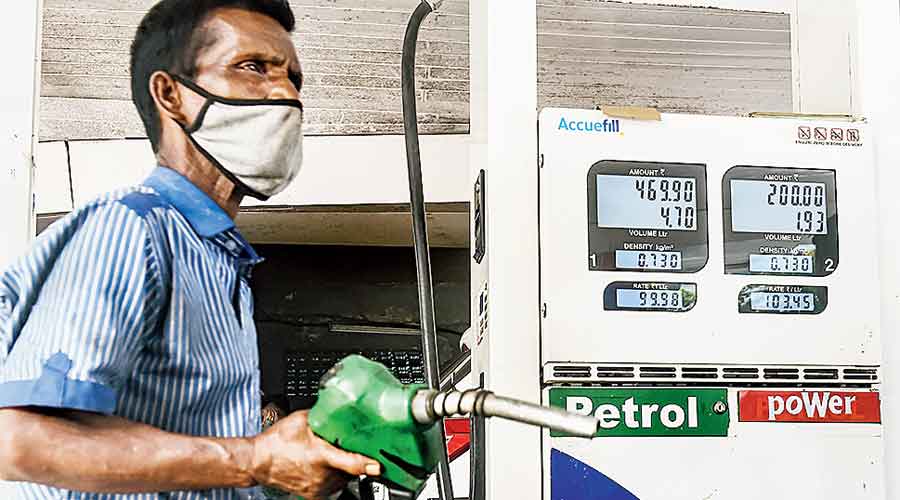 ---
|
Siliguri
|
Published 04.07.21, 01:07 AM
---
Petrol prices in north Bengal stayed above Rs 100 in two districts and the hill subdivision of Darjeeling for the second straight day on Saturday and above Rs 99 in three other districts of the region and in Sikkim, triggering worry for tourism  stakeholders.
Transporters, in particular, are concerned about the upcoming Durga Puja season.
"Thousands of petrol-run small cars ferry passengers and tourists in the region. These cars are the backbone of the tourism sector. Amid the Covid-19 pandemic, the tourism industry has already taken a beating. Now if transport costs increase with fuel hike, there are high chances that it will discourage people from visiting the region," said Jayanta Majumdar, a transporter in Siliguri town, under Darjeeling district where the price of petrol on Saturday was Rs 98.81.
On Saturday, a litre of petrol was sold at Rs 100.48 in Darjeeling hills, followed by Rs 100.10 in the districts of Alipurduar and Rs 100.09 in Cooch Behar. Petrol rate per litre in South Dinajpur's Balurghat was Rs 99.69, North Dinajpur's Raiganj Rs 99.65 and Jalpaiguri Rs 99.08.
In Sikkim's capital Gangtok, the rate of petrol per litre was Rs 99.85.
A senior transporter pointed out that the price of a litre of diesel was also steep, at Rs 93.16 in Darjeeling.
"We are fearful of incurring losses even if tourists start visiting the region, thanks to rise in the prices of petrol and diesel," the veteran said. "These past few weeks, there were some bookings for the upcoming Durga Puja season. Tourists have finalised the total package cost with us. Now if we ask for additional money in the wake of the rise in fuel prices, we doubt how many of them would pay the extra. For the sake of goodwill, we may have to bear the extra cost which will bring down our earnings," he added.
He added that if diesel prices soar, the prices of other food and other commodities, including laundry, that arrive via long-distance will soar too, and hotel, homestay and resort owners will feel the blow.
Private bus owners of the region, who have been permitted by the government to run their vehicles on 50 per cent capacity to avoid overcrowding amid the pandemic, sounded equally perturbed.
"Our fares have not been revised since 2018. Now, we have to follow Covid protocol by limiting the number of passengers at a time the price of fuel is increasing every day. It is unlikely that any passenger will pay us extra unless the state revises the fares," said Plabon Pramanik, secretary, Uttar Dinajpur Bus & Minibus Owners' Welfare Association.
Shatabdi services
The Northeast Frontier Railway (NFR) will resume the services of the Shatabdi Express that links New Jalpaiguri with Howrah from next week, but call it Shatabdi Special. S. Chanda, the chief public relations officer of NFR, said on Saturday that from July 12, the train will follow the same schedule and run through the same route as Shatabdi Express.
NFR sources said the train will run for six days, except Sunday. From New Jalpaiguri (NJP), it will depart at 5.30am and reach Howrah at 1.35pm. On its return, it will depart from Howrah at 2.15pm and arrive in NJP at 10.35pm. The train will stop at Kishanganj, Barsoi, Malda Town, New Farakka and Bolpur-Shantiniketan stations. From July 12, the Jan Shatabdi Express, which runs between Guwahati and Jorhat town, will also resume, the sources added.
Additional reporting by Kousik Sen in Raiganj