Partition left Muslims poorer, says author Ghazala Wahab
She said the backward and the poor had stayed back because they lacked the sense of 'nation'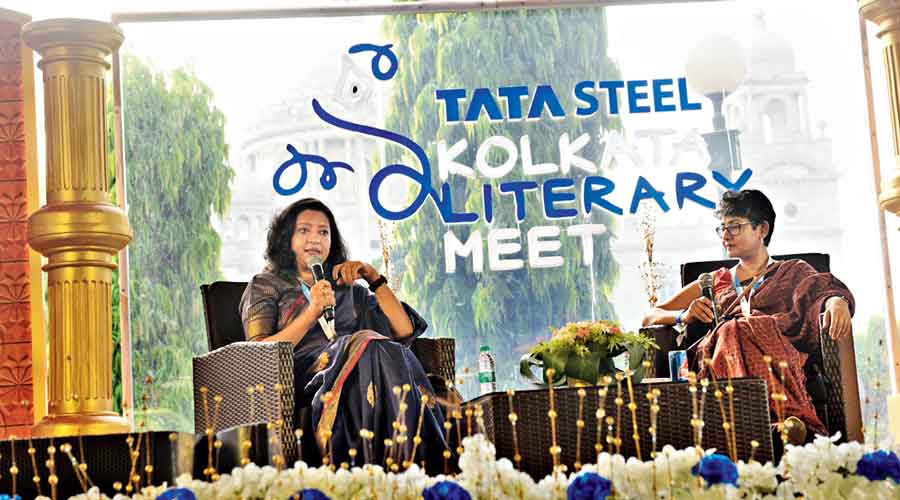 Ghazala Wahab discusses her book Born a Muslim with Jashodhara Chakraborti at the Tata Steel Kolkata Literary Meet (Kalam) on Sunday.
Bishwarup Dutta
---
Calcutta
|
Published 28.03.22, 02:44 AM
|
---
The perception among many in India about Muslims being "backward and unsophisticated" pertains largely to the country's north, which witnessed large-scale migration of educated Muslims during Partition, author and journalist Ghazala Wahab said at the Tata Steel Kolkata Literary Meet (Kalam) on Sunday.
Wahab, executive editor of the monthly magazine Force, was discussing her award-winning book, Born a Muslim, with author and columnist Jashodhara Chakraborti on the sixth day of the event, held in association with the Victoria Memorial Hall and The Telegraph.
Chakraborti said the book talks of the "enormous demographic change" that happened with Partition.
"Effectively, the entire slice of the upper class went to Pakistan. We often don't realise its impact. I would like you to talk about that," she said.
Wahab, who writes on homeland security, terrorism, Jammu and Kashmir, and Left-wing and religious extremism in her magazine, linked the mass migration to the "insecurity" that had gripped educated Muslims in north India in the run-up to Partition.
"You have to put this insecurity in context. For so many centuries, they (Muslims) were the ruling class. They had enjoyed the fruits of power. When 1857 rendered them powerless — because the British came down very heavily on Muslims — they were reduced to the status of supplicants," she said.
"Coming from there onto the freedom movement, they realised that their numbers were suddenly very important. Their numbers were far less than the power they used to wield earlier.
"This added to their insecurity that under the new dispensation, their numbers will not give them any influence in the policy-making of the country. In any way, they will always be on the margins. These were the people who then got together to demand a separate nation for people like them."
Wahab said that the "backward and poor Muslims" had stayed back because they lacked the sense of "nation".
"Muslims of north India, those who were economically backward, stayed back. Because for them, the idea of the 'nation' was their village, locality or mohalla, maximum the district. They had no notion of the larger nation beyond that," she said.
"So, this led to a huge intellectual depletion of the human capital from north India. What was left behind were not only the poor class but also the poor caste, which is why you find that the perception of Muslims as backward, impoverished and unsophisticated largely pertains to northern India."
Wahab added: "This has not been the case in southern India, where you find educated, prosperous and forward-looking Muslims because that entire class did not get displaced."
Caste and Islam
Chakraborti said she was "surprised" to have understood from the book that "caste exists within Islam itself, especially in our subcontinent".
"I would like you to talk a little about that and also the fact that differentiation on the basis of castes does not change with religion; it is all-pervasive," she said.
Wahab said all human societies had a class system and Islam was no different.
"When Islam came to Arabia, there was a very strong class system. Some tribes were considered superior to others. With this baggage, when Islam came to India, class consciousness very easily moulded into the caste consciousness that existed in India," she said.
"When upper-caste Hindus, a Brahmin or a Kayastha, converted to Islam, they were automatically accepted as upper-caste Muslims. But when a lower-caste Hindu converted, a new caste was created for the lower castes. So, the caste system among Muslims is ported. It is a lateral induction.
"The caste system in Islam is a very sub-continental feature. But, thankfully, it has not led to untouchability. You do not find caste violence. What it does is that it reinforces the existing class prejudice. Someone from a lower caste will have lesser access to better housing, better education, better employment and better possibilities of marriage."
Impetus
"What was the impetus for writing this book? The reason I am asking this is that it is not a very emotive book," Chakraborti said.
"It is on a very emotive topic but the nature of the book is informative, crisp, data-oriented and really targeted to dispel a lot of ignorance."
Wahab said she had "realised that there was so much misconception about Islam among the Muslims as well".
"I felt I needed to tell fellow Muslims that you know nothing about your own religion. But while I set about to do that, I realised there was a lot of misunderstanding, born of prejudice, (about) Islam on the other side," she said.
"Educating Muslims would be only a job half done. I was hoping to build some sort of a bridge of conversation among Hindus and Muslims of India so that they understand each other better."