Partho's fleeting pursuit of happiness
He would drive his Maruti Esteem to Calcutta Club and Tollygunge Club once in a while. He had started posting pictures with friends on Facebook.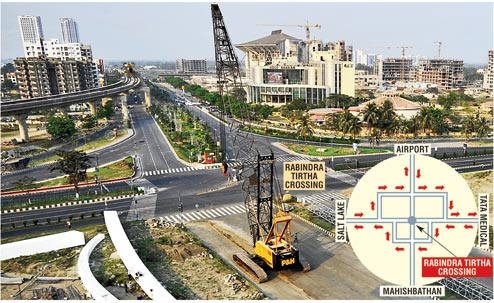 ---
Published 22.02.17, 12:00 AM
|
---
He would drive his Maruti Esteem to Calcutta Club and Tollygunge Club once in a while. He had started posting pictures with friends on Facebook. He would regularly go swimming to try and shed the weight he had put on lately. He would pray at St. Ignatius Church in Ekbalpore every Sunday. To those who knew Partho De, he appeared to be putting the horrors of his past behind until the shock of his suicide on Tuesday. Metro spoke to some of those who were part of this new phase of Partho De's life to find out if anybody knew what was brewing in the mind behind that seemingly happy face
---
CHURCH & MISSIONARIES OF CHARITY
Partho's pillars of support from June 2015 till his death on Tuesday
Mita Mukherjee met members of the Missionaries of Charity and the Christian community to know about the life Partho lived for almost a year before his death
He maintained an immaculate apartment in the residential complex in Watgunge where he had been staying since last year. He had a pest control team come over last Saturday and spent most of the day supervising the work. On Sunday, he went to St. Ignatius Church, as usual. He was joyful. He participated in the prayers and spent the whole day engaging in various activities before returning home.
Partho had made several new friends in the community over the past few months. They included teachers, professionals and priests. "He was no longer the man we saw at Calcutta Pavlov Hospital almost two years ago. He was bubbling with energy most of the time," said one of these friends.
The 46-year-old loved chatting with friends over snacks and cups of coffee. "Let's celebrate with Pizza," he had texted a friend recently.
He had a busy social calendar, seldom hesitating to accept an invitation. "He had recently attended the wedding anniversary of an elderly friend and thoroughly enjoyed himself," a confidant said.
Partho used to write regularly, sometimes till 11 in the night. He had completed writing his autobiography and the Missionaries of Charity was helping him get a publisher.
He had lately expressed a desire to find a "supportive companion, get married and have a family so that he could live a normal peaceful life", the confidant said.
Although long out of hospital, Partho was still on medication. "He never missed his medical check-ups," a friend said.
Partho had been volunteering at a centre for development and growth near Jadavpur where he had himself undergone treatment. He was to demonstrate some exercises to the members on Tuesday but sent his attendant instead with a pen drive containing a video.
---
TURNING POINT
A mental rehabilitation centre that Partho De had joined and become an integral part of
ISHITA SANYAL, the director of the NGO, tells Chandreyee Ghose how Partho craved respect and love as he strove to give his life a new direction
I knew Partho for over a year and he always came across as a very smart and polite person. I am visiting Vienna at present and the minute I switched on my phone, a flurry of messages flooded my WhatsApp messenger. "Partho chole gelo (Partho has left us)," said one and for a while I thought he had left a Turning Point session midway and gone home for the day. He could be whimsical at times. But a few messages later, the shocking news hit me.
Partho was much loved by all members of our NGO since the time he joined us. He would come for counselling once a week. Gradually, he started participating in all the events that Turning Point organised. We had recently organised an event with 21 city schools at Birla Industrial and Technological Museum. It was Partho who did all the coordinating. He was happiest while working. He was polite to all and very sincere with all the administrative work that he was given. He was very Internet-savvy too. All he wanted was respect. The negative publicity regarding the death of his family members had bogged him down. He often wondered if he would always be the victim of negative curiosity or get recognised for the good work he was doing at Turning Point.
Too much curiosity about his life bothered him. And there was no dearth of curiosity about his life after the death of his father and sister became public.
He also missed his family terribly. He wanted the love and care that a family provides. He was very happy and energetic during an office picnic on February 10. He, in fact, took the initiative to organise regular workout sessions for all Turning Point members. He said everybody needed to lose weight, just as he was trying to do. He had recently finished writing his autobiography. I got to read it and praised him for the effort. He was so happy to be appreciated.
---
DOCTOR
The professional to whom Partho revealed his innermost fears and anxieties
Neuropsychiatry consultant SABYASACHI MITRA, who had treated Partho, spoke to Jhinuk Mazumdar about his clinical condition
Partho had an illness called schizoaffective disorder, which is a combination of schizophrenia and mood disorder. In India, 8 to 10 persons per 100,000 commit suicide every year and the commonest cause is depression.
The risk factors are previous suicide attempts, history of substance abuse, family history of mental disorder, family history of suicide and exposure to suicidal behaviour of others. The last three were there in Partho's life.
The impending signs of suicide include always thinking and talking of suicide, commenting on hopelessness and helplessness, putting affairs in order and calling or visiting to say goodbye. But Partho showed no impending signs of suicide.
There are situations where acute stress leads to an immediate, impulsive decision to commit suicide. Depressed patients usually kill themselves on the way to recovery, because in a condition of acute illness the patient does not have the mental cognition to plan this event.
Partho had been attending social therapies - learning computers, teaching English to a bunch of students and also planning to join some kind of training that would allow him to do a job. He was coming out of it; so the suicide was not anticipated.
It could also be that he realised what he had gone through with his family and felt dejected, tired, helpless, mentally shattered, and that might have pushed him to take this decision.
The doors (of the bathroom, bedroom, main door) were not bolted, so the police should also investigate whether there was foul play.