Parking racket in Sector V
The rates keep increasing as the day progresses and at night they charge anything between Rs 50 and Rs 200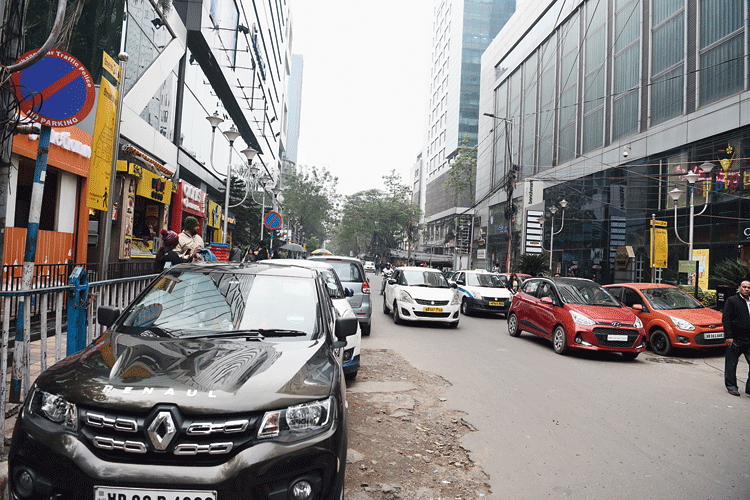 ---
|
Calcutta
|
Published 05.01.20, 11:35 PM
---
Parking rackets thrive with impunity in Sector V, owners of many cars and two-wheelers alleged.
People who visit the tech township for work or to eat in any of the gastro pubs or restaurants in the area are allegedly forced to cough up an exorbitant amount as parking fee.
The rates keep increasing as the day progresses and at night, parking attendants — or the ones posing as parking attendants — charge anything between Rs 50 and Rs 200.
The parking rates fixed by the Nabadiganta Industrial Township Authority (NDITA), which looks after the civic amenities in Sector V, are Rs 10 an hour for four-wheelers and Rs 5 an hour for two-wheelers. Metro failed to spot any board announcing the rates.
Most of the "parking lots" in Sector V are on main roads, where "No Parking" boards have been put up. The illegally parked cars constricted the carriageways, triggering bottlenecks.
This newspaper visited several such illegal parking zones on Sunday and found that attendants were charging Rs 20 to Rs 50 an hour.
An agency has been awarded the contract to collect parking fees in the demarcated parking zones in Sector V, an NDITA official said. These parking lots are near the Philips intersection, on a stretch near the College More crossing and near the RS Software bus stop.
NDITA chairman Debashis Sen said: "We have been receiving complaints that the agency is charging extra in violation of rules. We will hold a meeting with the police and take action."
Deputy commissioner, headquarters, Bidhannagar commissionerate, Kunal Agarwal, said they would conduct "special drives" to tackle the problem.
This newspaper spotted an array of cars around the RDB Boulevard in EP-GP block, which is a no-parking zone.
"A man took Rs 200 for my Hyundai Verna that was parked for three hours. They threatened me when I asked them to show the rate card," said Subhashis Chakraborty, a Salt Lake resident.