Parashuram's word perfect script in rare book
Original Manuscripts of Bengal's great humorist plus illustrations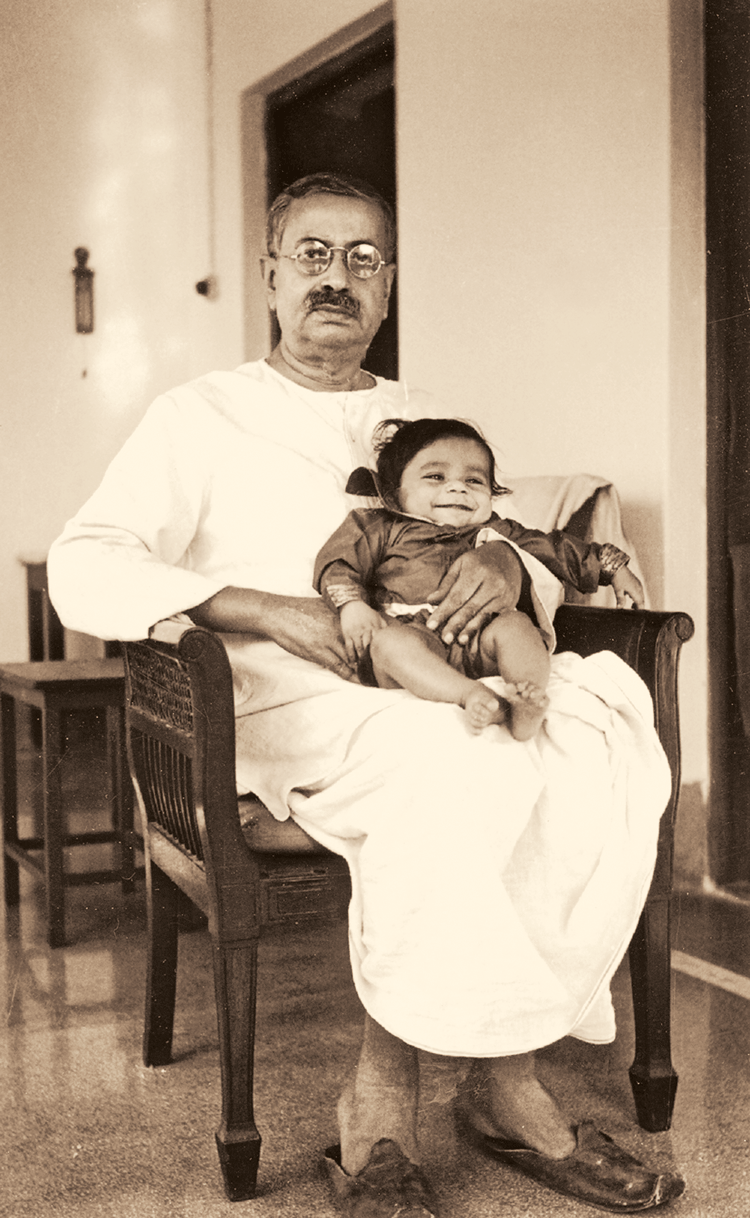 A rare photograph of Parashuram with his great grandson, Dipankar
Sourced by The Telegraph
---
Calcutta
|
Published 31.12.19, 02:55 AM
|
---
Literary pictorial books in Bengali are a rarity. Literary pictorial books that present the manuscripts of great authors in their original handwriting along with the illustrations that went with them are a rarity in any language.
So, the recent publication of five of Parashuram's renowned satirical short stories under the rubric, Gaddalika Prabaha, in the author's error-free cursive hand — each letter perfectly formed like a row of pearls — plus a wealth of related material is reason enough for celebration. Rajshekhar Basu wrote under the pen name Parashuram.
This rare well-produced publication owes its existence to the collaboration of the triad — Parimal Ray, collector of ephemera, who at 85 toiled for one-and-a-half years setting the crumbling and dusty manuscripts in order; Dipankar Basu, also an octogenarian, who is the great grandchild of Parashuram (on the distaff side); and Kazi Anirban, who was responsible for its lavish production. The project was supported by sculptor K.S. Radhakrishnan.
As if Parashuram's original manuscript was not enough, the publishers have included all the original illustrations by Jatindrakumar Sen along with Parashuram's sketches, which inspired Sen to do the comical, occasionally cartoonish, drawings. Hence the sub-title, Parashuram Bichitrita: Jatindrakumar Sen Chitrankita, whose meaning roughly translates into Picturised by Parashuram: Illustrated by Jatindrakumar Sen. Rabindranth's rare review is presented in the poet's own handwriting here. To add to this embarrassment of riches is the script of Abanindranth Tagore's jatra (folk theatre) based on Bhushandir Mathe, once again in his own hand. Gaddalika means a female bellwether and Rabindranath perhaps added the word prabaha (stream) to its title because the coloured cover illustration of the eponymous collection of short stories showed an unending flow of humanity led by the scamsters, saffron-clad godman Shyambabu along with Ganderiram Batpariya, the dhotied and turbaned businessman with a porcine snout.
Parashuram's humour spared none, least of all Bengalis, but in these politically correct times, his digs at people from neighbouring states would not have been appreciated, although in the past it was quite a regular thing to do so.
This is not the first time Parimal Ray and Kazi Anirban have published the manuscripts of Rajshekhar Basu. They began with publishing a facsimile of Hitopodesher Galpo, entirely written in Rajshekhar Basu's bold hand. It was meant to be a gift for his great grandson, Dipankar Basu, when he was six in the year 1943. The second was a facsimile copy of the hand-written Srimad Bhagvad-Gita, which Rajshekhar never meant for publication.
Parimal Ray and Kazi Anirban had stumbled upon Dipankar Basu's treasure trove of his great grandfather's dusty, moth-eaten and mouldering manuscripts when they published a calendar featuring the covers of the magazine Sandesh, on its centenary in 2013.
It was first published by Sukumar Ray and later revived by son Satyajit. In spite of Dipankar's initial resistance, Parimal Roy's persistence won him over. Rajshekhar Basu had moved from his ancestral home in Parsi Bagan near Maniktala to his own house in Bakul Bagan in 1935, and although he bequeathed his property and manuscripts to Dipankar, he had enjoined that his manuscripts be left untouched. Which they were, till they were resurrected of late.
There were several gaps in the material Parimal Ray discovered, and to fill up the lacunae, he sourced material from others. This book is crammed with other memorabilia and rare photographs and sketches too. There are photographs of the author with his wife, but the most remarkable one is that of Rajshekhar Basu beaming with a giggling baby Dipankar on his lap. Scholars would love to dig into this literary treasure house.
Like Abanindranath Tagore, Parashuram "wrote pictures" in every sense of the term. The book reveals that Parashuram had a talent for making sketches although he was never trained. Parashuram's rough sketches of many illustrations were proof of his skill.
Parashuram was the nom de plume of Rajsekhar Basu (1880-1960), the great Bengali humorist, linguist, essayist, lexicographer and translator of both the Ramayan and the Mahabharat into demotic Bengali.
In his capacity as a chemist, he headed Bengal Chemicals. But when he wrote his witty and satirical short stories, the unsmiling writer, who made others guffaw but never did so himself, preferred to use his pen name Parashuram. His humour is like a whiff of sal volatile, awakening our senses to the ludicrousness of human behaviour and our hypocrisy.
No wonder Parashuram still rings true. Parashuram was not savage like Jonathon Swift. His laughter was genial. Yet the thrusts of his rapier-like wit were too keen to be ignored.
Rabindranath rarely reviewed books. But when he received in 1925 Rajsekhar Basu's first publication, Gaddalika (as this collection of five humorous short stories was originally titled), under the assumed name of Parashuram, he was so "startled" by its brilliance that he broke his self-imposed rule and sang its praises, curiously renaming it "Gaddalika Prabaha".
Rabindranath described the unknown writer as the creator of a "picture gallery of characters" and was particularly impressed by the denizens of the netherworld that Parashuram had invoked in Bhushandir Mathe and the goat (Lambakarna) who ate currency notes and rose bushes with equal relish. He felt it was a perfect union of Parashuram's words and Jatindrakumar Sen's pictures.
Of the five short stories of Gaddalika, the manuscripts of three — Chikitsa Sankat, Lambakarna and Bhushandir Mathe — were almost intact. Only five pages were missing from Chikitsa Sankat, and Dipankar Basu copied them himself as his handwriting came close to that of his great grandfather.