Pages and pieces of freedom of an artefacts collector's pride
Arup Ray is an artefacts collector with a keen interest in the history of armed struggle in pre-Independence India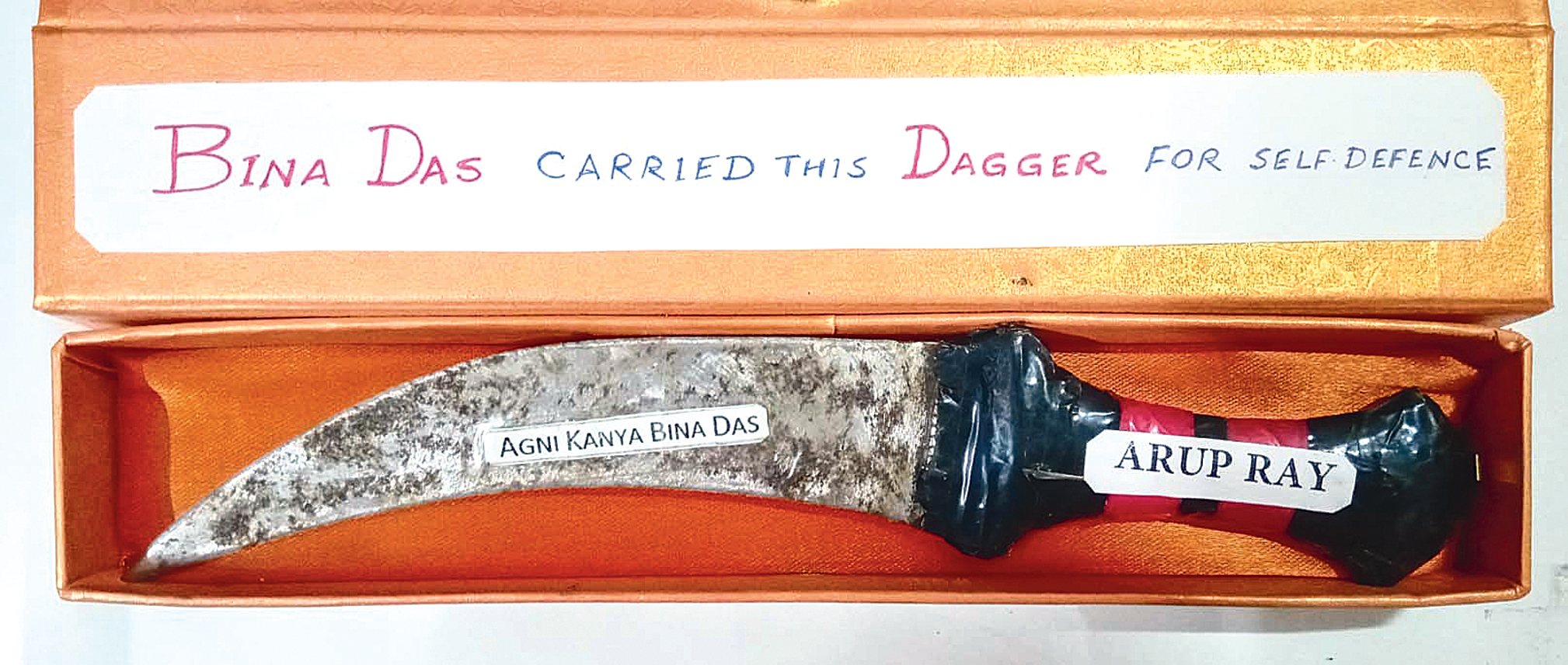 ---
Calcutta
|
Published 11.08.19, 10:32 PM
|
---
The flame of patriotism was kindled early in Arup Ray. At an age when children listen to lullabies, he heard his mother narrate stories of India's freedom struggle.
Ray, now 68, is still a keeper of that flame. An artefacts collector with a keen interest in the history of armed struggle in pre-Independence India, his greatest treasure is his collection of books and memorabilia about revolutionaries.
Freedom fighters of the likes of Ganesh Ghosh, Haripada Bhattacharya, Saroj Kanti Guha, Sailesh Roy, Kalikinkor Dey, Bireswar Roy, Kiron Sen, Bimal Dasgupta, Provansu Paul, Bina Das Bhowmick, Suniti Chowdhury Ghosh, Ujjala Majumder Rakshit Roy and Jibantara Halder have all been interviewed by Ray.
A visit to Ray's Tollygunge apartment in Calcutta allows a look at personal belongings of many of these freedom fighters. From Ganesh Ghosh's personal letters and hand-written manuscripts to the dagger that Bina Das Bhowmick kept with her for self-defence and from the copy of Max Mueller's Ramakrishna, His Life and Sayings that Kamala Dasgupta used to read in Hijli jail to the wedding ring of Binodini Sen, the collection boasts many a treasure.
"My interest in the Independence movement was not born all of a sudden. As a child, I was well aware of the lives of Khudiram Bose, Bagha Jatin, Masterda Surya Sen, Rash Behari Bose and Netaji. I also came to know about the heroic battle between Bagha Jatin and the British in Baleswar and the Chittagong armoury raid by Masterda's army. One day, my mother told me about the brutal massacre at Jallianwala Bagh," Ray recollected.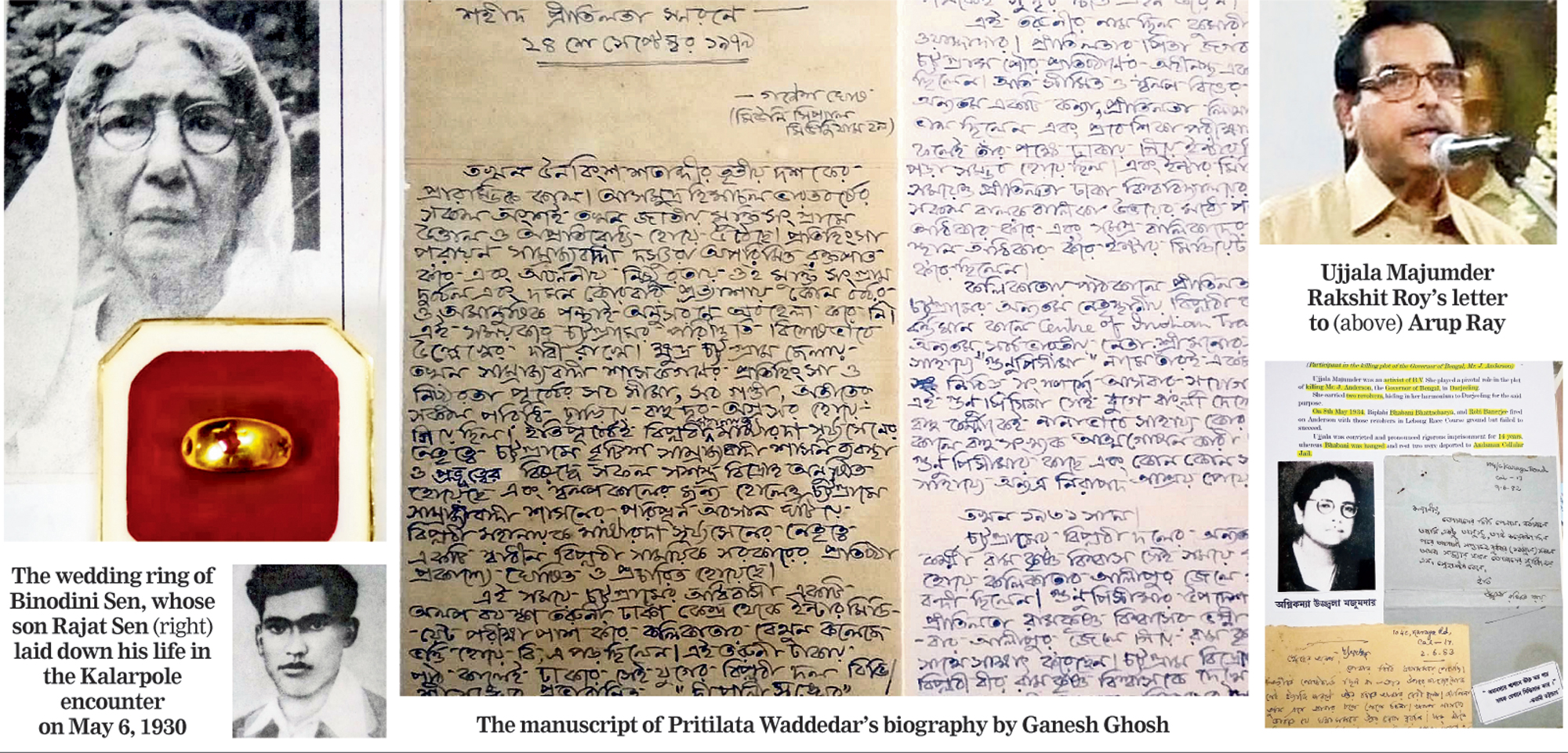 His father Chandi Charan Ray, an officer in the Royal Indian Navy, gifted him books on the lives of martyrs.
But Ray's journey as a collector began with philately. "One day while going to school, I picked up a stamp from the footpath of Cornwallis Street and kept it inside a book. Now I have roughly 12,000 stamps in my collection," he said.
After graduating from Calcutta University, Ray joined the pharma industry. "I started buying books on our freedom movement and built a mini library at home. While reading Sailesh Dey's Ami Subhas Bolchhi, I came across the names of many ex-revolutionaries and started looking for them," he said.
Ray met Dey in August 1981 and the latter gave him the addresses of freedom fighters. It was Dey who advised Ray to meet Ganesh Ghosh, one of the leaders in Masterda's army who played a key part in the Chittagong armoury raid, first.
"I reached 15 Jadu Bhattacharya Lane and knocked on the door. Ganesh Ghosh himself opened it and asked me who I wanted to meet. For a moment, I could not trust my eyes that this tall man standing right before me had been the nightmare of the British and spent as many as 29 years and six months in various prisons, including the cellular jail in Andaman," he said.
Ray has since met more than 70 freedom fighters and interviewed many of them.
"I used to carry a cassette recorder to tape the conversations. Many of these revolutionaries gifted me books read by them and some personal letters as well. I have many such books with censored seal marks of various jails, handwritten manuscripts, biographies, weapons, ornaments, autographs, original photos, posters and paper cuttings in my collection," Ray said.
Ghosh advised Ray to join the Biplab Tirtha Chattagram Smriti Sanstha, a philanthropic organisation of which the freedom fighter was the founder president. It was formed by the members of Masterda's army. "I became its executive member in 1982, and since 2010 I have been its joint secretary," said Ray, who retired after serving 39 years in a French pharmaceutical company looking after sales and marketing.
Ray, a science student, feels his knowledge of history is inadequate. "I must acknowledge my huge debt to notable historians such as Chinmohan Sehanavis, Nisith Ranjan Ray and Amalendu Dey, who not only guided and helped me, but also taught me how to study and deal with history," he said.