Other income paths for closed garden workers
There are four closed tea estates — Raipur, Dharanipur, Redbank and Surendranagar — in Jalpaiguri district. Another 15 tea estates, struggling to continue production, have also been identified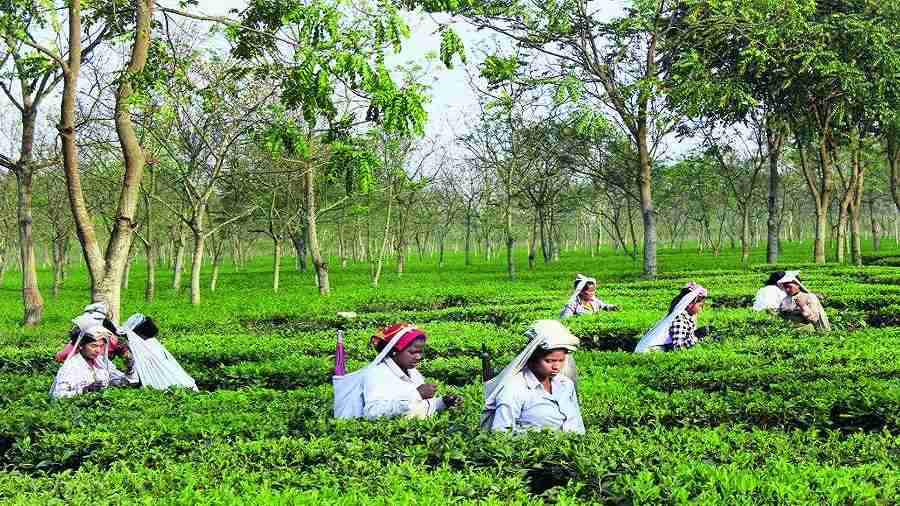 AID PLAN: Officials of the Tea Board of India have been told to come up with some assistance for population that dwells in tea estates
File Picture
---
Jalpaiguri
|
Published 25.06.22, 03:23 AM
|
---
Officials of the Jalpaiguri district administration have drawn up a plan to support workers of closed and sick tea estates in the district and provide them assistance to earn a living through alternative means.
The task force that has been formed in the district to work for these gardens held a meeting at the district magistrate's office on Friday. Officials of the state labour department were instructed to try and facilitate the reopening of the closed gardens.
There are four closed tea estates — Raipur, Dharanipur, Redbank and Surendranagar — in Jalpaiguri district. Another 15 tea estates, struggling to continue production, have been identified as sick.
"In Raipur (on the outskirts of Jalpaiguri town), the animal resource department is providing assistance to workers so that they can run piggeries. Similarly, in Redbank, a number of ponds have been dug to encourage pisciculture. These can provide alternative earning options to garden workers who are jobless for years now," said Moumita Godara Basu, the district magistrate.
She said around 1,000 self-help groups of women and
200-odd SHGs of men have been formed in these 19 tea estates.
"Our officers working in the blocks, and representatives of different state departments, will interact with these groups to know their plans so that the members can make a livelihood. Once we get the details, appropriate assistance, including financial help in the form of loans, will be extended to them," the DM added.
At Friday's meeting, officials of different departments like food and supply, power, PHE and health were instructed to keep a tab on these tea estates and ensure that none of the residents face any problem in receiving services and assistance, which include food grains through the public distribution system, drinking water, power and health care.
Sources in the administration said that during the meeting, officials of the Tea Board of India, which functions under the Union commerce ministry, were told to come up with some assistance for the population that dwells in these tea estates.
"Representatives of the tea board, however, said that they do not have funds or schemes for the tea workers and their families and right now and that the board is focusing on the small tea sector. This left the administrative officials disappointed as the state has been doing a lot for these people while the Centre and its agencies like the tea board, are sitting idle," said a source.