Opposition ire at thank-you rally
BJP claims credit for Unesco tag, CPM sniffs bid to shift focus from scams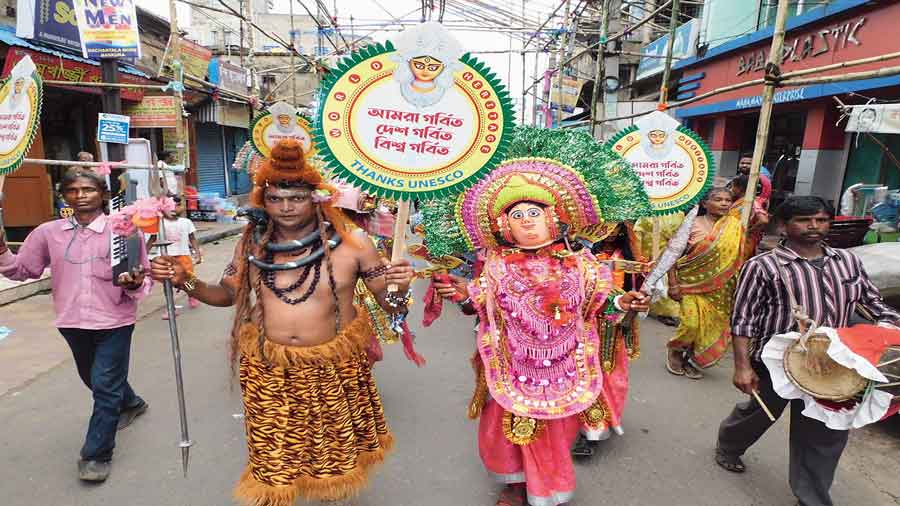 A rally celebrates Unesco's recognition to Calcutta Durga Puja in Bankura on Thursday.
Rupesh Khan
---
Calcutta
|
Published 02.09.22, 02:23 AM
|
---
Chief minister Mamata Banerjee's rally on Thursday to thank Unesco for adding Calcutta's Durga Puja to its list of "intangible cultural heritage" prompted the Opposition to accuse the Trinamul chief of trying to shift focus from "scams".
The BJP claimed credit for the Unesco tag. Party spokesperson Samik Bhattacharya tried to prove that the entire process of the recognition was initiated by the Union ministry of culture through the Sangeet Natak Akademi.CPM state secretary Md Salim equated Prime Minister Narendra Modi and Mamata by alleging both claimed credit for anything good.
He questioned traffic curbs leading to "public harassment" in central Calcutta because of the rally."Government employees aren't receiving DA, infrastructure is in a shambles. The chief minister organised this procession to shift focus from corruption. She (Mamata) played politics with people's emotions," Bhattacharya said.
Bengal BJP chief and MP Sukanta Majumdar shared a post on his Facebook page that claimed that the Unesco recognition was the fruition of a joint effort of academic and cultural historian Tapati GuhaThakurta and the Union ministry of culture.The post cites GuhaThakurta as the director of the Centre for Studies in Social Sciences, Calcutta (CSSSC), and former professor of the Presidency University. Majumdar also accused Mamata of "stealing" credit due to GuhaThakurta.
The CPM's Md Salim also accused Mamata of "snatching" GuhaThakurta's glory."Her (Mamata) image is being tarnished on one hand by coal smuggling, cattle smuggling, gold smuggling scams and on the other by recruitment and other corrupt practices of her government. This is why she tried to bring the light of Durga Puja a month ahead to cleanse herself," Salim said at a news conference on Thursday.
"She (Mamata) is behaving as if nobody knew the importance of Durga Puja till she was born or came to power. She is trying desperately to bask in reflected glory," Salim said.However, GuhaThakurta told journalists that she had resigned as the CSSSC director five years ago and was never a professor at Presidency University. "It will not be right to say that credit due to me has been stolen, because all stakeholders are aware of the work we did.... It is also untrue that the government of West Bengal was unaware of the issue," said GuhaThakurta, who was felicitated by the state government on the carnival stage on Thursday.
Salim, however, took a dig at the state government for organising a grand event at a time when thousands of jobseekers were awaiting transparent recruitment and bearing the brunt of economic crises."The RSS once termed her (Mamata) Durga. Today she is playing the role of the RSS's Durga," he said.