Onions at Rs 75/kg, more tears in store
Bengal depends heavily on onion supplies from Nashik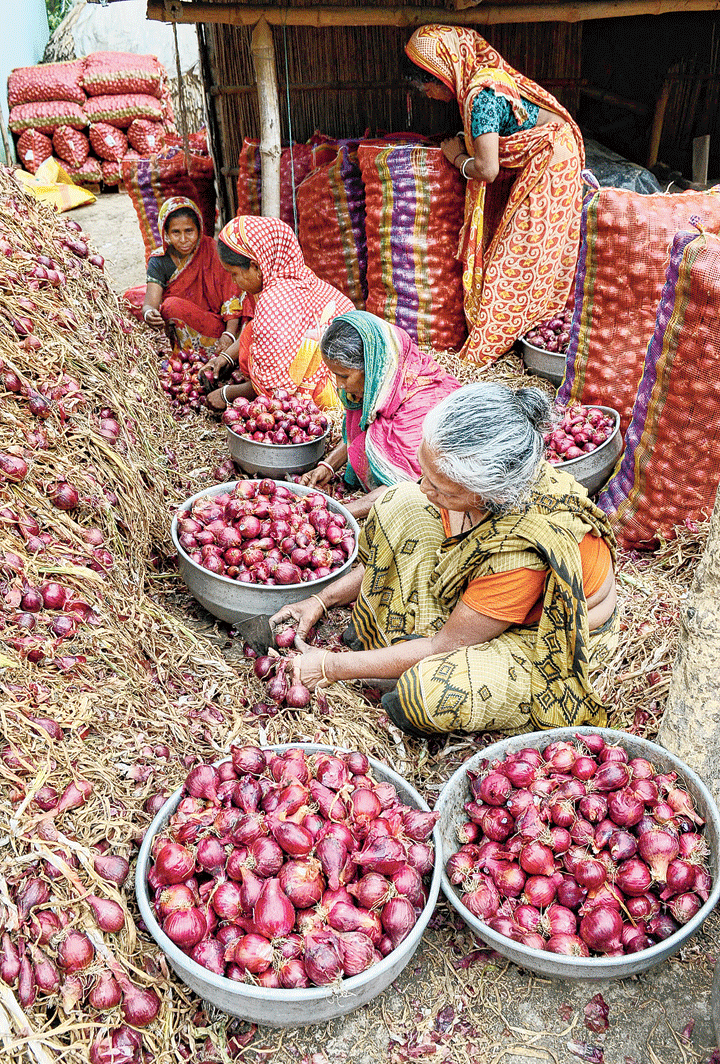 ---
|
Calcutta
|
Published 07.11.19, 09:01 PM
---
Onion prices are on an upswing — around Rs 50-55 a kg a week ago and Rs 70-75 a kg on Thursday — and things could worsen if the supply from Maharashtra does not go up, market analysts have said.
Bengal requires around 100,000 tonnes of onions every month and Maharashtra accounts for close to 70 per cent of it. The rest is sourced from Karnataka and Andhra Pradesh.
Traders in Calcutta said Nashik traders have told them that fresh supply would not reach the city before mid-December because of dwindling stock.
This means wholesale markets in Calcutta will have low supply till that time. The increase in the demand-supply gap will lead to further rise in onion prices. "Onion traders in Nashik said on Thursday their supplies would go down in the next few days. That means onion prices might move upwards," Kamal Dey, a member of the state task force on vegetables and the president of the West Bengal Vendors' Association, said. "We will have to rely heavily on other places for the next few months' supply of onions."
Bengal depends heavily on onion supplies from Nashik.
Lasalgaon in Nashik is the country's largest wholesale market for onions. Last year, Dey and a few others had visited the market to understand how things work there.
The rain in September has made things difficult, according to Nashik traders. Storehouses stacked with onions took a hit as water seeped in.
For every 20 tonnes of stored onions, some five to six tonnes have been lost, Satyajit Das, a trader in Koley market who gets supplies from Pune, said. "As a result, the supply for Bengal has taken a hit."
Vegetable sellers across Maniktala, Gariahat, Lake Market and New Market said the dip in supply had affected business. People have cut onion consumption to the bare minimum, they said.
"I went to Sealdah for my quota of onions.... I got them at Rs 75 a kg," Purushatam Saha, a sandwich seller on Bentinck Street, said. "I have reduced the use of onions to the bare minimum."
Besides Pune, traders in the city said supplies from Hyderabad and Bangalore had dipped. New stock would arrive in January.
Bengal produces around four to five tonnes of onions a month and supplies from other states start pouring in from February to last till end of April or early May.