One more wet spell for Calcutta before clouds lift
The weather department said at least one more spell of showers was expected on Thursday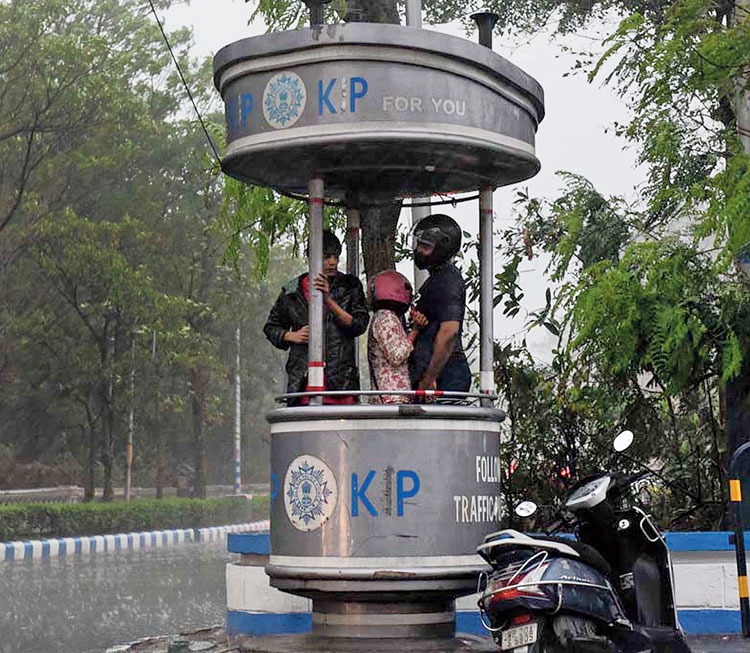 ---
|
Calcutta
|
Published 27.02.19, 10:11 PM
---
Two thunderstorms accompanied by rain lashed the city 11 hours apart on Wednesday.
The weather department said at least one more spell of showers was expected on Thursday, after which rainfall is likely to stop.
During the first spell of thunderstorm, between 5am and 6am, the wind clocked a maximum speed of 66kmph at 5.05am. The maximum speed during the second phase, recorded at 3.55pm, was 46kmph.
Calcutta has been experiencing thunderstorms intermittently since Monday morning because of multiple weather systems over the land and the Bay of Bengal.
By Thursday evening, the last of the systems — a cyclonic circulation over Assam — is likely to dissipate. If it does, moisture flow from the Bay will weaken and rainfall will stop.
The city received 46.3mm of rain over 24 hours till 8.30pm on Wednesday. The figures for Monday and Tuesday were 35.1mm and 22.6mm, respectively.
"The total rainfall so far this month is 105.3mm. This is the highest rainfall in the city in February in 10 years," an official at the Alipore Met office said.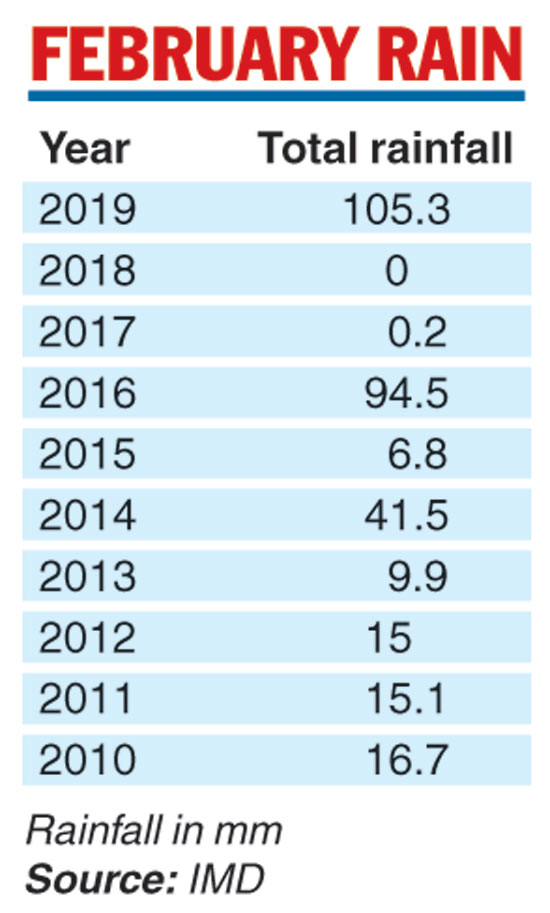 The rain continued at varying intensity till late on Wednesday.
"Wind is blowing into the city from the direction of the Bay of Bengal. So, it is rich in moisture. As wind gains in altitude, the water vapour in it condenses to form clouds," said Sanjib Bandyopadhyay, deputy director general, India Meteorological Department, Calcutta.
"An anti-cyclonic circulation over the Bay of Bengal and a low-pressure trough from Bihar to Bengal were providing a boost to the flow of moisture from the sea over the past few days," Bandyopadhyay said.
"But these systems have dissipated. Only a cyclonic circulation over Assam is now aiding the moisture flow towards the city. The cyclonic circulation is going to change its position, because of which moisture from the Bay will reach north Bengal, instead of south Bengal, from the second half of Thursday. Hence, the rainfall is likely to shift to the northern districts of Bengal."
The maximum temperature, which dropped to 24.1 degrees Celsius on Monday under the influence of the early morning rain, rose to 27.4 on Wednesday, still four notches below normal. It is likely to reach 28 by Thursday.
The day's minimum was 17.1, three degrees below normal. It is likely to rise a little before falling again to around 16 degrees on Friday.