On AIR, with luminaries
Know your neighbour: Ajit Mukhopadhyay HA Block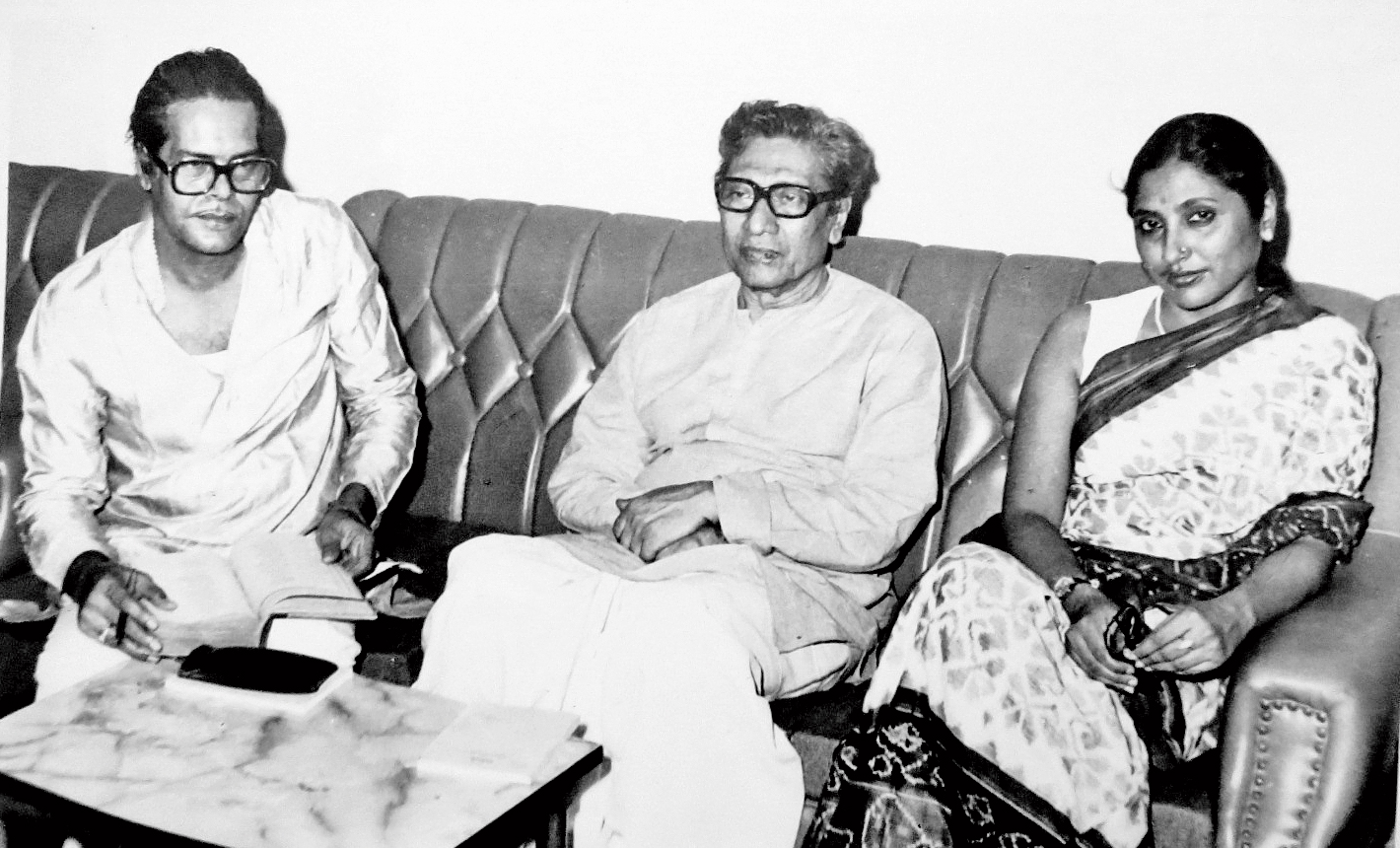 Ajit Mukhopadhyay (left) with Sambhu Mitra and daughter Saoli
(The Telegraph archive picture)
---
Calcutta
|
Published 24.10.19, 07:47 PM
|
---
He is like a walking, talking encyclopaedia on All India Radio (AIR) Calcutta. After all, Ajit Mukhopadhyay has been riding the ether waves for 32 years since 1956 when AIR was housed in 1 Garstin Place and later shifted to the current location near Eden Gardens, producing over 500 audio plays.
"So many luminaries were involved with AIR," he recalls, rattling off the names of Birendrakrishna Bhadra, Banikumar, Lila Majumdar, Bela Dey, Indira Devi, Jayanta Choudhury (of Galpo Dadur Ashor fame), Gnanprakash Ghosh, Kazi Sabyasachi, Premendra Mitra, V.G. Jog , Saumitra Chatterjee, Haradhan Banerjee... Pankaj Mullick, who conducted the Sunday programme Sangit Shikshar Ashar, and Raichand Boral were regular visitors.
Handwriting test
The 81-year-old resident of HA Block recalls his first day at work. "On August 1, the day I joined AIR as a copyist, Birenda walked in and asked if I was the new recruit. He said that he wanted to take a look at my handwriting. He was already a well-known figure then. I was a fresher from a refugee family living in a colony. I slowly handed over my copybook. He went through the page, smiled and nodded in approval. That was my first encounter with the legend."
Bhadra is synonymous with Durga puja today because of the production Mahishasuramardini, which still airs at dawn on Mahalaya.
Mukhopadhyay's family came to Calcutta as refugees from East Bengal without any fixed income. "Listening to the radio was a luxury that we could not afford. So on Mahalaya we came out on the streets at dawn. The affluent in the neighbourhood inevitably tuned into the Mahalaya programme playing their radios at the highest volume. That's my earliest memory of listening to Mahishasuramardini," he added.
Mukhopadhyay went on to work with Bhadra in 100-plus plays in over 14 years. He recounts an incident to show how dedicated the man was to his craft. "One evening while I was preparing to go home, Birenda asked me in an apologetic voice if I would be able to come to office on Sunday. He said he needed to record the sound of a bell for the play Daakghar. He had requested a school principal to lend him the bell for the day when school would be shut. Birenda carried that bell weighing about 15 kg to Akashvani Bhavan travelling in a tram. I was aghast. After the recording, he carried it back to the school, again in a tram. He was 53 then. But all he could think of was getting the sound right!"
So passionate was he about the radio that on most evenings he would sell copies of the fortnightly radio magazine Betar Jagat which carried the list of programmes for the next two weeks. "Each copy cost 25 paise. Birenda wrapped a shawl around his face and sold copies to passers-by just so they would tune in and listen."
Bhadra, Mukhopadhyay points out, knew "everything about drama". He could single-handedly write a play, direct it and teach senior actors nitty gritties of voice modulation. "Today, Rabindra Bharati University has a separate separate department on radio plays. But in those days there were no drama classes where people could learn. Birenda handled every aspect of the play all by himself. Even people like Banikumar and Pankaj Mullick behaved like students in his presence, such was his aura." Sambhu Mitra up close
Another doyen Mukhopadhyay recalls with deep respect is Sambhu Mitra. He was choosy about the company he kept. He somehow became close to Mitra after working with him over the years, including in six plays in the early 1970s.
In 1988, AIR Delhi commissioned interviews of several living legends which would be played only after their death. "That gave the artistes liberty to say anything." One of the artistes shortlisted was Sambhu Mitra from Calcutta. It was a four-hour interview that dealt with his life and work.
"Once the interview was done he said he wanted to edit it some day after office hours. When I objected that it would get late, he offered to take me out to dinner afterwards. So one evening he heard the whole recording and stayed till the final draft was ready. By then, it was 11pm. He then took me to Park Hotel in Park Street for dinner and drinks. We had a wonderful time together," he added.
The last big production Mitra was part of was Swikarokti, based on a story written by Samaresh Basu, in December 1982. "He made me go to Lalbazar to record sound effects like doors of cells opening and the clanking of heavy police boots."
Mitra, he points out, never buckled before seats of power. Once when Bahurupee was being staged in Delhi, it was learnt that Prime Minister Indira Gandhi would be in the audience. When the clock ticked 6.30pm and there was no sign of the premier, Mitra decided to start as others in the audience were waiting. Even when she arrived less than 10 minutes later and the curtains had to be dropped for the commotion to subside, Mitra insisted on starting the play exactly where he left off, with little regard for the Prime Minister.
And when word reached him that Gandhi wanted to meet him after the show he was adamant that she come to the make-up room. "His logic was if he wanted to meet the Prime Minister in Parliament and learn about politics, he would visit her with humility. But a theatre hall was his domain where he was second to none."
Mr Punctual
Among other luminaries who left an impression on him was Bikash Roy. "He was so punctual that we always gave him a call time half an hour later than the actual time, knowing others would be late."
Once a colleague erased the master tape of the radio play Suno Baranari by mistake. To save his job, Mukhopadhyay called each of the cast members with requests to come back and re-record the play but without fees this time. "Roy was running high fever yet performed with only a chair to sit on as concession."
Mukherjee has penned his memoirs in a book titled ...Ebong Sambhu Mitra. Poring over an album with dozens of photographs dating back to the golden days of Akashvani Bhavan, he reflects: "These days I don't listen to the radio anymore. I watch news and a couple of serials on TV."
No switch of loyalties there. He had worked at Doordarshan too for eight years before retirement.
He settled in Salt Lake in 1996. Few neighbours know who all he has acted opposite in radio plays — Aparna Sen to Mamata Shankar. "Gneyo jogi bhikh paay na," he smiles ruefully.