Official: Bengal can store 6 crore vaccines
Six lakh health care providers would be given jabs in the first phase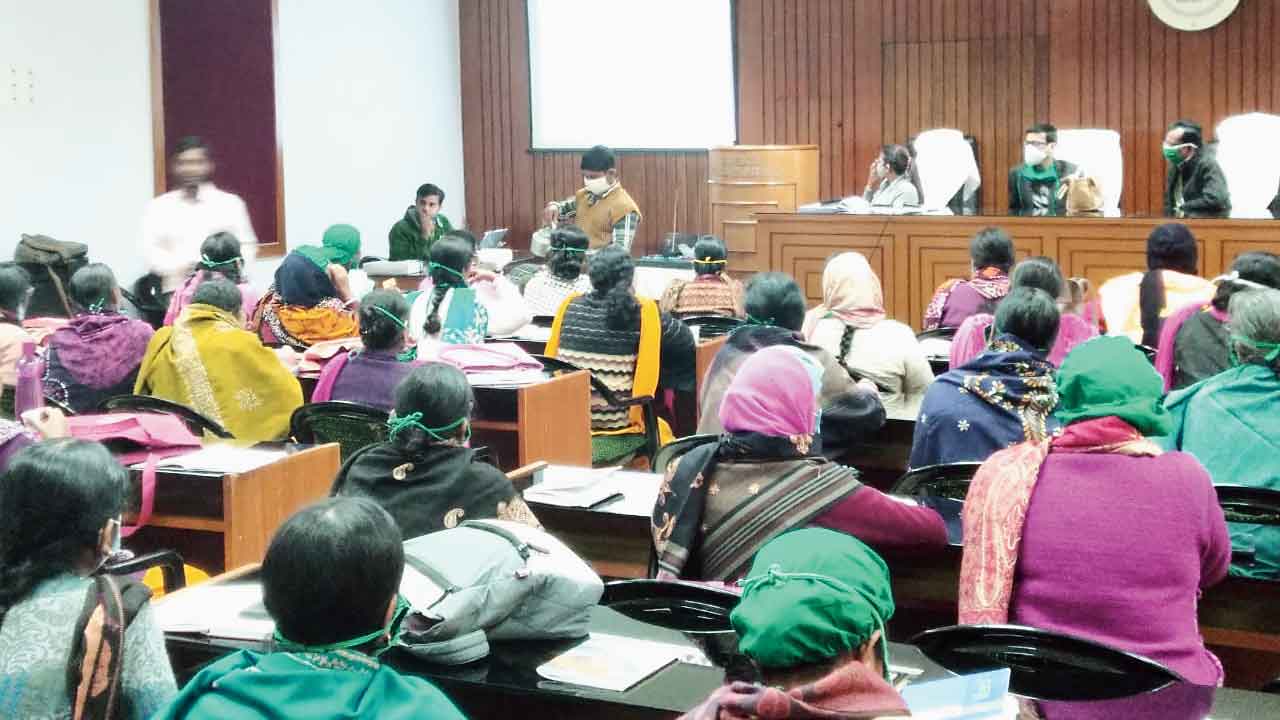 Training for vaccinators underway in Suri on Wednesday
Telegraph Picture
---
Bolpur(Birbhum)
|
Published 07.01.21, 01:44 AM
|
---
The Bengal health department on Wednesday said the state had the capacity to store around six crore Covid-19 vaccine ampules at 941 cold-chain points across the state and six lakh health care providers would be given jabs in the first phase.
A senior health official said while several states did not have adequate infrastructure, Bengal was well equipped to implement the vaccination programme. "We have sufficient cold chains and there is no scarcity of infrastructure. We can store six crore vaccines at 941 cold chain points at a time," said the senior health official posted in Calcutta adding that the Centre had promised to send adequate equipment like freezers before the vaccination process began.
According to him, six lakh health care providers will be vaccinated against Covid-19 in the first phase.
The Union health ministry had earlier said the country was equipped and ready to start vaccination with around 29,000 cold-chain points across the country.
Sources said six states, including Maharashtra, Karnataka and Gujarat, had together around 13,900 cold-chain points — that was more than half the existing infrastructure in the country.
Another official of the state health department said the vaccination could start as early as next week.
In keeping with the directive of the Centre, he said, dry runs for the vaccine roll-out would be conducted in all districts of Bengal on January 8.
"The health department has chosen three centres in each district to carry out the dry run. At the three centres in Birbhum, the entire process for vaccination will be followed," said Jayanta Sukul, a deputy chief medical officer of health in Birbhum.
The sources said training of vaccinators had started at around 1,000 points chosen as vaccination centres in each district.
Asked how the process would begin, health officials said those selected for vaccination would be informed about their venue and date. The officials added that a police officer would be the first "vaccination officer" at a vaccination centre. The cop would check the individual's identity and clear him for the next step.
"It is a central directive to post police personnel to man entrances to vaccination centres. The cop will have hard copies of the list of beneficiaries and enlisted persons will be required to carry identity proof when they come to the vaccination centre," said a health official.
Other than the cop, there will be four vaccination officers, including a vaccinator, at every centre. After verifying the beneficiaries online, the vaccinator will administer the first dose. The beneficiary will then have to wait for 30 minutes in a dedicated room to monitor if the person was having any adverse reaction following the vaccination, the official added.
"We have primarily decided to vaccinate 100 persons at a centre every day," he said.