Ode to nature
Read more below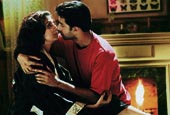 ---
Published 11.08.05, 12:00 AM
|
---
Debasree Roy and Badshah Moitra in Teesta
They are all about women at the crossroads ? after Kaushik Ganguly?s Shunya e Buke where a woman walks out of a failed marriage and Avijit Dasgupta?s Dwitiya Basanta where a widow is torn between her memories and a new man, comes Bratya Basu?s Teesta, where a divorcee is seen seeking solace in nature.
Estranged from her husband and son, schoolteacher Teesta is drawn to the cliffs and greens of Kalimpong. A relationship with a much younger colleague culminates in marriage but her love for nature comes in the way of their happiness.
Even if the logic seems a tad improbable, the director stresses that anybody who can ?feel? will understand the whys and hows. ?There?s a lot of miscommunication happening around us, be it politically or in relationships. In Teesta, my heroine realises she can communicate with nature,? says Basu, who transitioned to film-making with Raasta in 2002.
Teesta, his second venture starring Debasree Roy in the title role, releases at Nandan on September 1. The film?s storyline sprouted from a play, Mukhomukhi Boshibar, that Basu had written and staged back in 2001. But the script departs from the play to play around a new angle. ?In the stage production, Teesta?s son had developed a kind of Oedipus complex. He was jealous of the new man in her life.?
For Basu, known for putting up political satires on stage like Winkle Twinkle and Sateroi July, Teesta marks a departure from his directorial debut. Starring Mithun Chakraborty, Raghuvir Yadav, Dolon Roy and newcomer Amitava, Raasta explored the city?s underworld. It was made in the potboiler genre with a budget nearing a crore and a half.
For Teesta, Basu has a different audience in mind ? the thinking crowd that drifts towards Nandan. ?Nandan is a safe bet for us with the 50:50 sharing at the weekend between the hall authorities and the film producer,? he says. ?But we have a cultural hangover of making our films in low light, with slow camera movements and lots of pretentious dialogues, which has very little connection with our life and times. I think it?s time we got rid of those things and developed a new audience for a different kind of film.?
Apart from Debasree, Basu has banked on a bunch of small-screen stars like Chandrayee Ghosh, Badshah Moitra, Pijush Ganguly, Biswajit Chakraborty and Sudip Mukherjee to make the cast line-up. Sreela Majumder appears in a cameo as Teesta?s Naxalite sister-in-law.