North Bengal tea workers' cash aid put on hold since April
Halt impacts over 15,000 workers and their families who stay near 15 closed tea gardens amid the pandemic and lockdown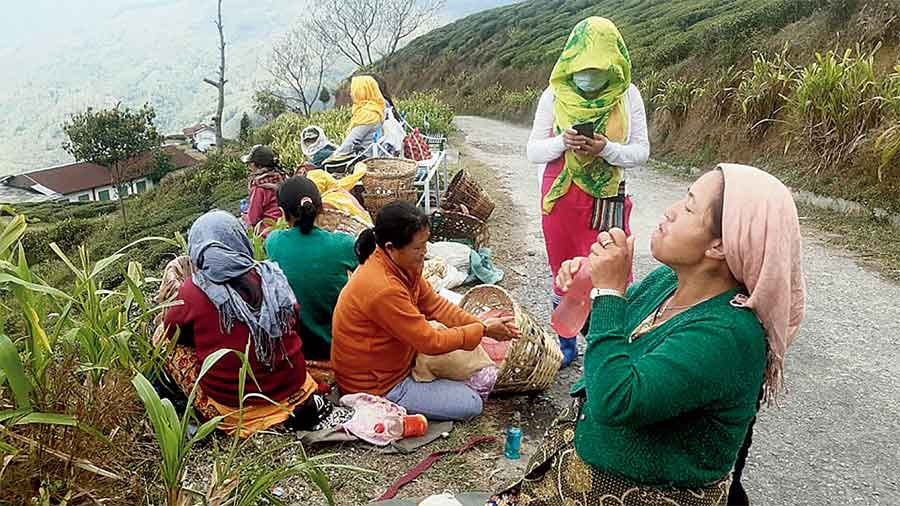 ---
---
The state's financial aid of Rs 1,500 a month to each permanent worker of a tea garden that is closed for six months or more has been put on hold since April.
The halt in the aid under the Financial Assistance to Workers of Locked-Out Industries (FAWLOI) scheme impacts over 15,000 tea workers and their families who stay near 15 closed tea gardens of north Bengal amid the Covid-19 pandemic and lockdown.
Raju Kerketta, a worker of the Dheklapara tea estate closed since 2002, said that usually they got the state's financial aid once in a quarter, that is, three months' of the dole clubbed together. "But this time, we got no money since the first quarter of the this financial year (April to June)," Kerketta said.
The workers of closed tea estates said the halt in the aid worsened their distress amid the pandemic for two reasons.
One, odd jobs at construction sites have dried up. Two, family members who were migrant workers returned home, and most homes had extra mouths to feed.
A senior trade union leader in the Dooars said tea workers and their families get food grains from ration shops arranged by the state government, but "one cannot sustain only on rice and flour".
A source in the state labour department, which disburses money to workers' bank accounts, admitted that no fund had arrived from state coffers in the first quarter.
Md Rizwan, additional labour commissioner posted in Siliguri, however sounded hopeful. "Yes, there has been some delay but workers of all 15 gardens will receive money soon. We also decided to include workers of four more nearby gardens (Kalchini, Raimatang, Torsha and Birpara) under this scheme. The process to collect details of workers (of the four gardens) has started," he said.