None to receive me at Calcutta University, says governor
A meeting of the university's senate had been postponed on Tuesday because of 'unavoidable circumstances'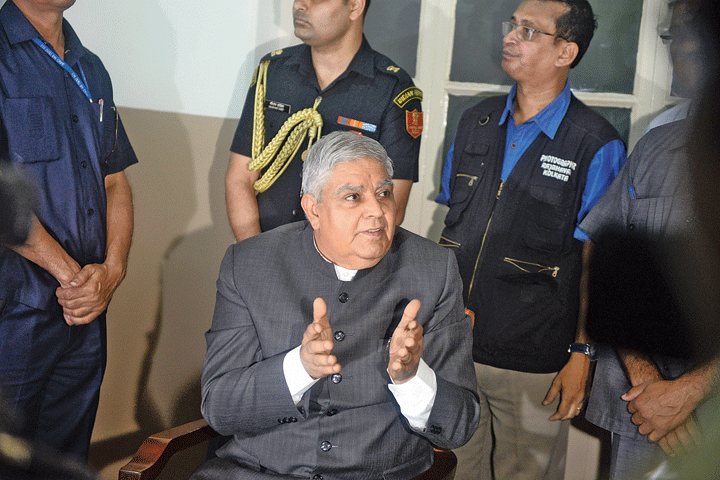 ---
Calcutta
|
Published 04.12.19, 10:14 PM
|
---
Jagdeep Dhankhar, the governor and chancellor of state universities, reached Calcutta University on Wednesday afternoon and waited for some time in front of the locked room of the vice-chancellor before holding a press conference.
A meeting of the university's senate, which he was supposed to chair, had been postponed on Tuesday because of "unavoidable circumstances".
Dhankhar sat in a room, meant for visitors, outside VC Sonali Chakravarti Banerjee's locked room for about 15 minutes after reaching the Darbhanga Bhavan around 2pm.
"I gave adequate notice that I am coming," he said while speaking outside the senate hall that was locked.
"I had informed the university authorities in the morning that I would visit later in the day. But no one is there to receive me. What has happened is unprecedented, condemnable…. As the chancellor, I am the university head. If I want I can take disciplinary action against the vice-chancellor."
VC Chakravarti Banerjee said she was not present on the College Street campus because there was no senate meeting. "I was, otherwise, busy with academic engagements."
When Dhankhar was asked if he would take any disciplinary action against the VC, he said the idea was to work together. "Maybe, the VC has a good reason to be not here. I don't know. Maybe unavoidable circumstances are there. I will try to find out. I will not be judgemental before I get the input," he said.
"But there can be nothing judgemental that you lock a room in a university, which is so prestigious, and there is none to receive (me)."
A university official said Chakravarti Banerjee, pro-VC (academic) Ashish Chatterjee and registrar Debasish Das did not attend office on Wednesday.
Dhankhar said he knew the "university authorities were being controlled" and that they "might be feeling suffocated".
"But can this happen in a temple of education? And my response is that get the battery out of the remote control. Act according to the statute."
As chancellor, it was his duty to visit all universities, he added.
The senate meeting of CU was supposed to approve Nobel winner Abhijit Vinayak Banerjee's name for DLitt.
The university has not announced a fresh date for the meeting. The convocation is scheduled for January 28.
On October 18, Dhankhar had presided over a meeting at Jadavpur University to approve the names of honorary degree recipients at JU's convocation on December 24.