No NRC & CAB in Bengal: Mamata
Mamata accused the BJP and the Centre of trying to use both issues to divert attention from the 'real issues'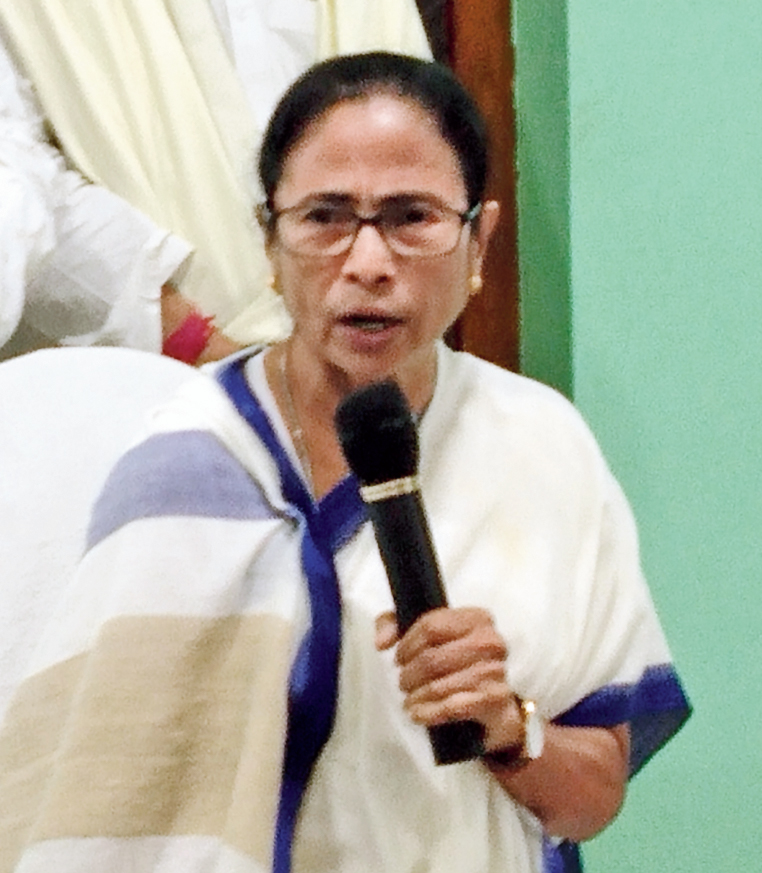 ---
|
Calcutta
|
Published 13.12.19, 09:04 PM
---
Bengal chief minister Mamata Banerjee on Friday vowed not to allow the Citizenship (Amendment) Act (CAA) and National Register of Citizens in Bengal while announcing a slew of protests to build a mass movement against the measures.
Mamata, who is said to be in touch with her counterparts in Punjab and Kerala, congratulated other states — Chhattisgarh and Madhya Pradesh joined the chorus on Friday — for opposing the CAA-NRC push and asserted the Centre would not be able to force an unwilling state government into submission.
"How will it happen? The BJP's government is not here. The government here is ours, will stay ours in the future too. Bengal will not accept BJP — Bengal's paap (sin), the nation's obhishaap (curse)…. Who has to build the detention camps? The state government, Then? Who is going to deport? The state government. Then?" Mamata asked, adding the NRC was possible in Assam largely because it was a BJP-ruled state.
"No CAB, no NRC. Passing the law does not mean anything. Implementation will be up to the state government. Our government is here, korbey na, korbey na, korbey na (will not do it, thrice over)," said Mamata in apparent response to Union home minister Amit Shah's dare in the Rajya Sabha. The CAB is now CAA as the bill has become an act.
Governor Jagdeep Dhankhar said a person holding a constitutional post cannot oppose a law.
"It is no longer a bill, but a law….a chief minister holding a constitutional post can't just say she will not implement the law," he said.
Earlier, Mamata declared that "nobody will have to go anywhere from here". "No question of (anyone) being thrown out. Have no fear, you will continue living in peace, they way you have been. Nobody is doing you any favour. These are rights you got when this nation became Independent."
Mamata said she was determined to lead the movement against the CAA-NRC initiatives and announced rallies in north, south and west Calcutta on Monday, Tuesday and Wednesday, respectively.
"Whenever something like this came up, we always took a stand for the neglected, the weak, those who cannot speak for themselves. That has always been the biggest part of Bengal's culture."
The chief minister said she had decided to cancel a scheduled visit to Delhi on December 17 in the wake of the protests against the law in Assam. "They might send us to prison. We are prepared to tolerate anything. But we will not accept CAB-NRC and see them tear the country into pieces."
On December 15, Trinamul will hold programmes in every district headquarter and the following day, in every block and ward.
The Trinamul chief made it clear she did not want the movement to acquire communal dimensions.
"I will participate myself but nothing along communal lines. I want to be very clear…. The BJP's plan is to generate riots in the name of victory rallies, but I can't do it. I will request all communities not to get provoked…. Everybody is welcome to join, all parties — except the BJP, they are not welcome — the civil society, everybody."
Mamata accused the BJP and the Centre of trying to use both issues to divert attention from the "real issues", such as the "black clouds casting a grim shadow over the economy", unemployment, poverty, inflation and lack of industrialisation.