No difference between north & south, says Mamata Banerjee
She stamped her nephew's assertion a few days ago that he didn't prefer the term 'north Bengal' and it would be removed from the lexicon of the Trinamul Congress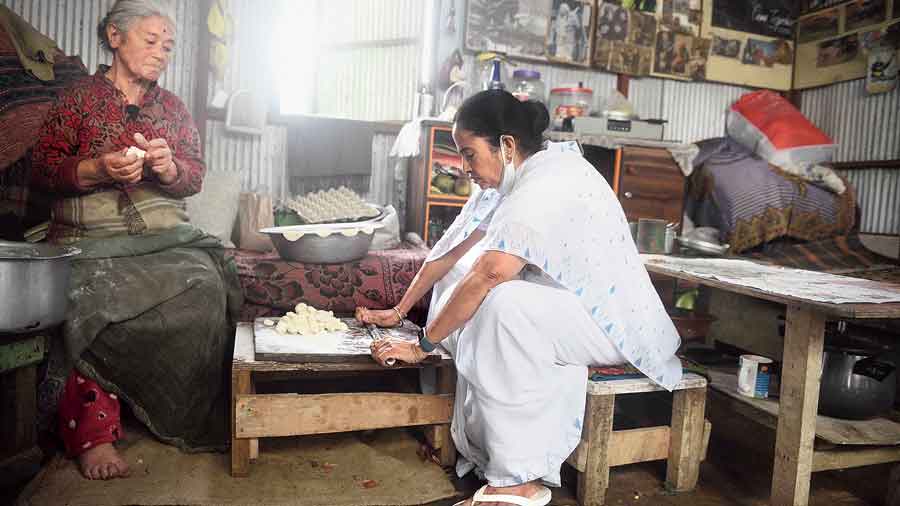 Mamata Banerjee makes momos at an eatery in Darjeeling on Thursday. She was taking a morning walk when she entered the eatery.
---
Siliguri
|
Published 15.07.22, 01:52 AM
|
---
Mamata Banerjee on Thursday said she didn't find any difference between "north Bengal" and "south Bengal", stamping her nephew's assertion a few days ago that he didn't prefer the term "north Bengal" and it would be removed from the lexicon of the Trinamul Congress. 
The comments from the Trinamul chairperson and the national general secretary show that the party has decided to deal with the demand for a separate north Bengal state, chorused by a section of BJP leaders, by harping on a unified state which has no separate regional identities.
En route to Calcutta after her trip to Darjeeling, Mamata spoke to journalists briefly at the Bagdogra airport on Thursday afternoon.
"For me, there is no difference between north Bengal, south Bengal or West Bengal. We want people to live in peace and with amity, both in the hills and the plains," she said.
Addressing a public meeting at Dhupguri in Jalpaiguri district on Tuesday, Abhishek had said: "I do not prefer the term 'north Bengal'…. There is no north or south Bengal here but one and only West Bengal. From today, this term (north Bengal) will be obliterated from our party's dictionary."
The Diamond Harbour MP accused the BJP of using the "north Bengal" term to fulfil its divisive agenda.
When he reached Central Park in Salt Lake on Thursday for an inspection of the accommodation for Trinamul supporters from north Bengal districts for Trinamul's Martyrs' Day rally on July 21, Abhishek made the same point.
"I have an objection to the term (north Bengal)…. There is only one Bengal and it has no other zone. In those areas (northern districts), we had certain shortcomings, which was why people had voted for someone else. But during my recent visit, I sensed people's overwhelming affection for Trinamul. In coming days, they will give a befitting reply to those who want to divide our state," said Abhishek.
The Trinamul MP's comments, which were endorsed by Mamata, made it evident that the party planned to counter the BJP in north Bengal by imparting the message of a unified state, said political observers. They pointed out that BJP leaders, including legislators, time and again tried to claim in the past few years that north Bengal was backward by different yardsticks of development.
"Trinamul is showing signs of revival in north Bengal vis-à-vis the results of Assembly polls. The party performed well in civic elections and the rural polls of Siliguri subdivision this year. The party's inclusive approach has helped in creating a support base in the hills. It is clear that the party now wants to disseminate the message of unity to blunt the growth of the BJP," said an observer.