Bodies of nine fishermen recovered from capsized trawler, one missing
The boat overturned on Wednesday morning, 25km off from the coast of Fraserganj, in the midst of sudden strong waves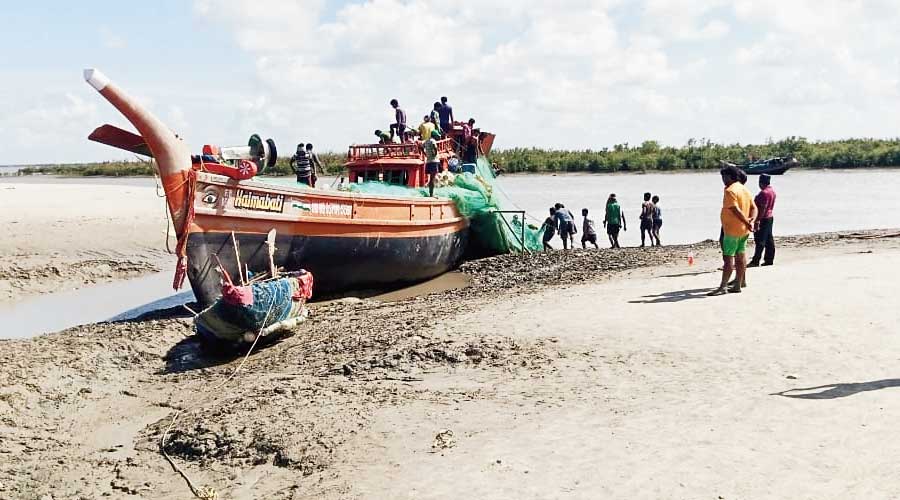 The ill-fated trawler anchored near Fraserganj in South 24-Parganas on Thursday.
Mehaboob Gazi
---
Fraserganj
|
Published 16.07.21, 01:58 AM
|
---
Bodies of nine of 10 fishermen, who had been trapped in the trawler that capsized in the Bay of Bengal while returning to the shore in South 24-Parganas early on Wednesday, were recovered on Thursday.
On July 11, the trawler Haimavati had left Fraserganj to catch Hilsa with 12 on board. It capsized on Wednesday morning, 25km off from the coast of Fraserganj, in the midst of sudden strong waves.
Two fishermen who had jumped out of the trawler were rescued by a nearby boat. Ten other fishermen, who were asleep, got trapped inside.
Late on Wednesday, the trawler was dragged to Baliara harbour by six other boats. The bodies of nine fishermen were recovered from the bottom cabin of the trawler after pumping out water. One fisherman is still missing.
On Thursday afternoon, the bodies were handed over to the families of the victims after an autopsy.
As of Thursday evening, the body of Anadi Sashmal could not be traced despite an aerial search conducted by the Indian Coast Guard.
"One person is still missing. The search operation to trace him is going on with the support of the Indian Coast Guard," said Jayanta Kumar Pradhan, assistant director of fisheries (marine).
State fisheries minister Akhil Giri on Thursday met family members of nine victims at the Namkhana block development office and handed them cheques of Rs 2 lakh each as ex-gratia announced by the state government. Other relief materials were also handed over to the families.
Giri mentioned that a stretch of hidden alluvial land had surfaced along the coast and it could have caused the accident by virtue of concealing the true water level, which was less than what the boatman would have expected.
Speaking to reporters on Thursday, Giri said: "Fishermen have told me about a navigation problem in the channel close to the coastal line. It is a big problem and we will find a way out. A meeting in this regard will be held on July 22 where fishermen's organisations will also be present. Our aim is to avert the recurrence of such accidents."
Sources in the state administration said a team from the fisheries department would talk to the two surviving fishermen who were operating the trawler during the accident to discern whether erroneous steering had caused the accident.
"Correct navigation is a vital security aspect, and can often lead to accidents. We always advise trawler owners to engage experienced people, but norms are flouted and unfortunately we don't have any official mechanism to ensure the same. Over the past two years, around 150 fishermen either died or went missing while fishing in deep sea owing to bad weather or accidents, but the exact reason behind such accidents remains mostly unknown," said a senior official of fisheries department in Namkhana.