NGOs offer help to evicted couple in Jagatdal
Clothes, food and household items were handed over to Aziz Mia, 85, and Hasina Bano, 60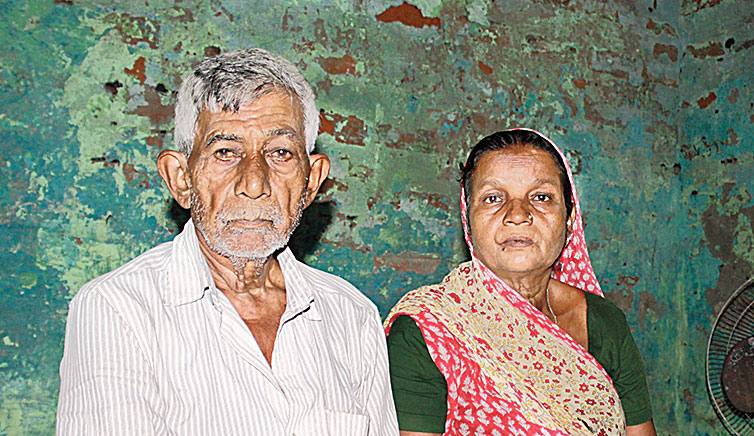 ---
---
Several NGOs on Sunday offered succour to the elderly Muslim couple sheltered at a police camp in Jagatdal after being allegedly thrown out of their home by their landlord because of their religion three days after the general election results.
Clothes, food and household items were handed over to Aziz Mia, 85, and Hasina Bano, 60, at the Babu Quarter — an abandoned godown — in the North 24-Parganas town.
The couple have been housed there after being rescued by police on Friday night amid torrential rain from a railway platform where they had spent 82 days since being allegedly driven out of their rented home of four decades on May 26.
Jagatdal is an Assembly segment under the Barrackpore Lok Sabha seat, which Trinamul turncoat Arjun Singh won on a BJP ticket this time. The area has been on the boil since then, with clashes leading scores to fleeing or being forced out.
On Sunday, among those who sent clothes and bedsheets to the couple was Mudar Patherya, a financial communicator and social worker from Calcutta. He sent the items through the Naihati-Jagatdal branch of the Association for Protection of Democratic Rights (APDR), whose members found Mia and Bano shivering on the platform on Friday night and initiated the rescue.
Speaking over phone from Thailand, Patherya said: "Today I read about them (the couple) in The Telegraph and I was shocked to learn about their plight. As I am abroad, I sent some basic items of daily needs like clothes to the couple through my friends. I have told my friends to make a query about their needs and it will be a pleasure for me to extend my support to them in future also."
A few APDR members visited the couple on Sunday and handed over some items. "We are trying our best so that the couple can return to their rented house," said the APDR's Bijay Rajak.
Aziz, a rickshaw-puller, had come from Bihar's Siwan in 1950. He was back at work on Sunday after over two months, hoping some of the earnings would help meet the expenses of the legal battle he has started against his landlord.
Later, members of Roddha, an NGO, gave the couple some dry food and daily-use items. "It is unbelievable that an elderly couple were evicted only because of their religious identity. We will extend all possible help," Roddha founder Gourab Saha said.
Aziz had borrowed Rs 4,000 from a moneylender after his rescue. The moneylender has waived his interest. "I have told him (Aziz) not to pay interest and to repay the money at his convenience," the moneylender, who refused to be identified, said.
The gestures left Hasina overwhelmed. "It seems people have not forgotten humanity. But, for us, the road is still difficult as we are still not sure what awaits us," Hasina said.