Next weekend you can be at ... Maluti
Read more below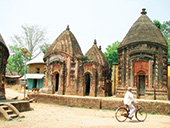 ---
---
Less than five hours away from Calcutta, Maluti is a temple village on the Bengal-Jharkhand border that the National Geographic website hails as one of the dozen "ancient landmarks on the verge of vanishing".
It has 72 terracotta temples in four clusters, most of them in very bad shape because of government neglect. The Chila river, which joins the Dwarka river near Tarapith, flows by the hamlet.
The main attraction is the temple of goddess Mauliksha, said to be the elder sister of goddess Tara of Tarapith. The word Mauliskha comes from two words — mauli (head) and iksha (to view). The deity does not have a body, only a red-coloured head sculpted out of laterite stone fixed on the temple wall.
The temple, along with a thakurdalan, is part of a complex that also houses a charchala and another temple dedicated to Bamakhyapa, a well-known sage. A trident that belonged to him has been kept in the temple.
The history of the village dates back to the 15th century. Legend has it that a young shepherd named Basanta returned the lost pet hawk of Sultan Alauddin Hussan Shah of Gaur to him.
As a token of gratitude, the king gifted him the kingdom of Maluti. Since he got a kingdom in exchange for a hawk, King Basanta came to be known as Baj Basanta.
His family later got divided into four clans (choutaraf). Each of these clans built a cluster of temples, making Maluti a temple village.
About 30 of the temples still have terracotta sculptures on them. Episodes from the Ramayana, such as the battle between Ram and Ravana, the kidnapping of Sita and the slaying of Jatayu, are depicted on the temple walls. Goddess Durga as Mahisasura Mardini and Chhinnamasta are also present on the walls.
While in Maluti, you can pay a visit to octogenarian former Air Force pilot Gopaldas Mukherjee, popular locally as Batuda. His private collection includes stone tools of the Palaeolithic period he had found on the Chila riverbed.
Going
Take the Ganadevta Express from Howarh to Rampurhat. From there, autorickshaws are available for Rs 300 for a return journey. Take the Rampurhat Express or the Ganadevta Express back to the city
Staying
There are a few lodges in Rampurhat, 17km away. Tarapith, 10km from Rampurhat, offers more options