Never said triple murder political: BJP
It is a grisly incident, a heinous crime… And police are still clueless on the motive, yet to arrest anybody, he said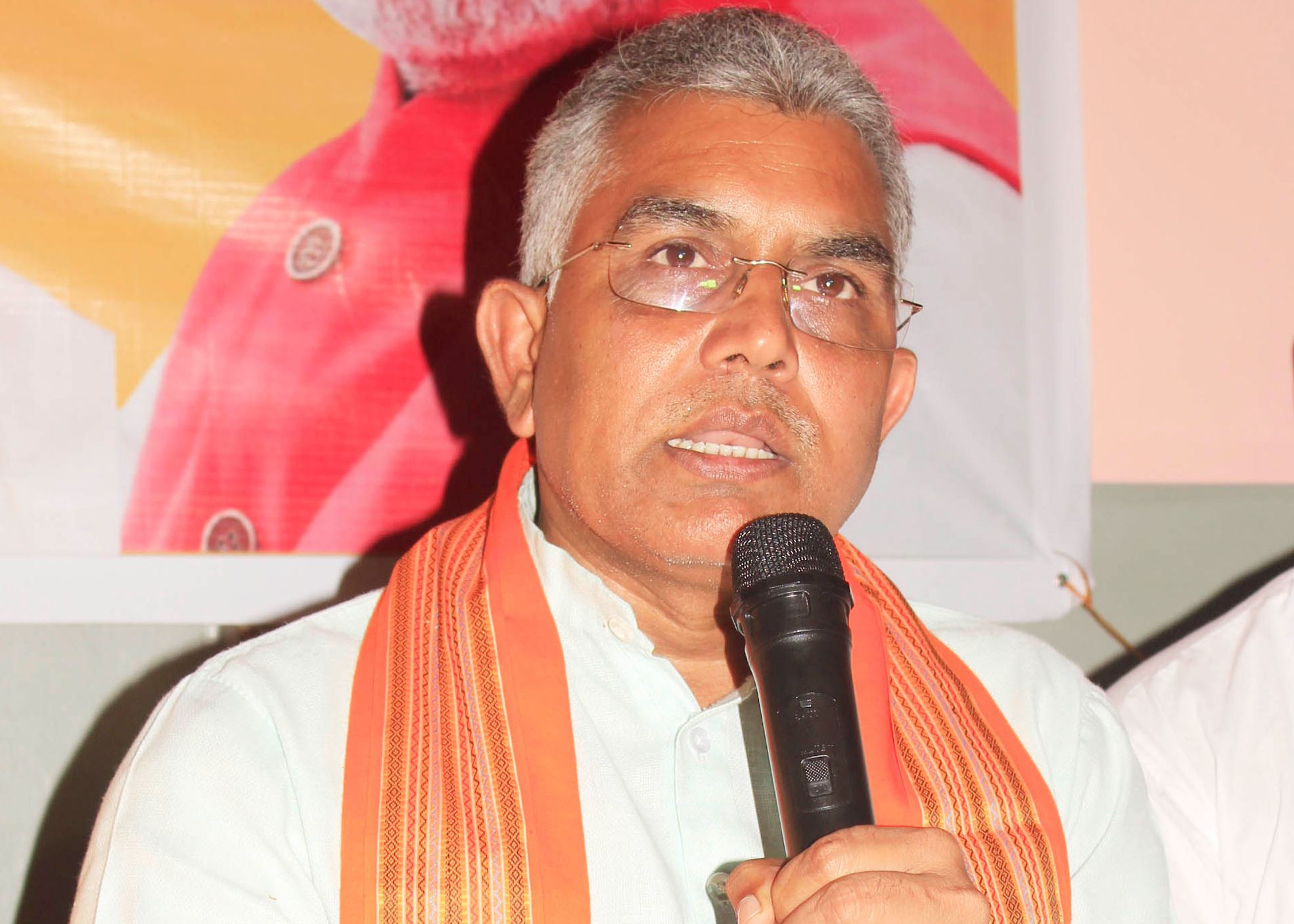 ---
Jiagunj(Murshidabad)
|
Published 11.10.19, 08:59 PM
|
---
The BJP-RSS parivar seemed on the back foot on Friday over the Murshidabad triple murder, with state BJP chief Dilip Ghosh saying he had never said the killings were "political".
"I never indicated the Jiaganj murders had a political motive… It is a grisly incident, a heinous crime… And police are still clueless on the motive, yet to arrest anybody. It is very alarming," Ghosh, also the Midnapore MP, said on Friday.
On Thursday, Ghosh had tweeted: "It is extremely disturbing and saddening that murder & political violence continues unabated even during Durga Puja, the greatest festival of the Bengalis." He had used Jiaganj as an example in a set of pictures.
On Tuesday, the bodies of primary schoolteacher Bandhuprakash Pal, 40, and his six-year-old son Bandhuangan were found in a room at their rented home in Jiaganj. The body of his pregnant wife Beauty, 30, was lying in another room bearing several injury marks.
Governor Jagdeep Dhankhar had issued a statement condemning the killings as "dastardly and barbaric" and "reflective of intolerance", besides expressing concern over the state's law and order situation. Trinamul had then criticised Dhankhar's "persistent overstepping of constitutional boundaries and propriety".
On Friday, virtually the entire saffron propaganda team — which had ensured "#Murshidabad" was trending nationally on Twitter — appeared on the backfoot after disclosures from the Pal family, local people, the state administration and even voices from within the Sangh parivar.
The RSS's Bengal prant prachar pramukh (regional spokesperson) Biplab Roy said: "It is true that he (Bandhuprakash) had joined the RSS over the past six-seven months…. But we have found no political motive or reason behind the brutal murders."
The BJP's Murshidabad observer, Humayun Kabir, said he had never seen Bandhuprakash at any programme of the party or that of the RSS. "I never saw him at any meeting or rally, even when I went campaigning for the general election (Kabir was the Murshidabad candidate). I actually stayed in Jiaganj for three days during the campaign. I never saw him anywhere," said Kabir.
"Maybe he was an RSS supporter, but as far as I know, there is no such connection in this case of murders," Kabir added.
BJP leader Manoj Sarkar, a former councillor and neighbour of the Pal family in Jiaganj, said he was "not aware" of any link between Bandhuprakash and his party or any of its wings.
Despite the denials, Ghosh said he had sought appointments from President Ram Nath Kovind and Union home minister and BJP chief Amit Shah on October 15 to apprise them about alleged political violence and the "collapse" of law and order in Bengal.
"We are going to stage a sit-in demonstration on Saturday in front of the Gandhi statue on Mayo Road in Calcutta to protest the rising political murders, even during the festival, in Bengal," said Ghosh.
The saffron camp also chose to focus on a statement from filmmaker-actor Aparna Sen. A day after voices from the parivar questioned civil society members for their silence, Sen issued a statement asking Mamata Banerjee to act in the Murshidabad case.
Financial stress: Police
Bengal police said in a statement that Bandhuprakash was working as an agent of insurance and chain companies and was caught in a "serious financial crisis".
"A diary note found is suggesting serious differences in the family. The CID has been asked to get associated with the investigation. Prima facie, it seems to be a case of personal enmity and it has nothing to do with politics," the statement added.
A senior police officer in Calcutta said two persons had been detained. "It is clear they knew many things about the deceased. Investigations revealed that Bandhuprakash had multiple bank accounts and there were a series of transactions. The transactions hinted that he was under stress to return money to people," he said.
Additional reporting by Subhasish Chaudhuri in Kalyani