Narendra Modi's virtual Durga Puja address on October 22
Union home minister Amit Shah is also supposed to visit Siliguri on October 17 and hold a meeting with BJP leaders of north Bengal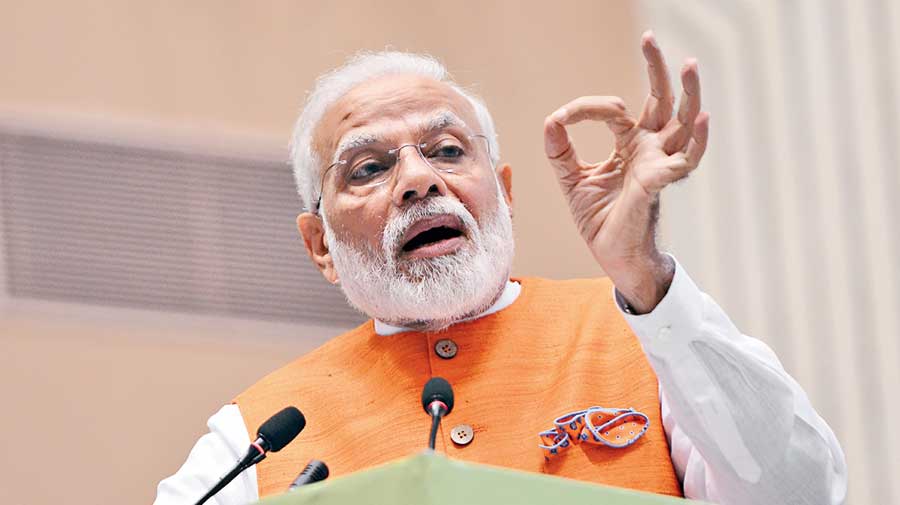 ---
---
Prime Minister Narendra Modi will address the people of Bengal virtually on October 22 on the occasion of Durga Puja, Kailash Vijayvargiya, the BJP's minder for the state, said on Monday.
He also said Union home minister Amit Shah would visit Siliguri on October 17 and hold a meeting with BJP leaders of north Bengal, where the party had won seven out of eight Lok Sabha seats.
Announcing Modi's virtual address, Vijayvargiya said: "We are happy that the Prime Minister will participate in Durga Puja with us."
The five-day Puja celebration this year begins on October 22.
Ananda Burman, the general secretary of the BJP's Siliguri organisational district, said preparation were for Shah's October 17 visit to the city.
"The Union home minister will hold a meeting with district BJP presidents and conveners in north Bengal. The MPs and MLAs of the party, the zonal in-charge of the BJP's north Bengal wing and some senior workers will join the meeting," said Burman.
There will be a restriction on the number of people who could attend the meeting because of Covid-19 protocol. In total, around 200 people would be allowed at the meeting that is likely to be held somewhere on Sevoke Road in Siliguri, said sources.
Modi's address is a part of the BJP's continuous endeavour to strike the right chord with the electorate in the state.
Last year, Shah had visited Bengal to inaugurate a community Durga Puja in Calcutta's satellite township Salt Lake. Had it not been for the Covid-19 pandemic, the party would have similar plans this year as well.
"Durga Puja offers a big opportunity to connect to the people. It is only natural that we will exploit this opportunity," a source in the party said.
He added that the state leaders had requested Modi's time during the puja. "We have received the go-ahead from his office," the source added.