Musician to bring a sense of Carnatic
Interaction, lecture-performance & classical concert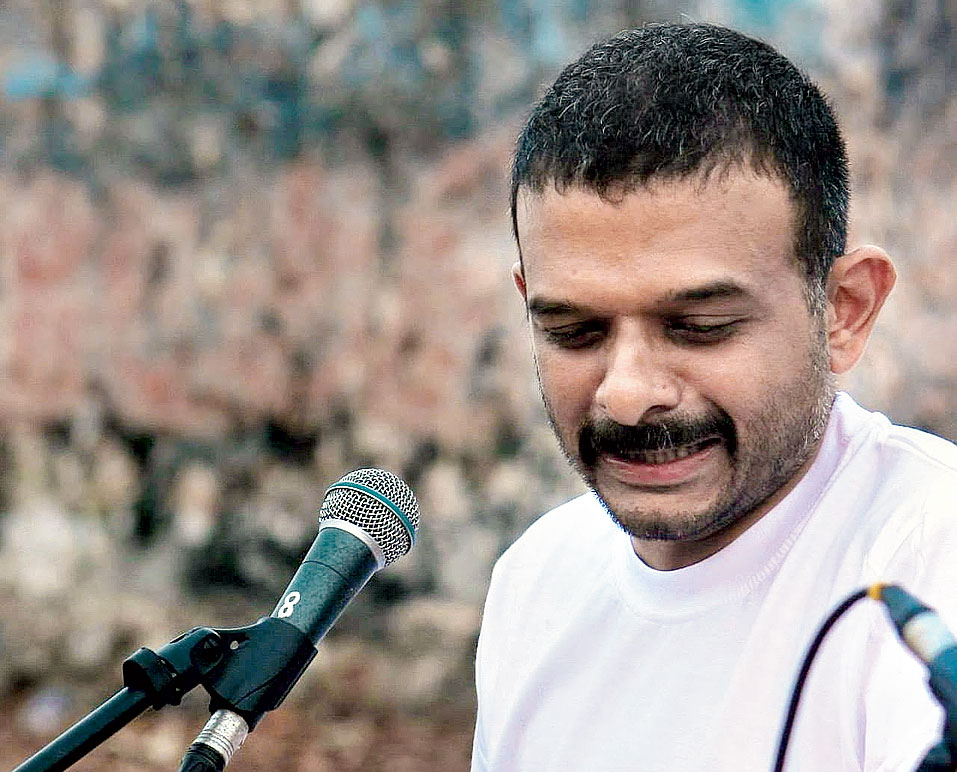 ---
|
Calcutta
|
Published 18.08.19, 08:38 PM
---
Carnatic classical musician, writer and social activist T.M. Krishna will be in the city from August 23 to August 25 for a series of performances and lectures that will also touch upon dissent and its indispensability in a democracy.
The vocalist, known for conducting critical enquiries of music as well as of social and cultural hierarchies, will be speaking and performing at various venues.
The three-day programme in the city, presented by First Edition Arts, Mumbai, is part of the 10th anniversary celebrations of Experimenter Gallery, Calcutta.
On August 23, Krishna will be part of an interaction titled Social Justice and the Arts with social activist and environmentalist Nityanand Jayaraman at Jadavpur University (JU). The conversation will be moderated by Amlan Dasgupta, former professor of English, JU, and former director of School of Cultural Texts and Records, JU.
On August 24 morning, Krishna will participate in a panel discussion with artist and writer Shuddhabrata Sengupta and filmmaker Amar Kanwar at Experimenter Gallery, Hindusthan Road. In the evening, Krishna will deliver a lecture-performance called Manodharma, his well-known series that is an introduction to the creative principles of Carnatic music, at Experimenter Outpost in Ballygunge Phari.
Krishna will present a full-length solo Carnatic vocal concert at Kala Mandir on August 25 evening, with Akkarai Subhalakshmi (violin), K. Arun Prakash (mridangam) and Chandrasekhara Sharma (ghatam).
Tickets for the 7pm concert at Kala Mandir on August 25 are available on Bookmyshow for Rs 200, Rs 300 and Rs 500. Tickets will be available at the venue on the day of the event. Students with identity cards will get tickets for Rs 100 each.
Speaking about his first extended visit to Calcutta through email, Krishna, who lives in Chennai, said the two cities were alike in several ways.
"Kolkata in many ways is similar to Chennai. It straddles the old and struggles with the new. Modernism has its own meaning for the people of Kolkata. There is a fragrance of the old and the feeling of an otherworldliness in here. It is not about the British Raj but something deeper and grounded in the soil," he said.
"I am not sure what I am going to sing but I do hope to give the people of the city a sense of the Carnatic and find ways to connect our different regions," he added.
"We live in times when every part of the country is being divided on linguistic, religious and casteist lines and we as artists must find a way to get past this… I do hope to sing music that comes from listening to the voices of the people of Bengal."
The musician, who does not consider the spirit of enquiry antithetical to that of music, said he wanted to talk about contemporary concerns during his visit.
"I will be speaking about the aesthetic features of Carnatic music in my session on Manodharma and hope to introduce listeners in this city to the Carnatic music experience. I will also be speaking about dissent and why that is the fundamental unit of democracy," he said.
"If we cannot ask questions without fear then democracy is a farce, it is a form of an emergency. We would also be discussing the environment, an immediate and present danger. But it is also important that we do not discuss the environment in isolation, as some problem that technology will solve. The environment is a social issue and it also embodies the lack of social justice."