Music and lyrics
Read more below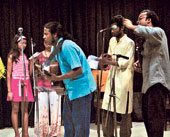 ---
---
Participants at the concert organised by the Portuguese section of Centre for Languages at Jadavpur University. Picture by Anindya Shankar Ray
Mastering a foreign language is not only about learning obscure rules of grammar and memorising vocabulary. A new language is best picked up by listening to its cadences. What better way to do so than through music? On February 5, the Portuguese section of Centre for Languages at Jadavpur University (JU) organised a session of Portuguese songs.
A group of 12 — including eight singers and four musicians on guitar, drums, and dotara — performed six songs with translations in Bengali. Most of the participants were students of Economics, Film Studies, English and Philosophy at JU who also study Portuguese at the Centre for Languages. Satyaki Banerjee, a Ph.d student at JU, sang the Bengali versions while Arunabha Chakrabarty of Economics led with the Portuguese originals. There were fado songs — a musical genre that talks of separation and melancholy — usually sung to the accompaniment of Portuguese guitar.
"A fado can be sung only by a man, according to Portuguese tradition. We chose a few Fado de Coimbra songs that developed in the university town of Coimbra," said Rita Ray, who teaches Portuguese at the centre. Among them were Dizen que amor de estudante, translated as Mayabi shohor Coimbra, and a lilting Ballad of Dusk. Satyaki's sonorous, throaty voice and his way with the dotara worked magic.
"We only had a week to practise. We tried to give our best shot," explained Sandip Samaddar, who played the acoustic guitar. Satyaki and Sandip are part of music group Calcutta Cycle that plays baul and fakiri music. They also organise the Baul Fakir Utshab every year. The opening song was one by Zeca Afonso, a Portuguese folk musician. Grandola, vila morena or Town of workers, by Afonso, was the clarion call for the 1974 bloodless revolution. The Pratul Mukhopadhyay song Dinga bhashao shagore was the Bengali counterpart. Three songs performed at the session were by Rui Veloso, considered the father of Portuguese rock. E triste ser-se crescido was about the burden of being a grown up. The translated version — boro hoyar boro dukkho, thaka khaoa dai — was sung by Satyaki to a folk rhythm.
"The programme was a way of creating interest in the language," said Ray. She plans to be back with more of Zeca Afonso's songs in July.
Romila Saha
Green Signal
Children take part in the BITM quiz
Every child is gifted, each is special. This was the dominant mood behind the environmental campaign held at BITM on February 29. Organised jointly with West Bengal Pollution Control Board, the day's activities had visually and physically-challenged children and underprivileged students participating in contests like identifying medicinal plants, clay modelling and drawing.
"We have been organising these events annually since 2004. This time there are nearly 230 students from six organisations," said Jayanta Sthanapati, director, BITM. Students were at their creative best in the clay modelling contest, giving shape to models of fruits and vegetables with their deft hands.
Uttam Pandit, a Class VI student of Calcutta Blind School, Behala proudly displayed his creation — a tree. "I did it all by myself. I made the bark first and then added the leaves," he gushed. Sabirul Islam, a Class IV student of Ramakrishna Mission Blind Boys Academy, Narendrapur, made a life-like imitation of a fish. Other students like Surishi Mandal of Class VI, Calcutta Blind School, Behala were equally enthusiastic. "We were given a brinjal, bitter gourd and an apple. We has to touch and guess their names," she said.
At another event, guava and orange extracts were passed on and children took turns smelling and guessing their names. "The eagerness of these kids is infectious," said a BITM employee. At the open house quiz, based on nature, the approach was friendly. Hands were hurriedly raised to identify pictures of various animals. Spot prizes were given to those who came up with the right answers.
Doel Bose
Second year, English Honours
St Xavier's College