Morcha balancing act on statehood
The statement was seen as a balancing act aimed at pleasing partner Trinamul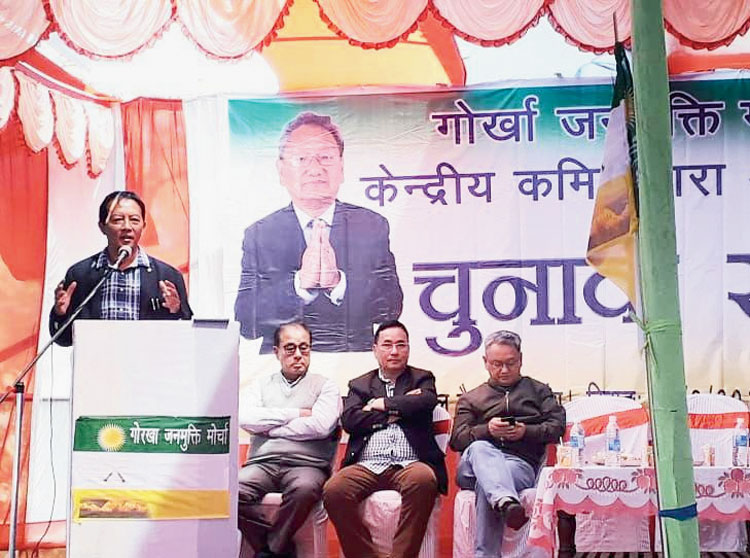 Binay Tamang speaks at the meeting in Sitong on Friday
A Telegraph picture
---
Published 15.03.19, 11:32 PM
|
---
Sitong: The Gorkha Janmukti Morcha on Friday declared that Gorkhaland had hit a "technical barrier" because of the 1950 Indo-Nepal Friendship Treaty.
The statement was seen as a balancing act aimed at pleasing partner Trinamul, which opposes the statehood demand, while placating its core supporters in the hills who want nothing other than a separate state. The Morcha and Trinamul have put up a joint candidate, Amar Singh Rai, in the Darjeeling Lok Sabha seat.
Statehood has always been the most important issue in all hill elections. But after its tie-up with Trinamul, observers believe the Morcha cannot overtly talk about statehood. The demand is strongly opposed in the plains, where there are more voters.
"We say the statehood demand is 107 years old and so many people have died. But why has the state not been created?" Morcha leader Binay Tamang asked at a party meeting in Sitong on Friday.
Referring to the Nepal treaty, Tamang said some clauses in it were "technical barriers" that must be removed to achieve statehood. "This is a technical barrier. Political parties only seek votes in the name of Gorkhaland, we are saying let's not make it (Gorkhaland) an election issue."
Tamang said unless the treaty's clauses were "reviewed and revised", the "identity problem" of the Gorkhas would remain. These clauses allow free movement of the citizens of India and Nepal into either country. Tamang stressed the need for "a clear distinction" between the citizens of Nepal and India.
Gorkhaland protagonists say Nepali-speaking Indians are labelled "foreigners from Nepal" in their own country and the only solution is to create a separate state for the Indian Gorkhas.