Mooted: Plan to transport tea by train to Bangladesh and beyond
NFR sources said the proposal to use rail network for transporting tea gained traction after the reopening of Haldibari-Chilahati route that links Bangla with north Bengal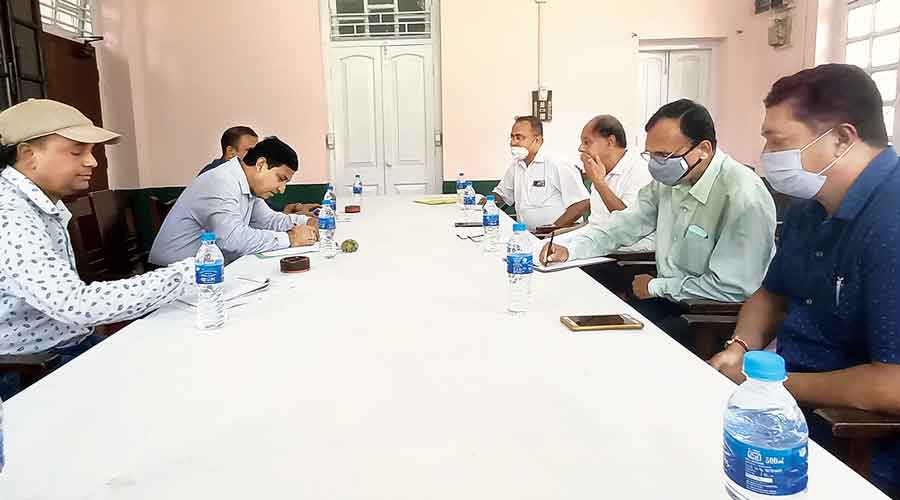 ---
Jalpaiguri
|
Published 14.09.21, 01:39 AM
|
---
A delegation of the Northeast Frontier Railway (NFR) held a meeting with representatives of the tea industry here on Monday and proposed that tea from north Bengal and the Northeast could be exported to Bangladesh and beyond via the Haldibari-Chilahati route that was reopened last month. '
Sources in the NFR said the proposal to use the rail network for transporting tea gained traction after the reopening of Haldibari-Chilahati route that links Bangladesh with north Bengal.
"Teas can be exported to Bangladesh and to the Mongla port (in Bagerhat district of Bangladesh) via this rail route from the Northeast, which in turn, would be sent to other countries by sea. It can be a good alternative as so far, teas from Assam are sent via road to Calcutta port, located around 1,500 kilometres away," said a source.
The distance from Chilahati to Mongla port, on the other hand, is around 525 kilometres.
The NFR officials also tried to convince tea industry representatives that using the rail route to send tea to different parts of the country would be more "efficient" for them in terms of cost and time saved.
Mohan Thakur, the senior commercial manager of the Katihar division of the NFR, who attended the meeting, said the Union railway and  Union commerce ministries want the rail network to be used to transport teas.
"We are in a position to transport teas from here to Jammu & Kashmir in 36 hours while teas sent to Delhi via trains will reach the destination in 24 hours. The idea is to send teas at lower transport cost and faster," said Thakur.
He also said that if companies, which sell teas, book 15 goods coaches or more, they will run a separate parcel van to carry the consignment.
 "If the number of coaches is less than 15, those would be attached with long-distance express and superfast trains," the railway official added.
At the meeting, railway officials also informed the tea planters' associations that if required, appropriate infrastructure would be set up in stations spread across north Bengal for loading teas in goods coaches.
"The facility to load teas will be introduced in a number of stations in this region. There is a similar plan for the Northeast, especially Assam," said a source.
Assam and Bengal are the two major tea producing states in India. In all, over 80 per cent of the total tea produced in India comes from these two states.
The proposal from railway officials has been welcomed by the local business fraternity of Jalpaiguri. After the meeting, members of Jalpaiguri District Chambers of Commerce booked parcel vans which will be used to send teas to various locations of the country.
"It is true that it takes more time to send tea by road. Also, fuel prices have escalated in recent times and the trains are a good alternative at this point. We appreciate that the railway authorities themselves have approached us and hope the tea industry will respond to the proposal," said Amritangshu Chakraborty, principal adviser, Indian Tea Planters' Association.