Moms, brides and schoolgirls want to bend it like Beckham
Teacher gives platform to women's football in West Burdwan's tribal belt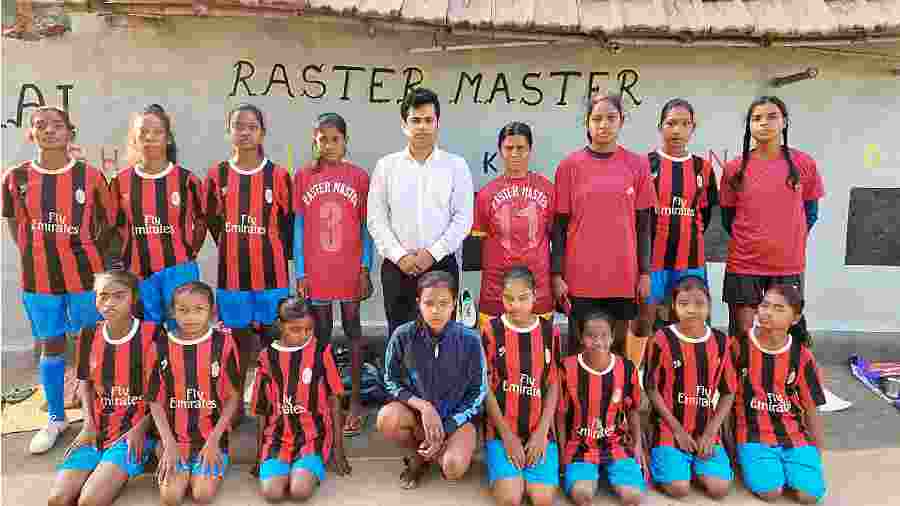 Deep Narayan Nayak with the team of women footballers in West Burdwan's Jamuria on Friday.
Picture by Abhijeet Chatterjee
---
Jamuria (West Burdwan)
|
Published 15.01.23, 04:52 AM
|
---
Chandni Majhi, 20, loved playing football ever since she was a girl growing up in Jharkhand. Two years ago, she had to leave the game as she entered her in-laws' home as a newlywed in West Burdwan's Jamuria, where no married woman played any sport.
Chandni started a new life as a wife and a farmhand with her husband in tribal hamlet Alinagarin Jamuria.
"Football here is the lifeblood of young men. Girls seldom play, and for married women it is unheard of," said a resident.
Bahamani Murmu, 16, a Madhyamik aspirant, loved the game, but her parents "would say playing football with the boys would taint my character". 
However, things changed for Chandni and Bahamani when primary school teacher and football lover Deep Narayan Nayak gave them and others like them a platform to play.
Nayak spoke to Bahamani's mother, Lakshmi, about her daughter's love for football. 
For Nayak, involved in social welfare projects like mother and child education, free coaching for the poor, electricity initiatives and Covid vaccination drives, empowering girls and young women through football was the next step.
Two months ago, he started a camp for them.  "I was a good footballer and decided to coach a women's football team that I formed. Initially, there were five women and girls in the team but now the number is 32," said Nayak, popular as "Rastaa'r Master or street teacher".
"My daughter would feel sad that she couldn't play football when the boys could. Now, I am happy to see her smile. I have also joined the team," said Lakshmi, 33. 
 Tumpa Bauri, 33, a wage labourer, joined the football team with her daughter Shima, a Class VII student. 
The job was not easy for Nayak. He had to counsel husbands and parents to let their wives and daughters play football. His reputation helped. "I bought them jerseys and shoes, and a new football," said Nayak. 
He engaged three more footballers from nearby villages as trainers. After two months of training, Nayak held a football tourney last week at Alinagar Adivasi Football Ground for two women's football teams. Zilla parishad sabhadhipati Subhadra Bauri encouraged him.
"I just want to let people know football isn't just a boys' game," said Nayak.