CAA speech at Belur
Modi devotes attention to Pakistan, a pet theme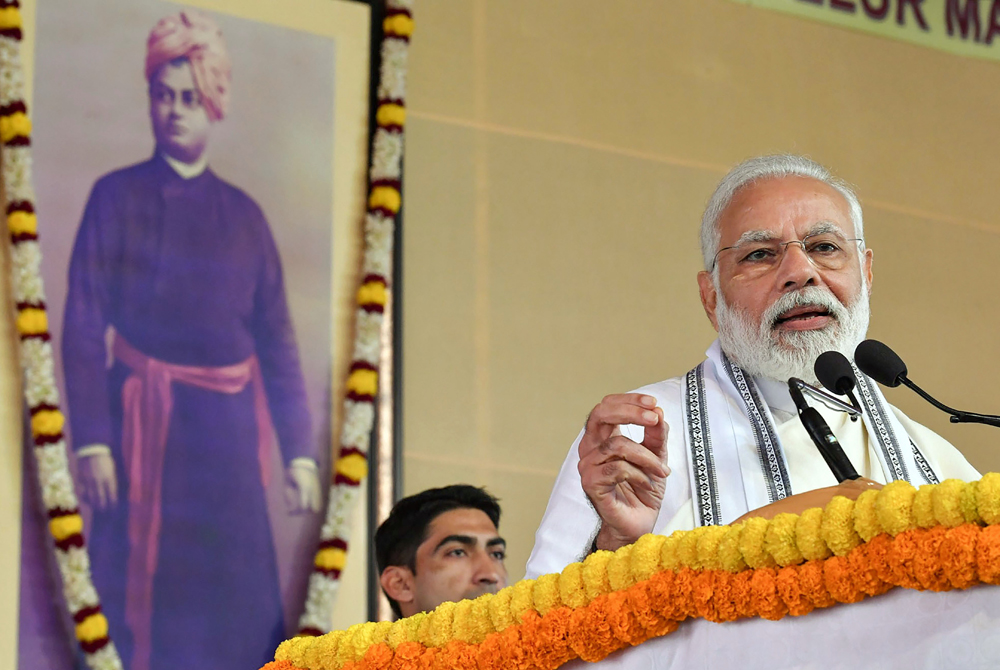 ---
Calcutta
|
Published 13.01.20, 03:29 AM
|
---
Few expected Narendra Modi to recall the unforgettable lines of Swami Vivekananda: "I am proud to belong to a nation which has sheltered the persecuted and refugees of all religions and all nations of the earth…."
Prime Minister Modi did not spring any surprise.
At Belur Math, the global headquarters of the Mission that Swamiji founded, Modi launched a full-scale defence of the Citizenship (Amendment) Act, which has become the most contentious piece of legislation in Independent India.
The Prime Minister also whipped up a mini-referendum, egging on the audience, primarily made up of students, to raise their hands and make it clear whether they stood with him.
Modi had spent the night at Belur Math, global headquarters of the Ramakrishna Math and Mission, and meditated in Swamiji's room for half an hour from 8.20am on the monk's birth anniversary.
But when he stood at the lectern in the Math on Sunday, there was little sign of any influence of Swami Vivekananda on the country's chief executive.
"Questions regarding this (CAA) have been slowly implanted in the minds of the youths by people. The youths are, by and large, alert. But there are some who have fallen prey to these misconceptions and rumours. It is our responsibility to make them understand what the reality is," said Modi.
"I will again say, the Citizenship (Amendment) Act is not intended at snatching citizenship but is an act for providing citizenship…. What is this amendment? We have brought changes to the extent that we have only broadened the scope for accepting the citizenship of India. This scope has been broadened for those who have been tortured, persecuted because of their religious faith in Pakistan," Modi said.
The act omits Islam. It covers more countries than Pakistan.
The Prime Minister added: "Our government has only honoured what was desired by our great sons who gave us Independence…. But those who are playing politics are refusing to understand this. They are intelligent, but they don't want to understand this."
Modi devoted his attention to Pakistan, a pet theme.
"Friends, despite so much of clarity, some people -- because of their political interests -- are spreading misconception on the act…. It is clear that, had we not introduced this act, this debate would not have come to the fore and the world would not have known about how minorities are persecuted in Pakistan. How human rights are trampled on, how they have destroyed the lives of sisters and daughters…. This is the outcome of our initiative, that Pakistan has to answer for the torture of minorities after 70 years," he added.

When you have a guest, Atithi Devo Bhava is the Indian culture…. And if something you feel ought not have been told, the onus lies with the person who tells it (not with the the host)…. We are strictly an apolitical organisation…. We are inclusive as an organisation. This is the only organisation in the world, only order of in the world, which has monks from Hindu sects, which has monks from Islam, Islamic people from Iran and Iraq
- Swami Suvirananda (General secretary, Ramakrishna Math and Ramakrishna Mission)
Modi did not mention that one of the worst massacres of minorities in India had taken place in Gujarat under his watch.
The Prime Minister told the audience: "Now I ask you. You tell me, should we be sending those seeking shelter back to (Pakistan) to die? Should we send them back? Do we have any responsibility or not? Should we give them the citizenship on a par with us or not?
"If they want to live here, abiding by the law and adhering to the restrictions, if they want to live happily and merrily, won't we feel satisfied? Should we do this or not? Is it not a good exercise that you work for the betterment of others or is it a bad thing?
"If Modi executes this, won't you be with me? Won't you be with me? Raise your hands to show that you are with me. Raise your hands to prove whether you will be with me."
Not many hands went up at the first prompt. The number swelled, many smiling students raising their hands, when Modi repeated the appeal.
Modi added that nobody's citizenship would be snatched.
"Apart from this, people from any religion — regardless of whether they believe in God or not — if they abide by the Constitution of India, can gain citizenship through the established procedure. Has it not become clearer to you? Have you not understood this? The young pupils… have you understood or not? But those who are playing politics are refusing to understand this."
Trinamul Congress secretary-general Partha Chatterjee described the Prime Minister's speech as "unfortunate".
"I found it difficult to believe that this was really happening…. Instead of Swamiji, Sri Ramakrishna and all that their legacy stands for, he spoke about the CAA? That too at Belur Math? It is one of the holiest, most inclusive, sites in Bengal," he said.
"By doing this, he has not only hurt the sentiments of the people but also disgraced and disrespected the sanctity of the place."
Adhir Chowdhury, the Congress's leader in the Lok Sabha, said he found it appalling. "One of the most divine, most apolitical places – firmly rooted in the beliefs of liberty, equality and fraternity – revered globally was used by the PM to serve his political interests. The least he could have done, out of basic respect for Swamiji and his legacy, was to avoid bringing politics into a Belur Math event," said the Behrampore MP.