BJP's Nabanna march: Mob beats up cop, burns jeep in central Calcutta
Assistant police commissioner fractures arm after he is chased and thrashed by a group of stick-wielding men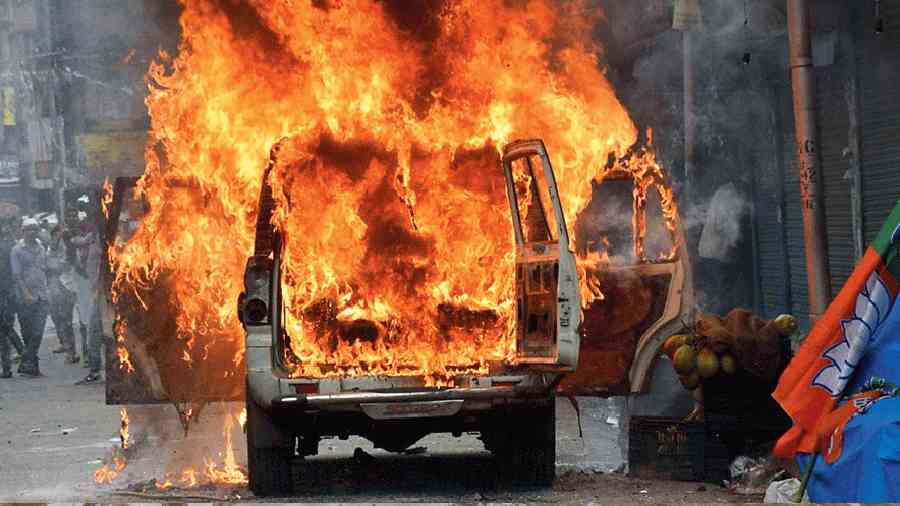 The police vehicle on fire near MG Road in Calcutta on Tuesday.
The Telegraph
---
Calcutta
|
Published 14.09.22, 02:49 AM
|
---
A group of stick-wielding men, some sporting saffron apparels and holding BJP flags, sprinkled a fluid on a police jeep and set it on fire, chased and beat up police, and vandalised roadside stalls in central Calcutta during the BJP's Nabanna Abhiyan on Tuesday.
This group, unlike many others in the city that were part of the thwarted BJP march to the state secretariat, was not led by a recognisable leader, police said. But several faces have emerged from videos that are widely in circulation, an officer added. This group seemed to have been deployed to trigger violence, many veterans in Calcutta police suggested. Members of the group pinned an officer down on the road and assaulted another with bamboo sticks and rods before torching the police vehicle in a locality that the police described as "extremely sensitive".
An assistant police commissioner who was singled out and chased across Rabindra Sarani had one of his arms fractured when the gang caught him and showered him with lathi blows.
The police said this group, made up of so-far-unidentified men, was stopped from marching towards Howrah Bridge. In apparent retaliation, it attacked police vehicles parked along M.G. Road off Rabindra Sarani. An officer in central Calcutta said the incident resembled the vandalism at Vidyasagar College after an Amit Shah road show in May 2019. A group that had participated in the road show barged into the college and vandalised Ishwarchandra Vidyasagar's bust, and set fire to a motorcycle parked on the road.
"Both are instances of unprovoked vandalism and arson," the officer said.
During Tuesday's rampage, the vandals allegedly targeted an officer in a white uniform who was standing on the road. He managed to protect himself from the lathi blows with his fibreglass shield. Then the attackers picked out an officer in khaki.
Assistant commissioner Debjit Chatterjee was chased till he tripped and fell on the road. He was kicked several times and hit with lathis before being rescued by colleagues in plainclothes. An X-ray report has revealed a fracture in the arm.
Video footage shows men sprinkling liquid on the backseat of a blue-and-white PCR van before torching the vehicle. The police vehicle catches fire in a few seconds and bursts into flames. The men walk away towards Central Avenue. At several other locations, BJP leaders staged sit-in demonstrations and blocked thoroughfares in protest at being prevented from marching towards Nabanna.
A senior officer at Lalbazar said the arson appeared to have been planned, underlining that the attackers were carrying the fuel which they used to torch the police vehicle.
"The area where they torched the vehicle is extremely sensitive," the officer said.
The police are trying to identify the vandals.
Burrabazar police station has begun two cases — one for damage to the police vehicle and the other for assault on a government officer.
The additional officer-in-charge of Jorabagan police station too was injured in Tuesday's violence. He has been admitted to hospital. A case of assault on a police officer has been registered with Jorasanko police station.
Police sources said the attacks on the officers had led to retaliation in some places on BJP protesters.
Till Tuesday evening, six cases had been started: two at Burrabazar police station and one each at the Hare Street, Bowbazar, Jorasanko and North Port police stations.