Mithun, the state animal of Nagaland and Arunachal Pradesh, might graze outside north eastern states
The district administration organised a workshop with hill farmers to create awareness of mithun rearing in Darjeeling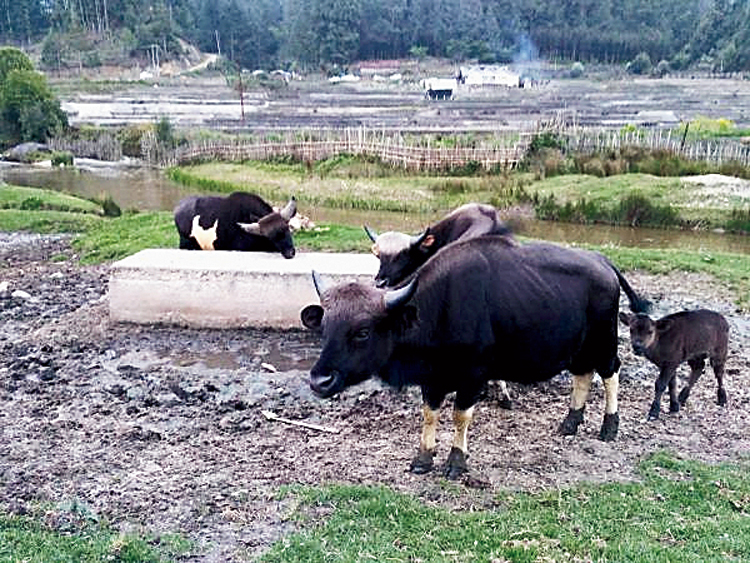 ---
Darjeeling
|
Published 03.03.20, 06:59 PM
|
---
Mithun, the state animal of Nagaland and Arunachal Pradesh, might graze outside north eastern states.
The Indian Council of Agricultural Research's National Research Centre and the West Bengal Comprehensive Area Development Corporation are exploring the possibility of the mithun farming in the hills of Darjeeling and Kalimpong districts.
The ICAR's research centre, which was set up at Medziphema in Nagaland in 1988, is the only facility dedicated to the animal in the country.
"Since the climatic condition of Nagaland and Arunachal Pradesh is similar to the hilly areas of our district, the ICAR is exploring the possibility of the mithun farming in the area. It comes across as an innovate idea," Darjeeling district magistrate Deepap Priya P. said.
The district administration organised a one-day workshop with hill farmers to create awareness of mithun rearing in Darjeeling on Tuesday.
The ICAR officials said the animals live in higher areas ranging from 900ft to 9,500ft.
"The animals are found in north eastern states, Myanmar, Bhutan, Bangladesh and the Yunnan province of China. According to the 20th Indian livestock census (2019), the total mithun population in the country is 3.9 lakh, which is estimated to constitute between 95 and 98 per cent of the total count in the world," said Abhijit Mitra, director ICAR-NRC on Mithun.
Even though mithuns are reared in Arunachal Pradesh, Manipur, Mizoram and Nagaland, around 89.7 percent of the animal is recorded in Arunachal.
"A mithun weighs around 400 to 500kg in four years and meat is sold for anything between Rs 150 and Rs 400 per kilogram in north eastern states," said Mitra.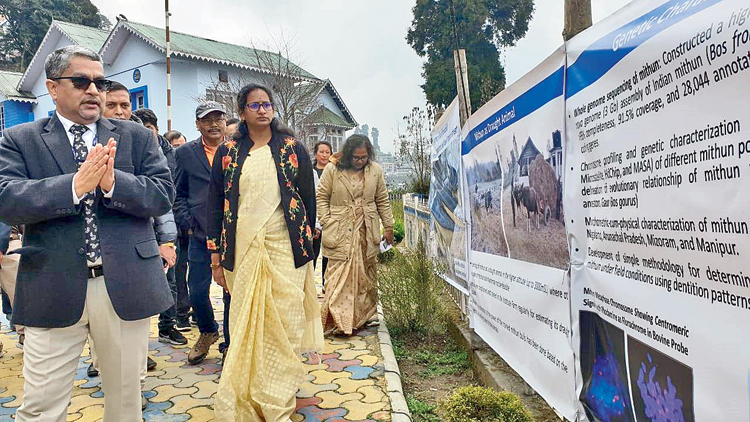 The official said mithun meat was high in protein and less in fat while milk was high in fat. "However, mithun does not produce much milk," he added.
The animal's hide has also been found to be of high quality with superior gloss.
While socio-cultural factors in the north eastern states ensured a good demand for mithuns, officials of the ICAR and the district administration want to explore its potential outside the region.
"This would be the first such model outside Northeast," said Mitra.
Ground is being prepared to train hill farmers and
district officials at Medziphema centre in the mithun rearing as early as possible. Willing farmers would also be provided with mithuns which are also known as draught animals.
"Mithun can be used as a valuable draught animal in the remote hilly slopes. Strong well-built body and sure footedness makes it an ideal species for ploughing in the hills. However, in doing so, the mithuns must be conditioned and trained before it attains two years," said Mitra who added that the animal was "shy" by nature.
Discussions also ranged over the feasibility of community rearing of mithuns at select villages of the hills.