Minakshi Mukherjee, 15 others get bail
CPM youth leader will leave jail only on Tuesday as papers aren't ready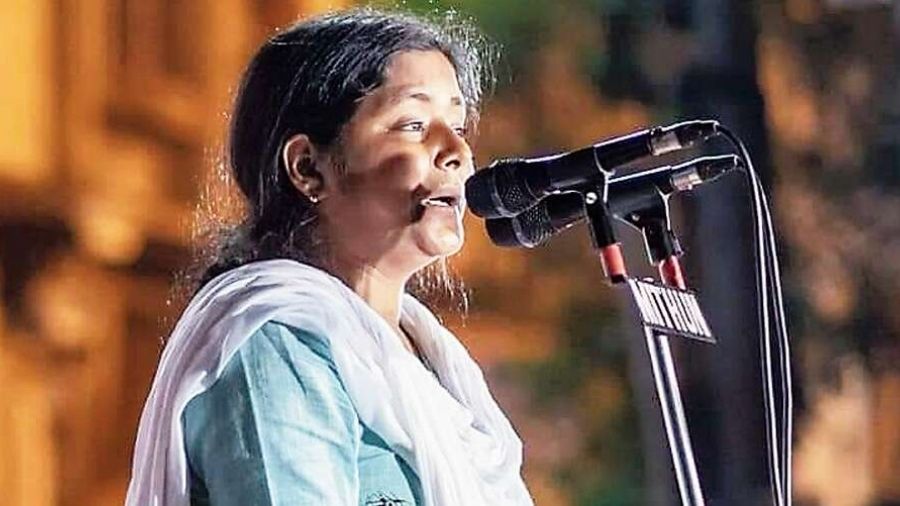 Minakshi Mukherjee
File picture
---
Calcutta
|
Published 07.03.22, 08:32 PM
|
---
The CPM youth wing's Bengal state secretary, Minakshi Mukherjee, and 15 others were granted bail on Monday by a Howrah local court. But, the firebrand leader who had contested the 2021 Assembly elections unsuccessfully against Mamata Banerjee and the eventual winner BJP's Suvendu Adhikari, would have to spend another night at the Alipore correctional home for women as the papers for her release were not ready till the evening.
Minakshi and others were arrested on February 26, a week after the murder of student-activist Anis Khan, when police tried to stop the protest march that she led by firing teargas-shells and resorting to lathi-charge. The protesters were slapped with charges ranging from attempt to murder, causing grievous hurt to an on-duty government employee and destruction of public property among others.
Advocate Mihir Bandyopadhyay who had appeared on behalf of the 16 said the court had granted them conditional bail.
"All of them will have to furnish a personal bond of Rs, 1,500 each and appear before the police whenever they are summoned during the course of the probe," he said.
"The medical report and the CT scan report of the cop revealed that he had sustained no injuries. For the last 10 days these people have been kept behind bars on false charges which are clearly motivated," Bandyopadhyay noted.
From behind bars, Minakshi had instructed her organisational colleagues to continue the fight for justice for the slain student activist, killed on the night of February 18, after a policeman and three civic police volunteers visited his home.
The police had arrested a home guard and a civic police volunteer in connection with the case. A third person identified as Sheikh Sarwar Hussain was arrested on Sunday evening from Calcutta's Beniapukur area. The police claim he had called Anis's family members and threatened them with severe consequences if they did not stop demanding a CBI probe.  The police, however, have not clarified what motive Husain had to make the call.
In the test identification (TI) parade, Anis' father Salaam Khan could not identify either the home guard, Kashinath Bera, or the civic volunteer, Pritam Chakraborty. The Amta police station had initially denied sending any team to Anis' village Sarada Dakshinpara though probe revealed a response team (RT) van from the local police was indeed present in the locality around the time of Anis' death.
The family members and the Opposition Congress, Left and Indian Secular Front have demanded a CBI probe into the murder under judicial supervision.