Milk, cow urine wage war against 'blood tea'
Neeraj Zimba, BJP-GNLF MLA,  sprinkled Gangajal, cow's milk and cow urine on the tea bushes of Happy Valley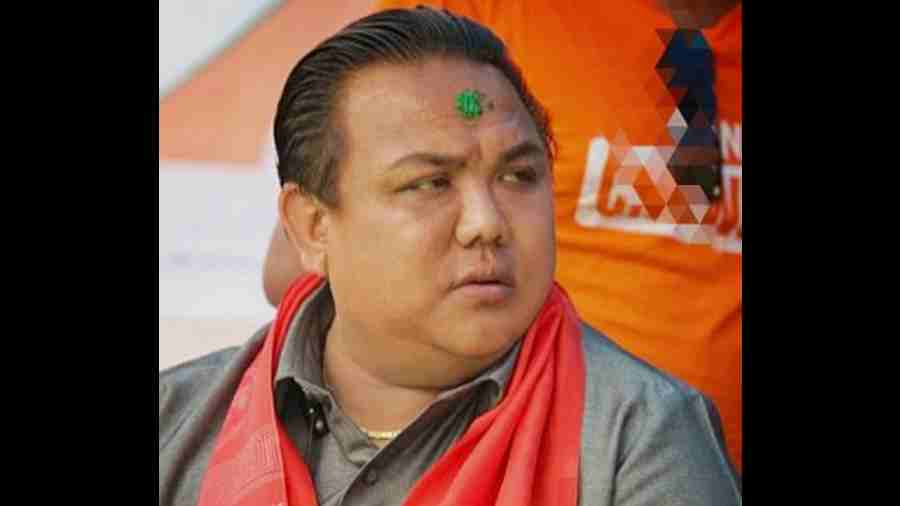 ---
Darjeeling
|
Published 02.10.22, 01:36 AM
|
---
 Neeraj Zimba, Gorkha National Liberation Front's secretary general, who won the Darjeeling Assembly seat on a BJP ticket, on Saturday sprinkled Gangajal (holy water), cow's milk and cow's urine on tea bushes where Hamro Party president Ajoy Edwards had earlier sprinkled blood, to avowedly "purify" the plants.
On Thursday, Edwards had drawn his own blood and spilled it on tea bushes of the Happy Valley tea garden after the management in eight of the 10 gardens of Darjeeling Organic Tea Estates Pvt Ltd (DOTEPL) left the garden without paying bonus.
Happy Valley is a flagship garden of the group. Edwards started the "blood tea" campaign after the Darjeeling Tea industry refused to pay bonus at 20 per cent in on go, going for two tranches of 15 and 5 per cent before Durga Puja and Diwali.
"Darjeeling Tea is world famous. The fault lies with the tea management and not tea bushes. By sprinkling contaminated blood what is he (Edwards) trying to do? There could be a conspiracy behind this propaganda," said Zimba.
The BJP-GNLF MLA then sprinkled Gangajal, cow's milk and cow urine on the tea bushes of Happy Valley.
"The history of Darjeeling is attached with these bushes…. it is not good to spill blood for the sake of cheap politics," said Zimba, adding that efforts should not be made to harm the economy of the place.
Zimba is seen by many to be a maverick. Recently he had posted videos of him chewing on live bees at Mirik. At other times, he was seen standing among wild monkeys. Videos of the two-time MLA's dances at public places have also surfaced on social media. Zimba's act comes at a time when the planters not just from Darjeeling but also the plains have slammed Edwards's "blood tea" campaign terming it an "irreparable damage" to the industry. 
The planters in the plains had agreed to pay 20 per cent bonus at one go unlike their counterparts in the hills. However, after the blood tea campaign started, many planters in Darjeeling started distributing 20 per cent bonus at one go citing "practicality".
The DOTEPL gardens on Saturday distributed 10 per cent bonus to its workers. Edwards said his "symbolic move" to spill blood on tea bushes was to send a wakeup call to the industry.
"The symbolic move carries a lot of pain and struggle of the tea workers and I don't want to belittle it by commenting on his (Zimba's) frivolous activities," said Edwards.
CCTV watch
Darjeeling police on Saturday inaugurated a network of 61 CCTV cameras in the town. Santosh Nimbalkar, SP, said that two bike marshals would also be deployed in Darjeeling town to help decongest traffic between Jorebunglow and Darjeeling during peak hours.