Midair turbulence injures 17 on SpiceJet plane
DGCA forms team to investigate incident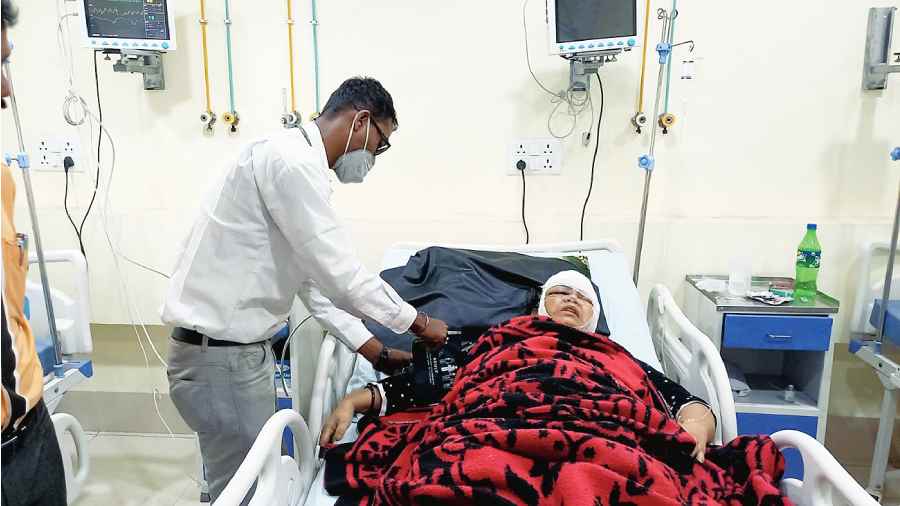 One of the injured fliers being treated at the hospital in Andal.
Dipika Sarkar
---
Durgapur, New Delhi
|
Published 03.05.22, 01:53 AM
|
---
Seventeen persons, including 14 fliers, were injured when the Mumbai-Durgapur Boeing B737 aircraft experienced massive jerks midair triggered by a Nor'wester on Sunday evening.
The SpiceJet airplane SG-945 had 195 passengers, four cabin crew and two pilots on board. Many fliers were returning to homes in Durgapur, Asansol and Jharkhand for Id.
The flight was about to land at the Kazi Nazrul Islam Airport in West Burdwan's Andal near Durgapur when it experienced jerks. Cabin baggage fell on passengers in the middle of turbulence amid stormy rain.
The incident occurred just before the plane was to land around 7.15pm. Windspeed was around 50kmph. After nearly 30 minutes, the pilot managed an emergency landing at Andal airport.
Aviation minister Jyotiraditya Scindia said: "The turbulence encountered by a flight while landing in Durgapur, and the damage caused to the passengers is unfortunate. The DGCA has deputed a team to investigate the incident. The matter is being dealt with utmost seriousness and deftness."
Two critically injured passengers — Akbar Ansari and Reshmi Jairamuka — have been admitted to a private hospital in Durgapur. Others were released after primary treatment.
"It felt exactly like when cars hit bumpers. An announcement for landing was made and the pilot asked us to wear seatbelts. I put it on but it tore under the impact of the jerks," an injured flier said from his hospital bed at Andal.
Airport authorities said that 14 fliers and three crew members of SpiceJet suffered injuries.
DGCA statement
Taking serious view of SpiceJet's Mumbai-Durgapur incident, the civil aviation regulator DGCA has de-rostered the crew and instituted a probe.
Two of 14 injured passengers are currently in the ICU, the DGCA said.
The DGCA de-rostered the aircraft maintenance engineer who cleared this aircraft to take off from Durgapur, the crew who operated this flight and the airline's head of maintenance control centre.
The regulator has also decided to inspect the entire fleet of SpiceJet.
 "During descent, the aircraft experienced severe turbulence… during this period the autopilot got disengaged for 2 minutes and the crew manually flew the aircraft. They reported to Durgapur ATC that few passengers were injured due to turbulence and requested for medical assistance after landing," the DGCA said in a statement.
Giving details of the incident, the regulator said: "There were injuries to fourteen passengers and three cabin crew and the injuries were related to head, spine, shoulder, forehead and facial injuries. At present three passengers are hospitalised."
"Two of the passengers are in the ICU at Durgapur. One of the passengers is admitted in Diamond hospital suffering from head injury and another passenger is in Mission hospital with spinal injury."