Mentalist steals club show
Man who surprised Big B impresses with mind games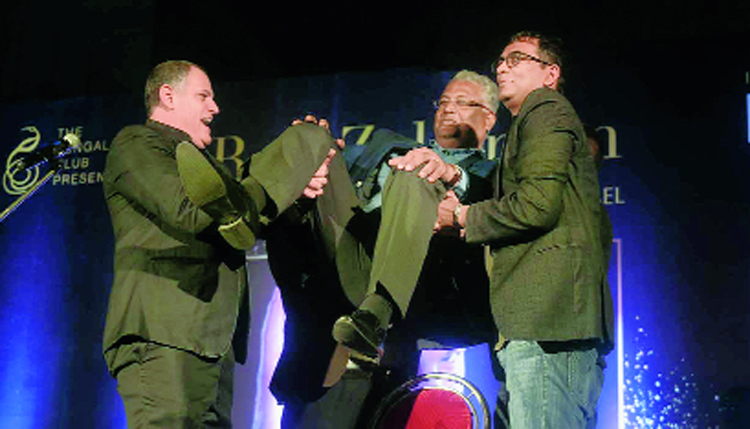 ---
Calcutta
|
Published 30.01.19, 01:12 PM
|
---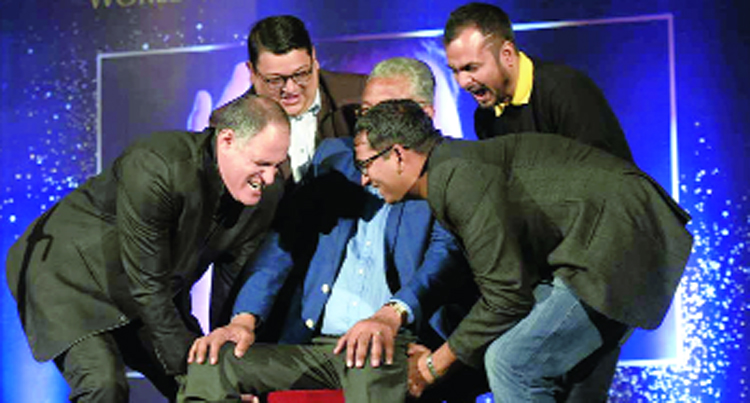 "Wish I could get a chance to read Donald Trump's mind. Nobody knows which way it would turn out," Roy Zaltsman grinned in the course of a chat with Metro, minutes before he would take the stage at The Bengal Club.
The mind-reader from Israel has been doing paid shows since the age of 15. "At 21, I had registered my business as performer," he said.
The headline act at various magic conventions had left Amitabh Bachchan open-mouthed when he flipped Big B's spectacles over though they rested on his palm, away from Zaltsman's reach. That was during his 2014 India visit.
So expectations were high on the packed club lawn. He described what he does as telepathy. "It is the ability to connect with someone's emotion from a distance."
He asked six people to choose a random number each and guessed five so easily that it was as if they were holding up the answers on a placard. He stopped at the sixth. "You are not focusing on the number," he told the lady. Walking up, he pulled out a sheet from under her seat. It bore the number she had chosen—12 – written in Zaltsman's hand!
Next up on stage was Sohini Mazumder from the front row. He offered to "connect" with her. Eyes shut, she was soon correctly saying which part of her body he just "touched" though the audience could see that his hands were a couple of feet away. It caused jaws to drop. "That's how Asaram Bapu started," he deadpanned, referring to the sexual offender.
He then asked her to think of any word. As she thought motionless, he stood facing her and uttered the letters. It was like a dumb charade game. But Zaltsman had no benefit of any acting to go by as clue, except possibly the slightest change in Sohini's expression or a flicker of eyelids when a letter that figured in her word was uttered.
He guessed three vowels thus but there was still no sign of the consonants though he was halfway through with the alphabets. But suddenly he was scribbling on the board in triumph. Sohini's word was oyster. Perhaps he did not need the dumb charade at all!
An act that ran through the 90-minute show involved a hapless soul called Ritesh Saraf. Zaltsman had collected rings and earrings from the audience which he inserted in a padlock. Ritesh was told to change its combination. But by the time he was asked to think of the new combination, he had forgotten it. The women who had sportingly parted with their valuables looked tense.
Zaltsman tried various combinations in between other acts. Nothing worked. The evening was drawing to a close. Meanwhile, Ramya Hariharan had blindfolded him and still could not keep him from guessing the number on a dice she had rolled or the articles she had collected from the crowd or the position of the X marks she had drawn on a board.
"Ritesh might not go home tonight," Zaltsman announced, as the man returned to his seat after another failed attempt.
But as the clock struck 8.30pm, Zaltsman began adding up some random numbers generated by the audience. Ritesh was called back on stage. This time the lock opened! The audience was in ruptures, especially those who got their belongings back and, of course, Ritesh.
"How do you do it?" someone asked. "I can tell you but I'll have to kill you." The enquirer promptly lost his curiosity. Zaltsman added: "I said this to someone at a show in Israel too but he said: "Ok, tell my wife.'"
The audience left, amused and baffled in equal measure.
"It was very different from the kind of shows we usually have. The turnout was the highest in our club calendar year, since June," said Sumit Ray, chairman, entertainment committee, The Bengal Club.