Meghalaya CM writes to Shah for Gorkhaland
Gorkhas are Indians and deserve their own homeland: Conrad Sangma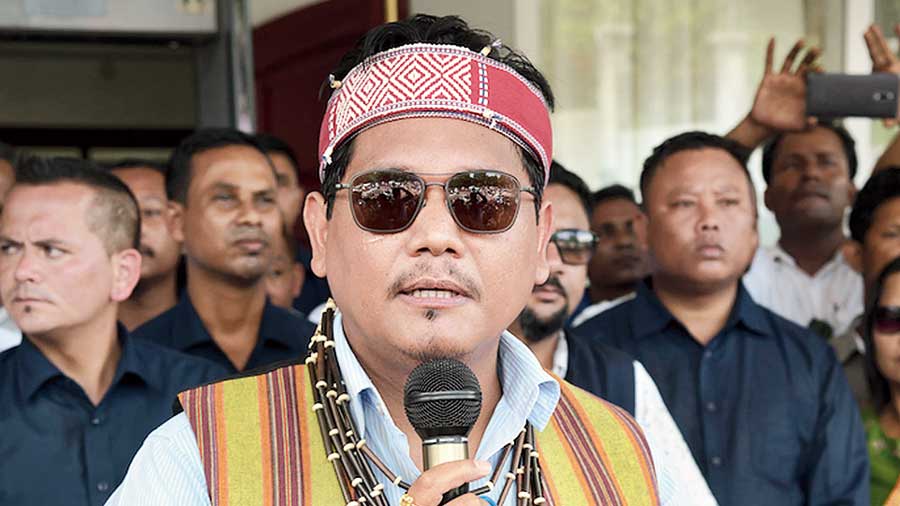 Conrad K Sangma
File picture
---
Siliguri
|
Published 16.09.20, 01:23 AM
|
---
Meghalaya chief minister and National People's Party president Conrad K. Sangma has written to Union home minister Amit Shah, batting for Gorkhaland and reminding the Centre that "the Gorkhas too are rightful Indian citizens who deserve to have their own identity and Bas Bhoomi (homeland)".
The letter was written on September 4 but made public on Tuesday by the NPP, an NDA constituent. The letter comes at a time the NPP is looking at expanding its support base in north Bengal after having opened its unit here.
 "Sir, you are aware of the long pending constitutional demand of the Gorkhas for a separate state of Gorkhaland," is how Sangma has flagged the statehood issue in the letter.
"Sir, as stated, the Gorkhas have contributed immensely to the fabric of Indian society and as with other citizens of India, the Gorkhas too are rightful Indian citizens who deserve to have their own identity and Bas Bhoomi," the chief minister said.
He also highlighted the contributions of Gorkha freedom fighter Durga Malla, members of constituent assembly Damber Singh and Ari Bahadur Gurung and Captain Ram Singh Thakuria, "a prominent Gorkha freedom fighter and musician who composed the music of the inspiring National Anthem".
Sangma has requested the Centre to "offer an honourable and lasting political solution" to the Gorkhas.
The letter was made public when the monsoon session of Parliament was in progress and there were growing demands by NDA allies in Darjeeling for finding a "permanent political solution".
The Akhil Bharatiya Gorkha League (Pratap Khati camp) on Tuesday wrote to Sangma thanking him for his letter.
Sangma is the second chief minister to lend support to the Gorkhaland demand. When Pawan Chamling was the Sikkim chief minister, he got a resolution adopted in the Assembly on March 29, 2011, terming Gorkhaland as a "genuine and legitimate" demand of the people of the hills.
Neeraj Zimba, GNLF leader who became the Darjeeling on a BJP ticket, also wrote to Shah on Tuesday seeking a permanent political solution.
The GNLF plastered posters across the hills for the statehood.
"Sangma's letter is definitely interesting and is going to add more steam to the 'permanent solution demand' in the hills," said an observer.
The NPP is the first political party in the Northeast to be recognised as a national party by the Election Commission of India.
Even though the BJP has promised a "permanent political solution" in its election manifesto, the party has not spelt out the details till date. "The BJP also has to tread its path carefully given its ambition in Bengal," the observer said.