Meet TMC politician who lays bricks for a living
Manab Kabiraj is being seen many as a beacon of hope for a party that has otherwise seen many members of rural bodies embroiled in allegations of corruption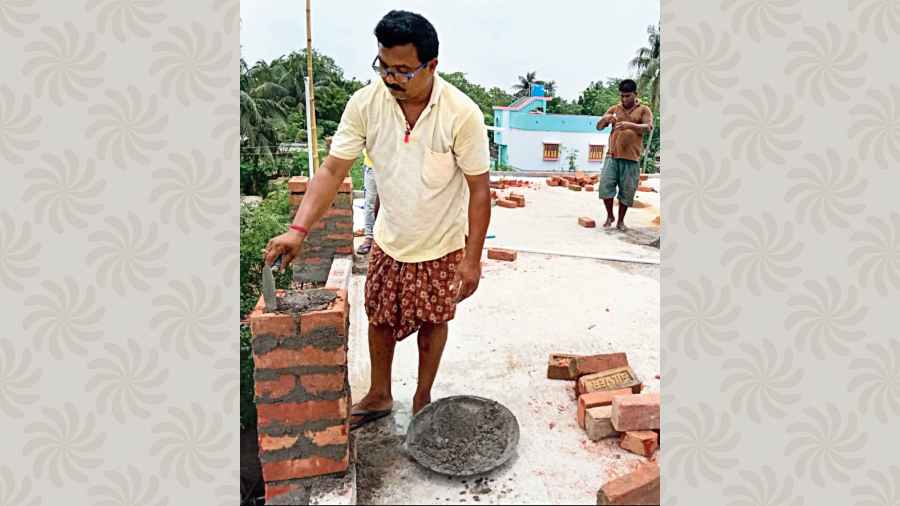 Manab Kabiraj at work in Nowda.
Alamgir Hossain
---
Behrampore
|
Published 29.05.22, 12:35 AM
|
---
Manab Kabiraj, 47, is a puzzle for residents of Nowda village in Murshidabad district.
The Trinamul politician, who in the 2018 panchayat polls defeated his BJP counterpart in Nowda by 88 votes to become a gram panchayat member and then deputy chief, still has his day job as a mason.
Social climbing is alien to Kabiraj, unlike most panchayat functionaries in his party, say residents, who can still hire him as a mason if needed.
As neither he nor his lifestyle has changed much, he seen by many as a beacon of hope for a party that has otherwise seen many members of rural bodies embroiled in allegations of corruption.
The allegations even prompted chief minister Mamata Banerjee to take steps to weed out corruption at the grassroots, most notably in mid-2020 after rumours of Amphan-dole corruption sullied the party's reputation. Mamata often punctuates her rallies and administrative meetings with stern warnings to party workers against corruption.
Kabiraj never needed these warnings.
"Manabda is exemplary. He keeps his private and public profiles distinct. Not once have we seen him loitering at the local Trinamul office for clout," said a worker at Chaitanyapur-I gram panchayat.
"We know that he has kept his profession of the last 30 years unchanged despite his political profile. He works for industry-standard wages just as any other mason would, and never name-drops or capitalises on his position as upa pradhan,"  he added.
Chaitanyapur-I panchayat pradhan Rojina Biwi added: "He is a diligent and honest public representative who is serious about his work. He is always punctual as well."
According to sources, the industry-standard wage for a mason in Murshidabad is Rs 450 a day. Kabiraj's panchayat honorarium reportedly amounts to Rs. 3,000 a month.
Kabiraj, who said he gets work on 15 to 20 days a month, added he was happy with what he earns as a mason and honorarium he gets as the deputy chief of the panchayat.
A Class VIII drop out who became a mason's apprentice in 1993, Kabiraj struck out on his own in 1996. At home, he takes care of his wife and younger daughter, a high school student. His elder daughter got married last year.
"I stick to my old trade (as mason) because I need to run my family, and I run it honestly. I see nothing unusual in my choice to continue being a mason (despite being in politics)," he said. "I am not in public life for prestige or power. What I earn is enough for us to get by," he added.
The family lives in a single-storey, two-room pucca home.
"Our party has many such honest persons, but the media reports  only the crooks," quipped Trinamul district chief Saoni Singha Roy.
"We are aware of his honesty and the party has a fitting future role planned for him," she said.
Bengal reports 38 Covid cases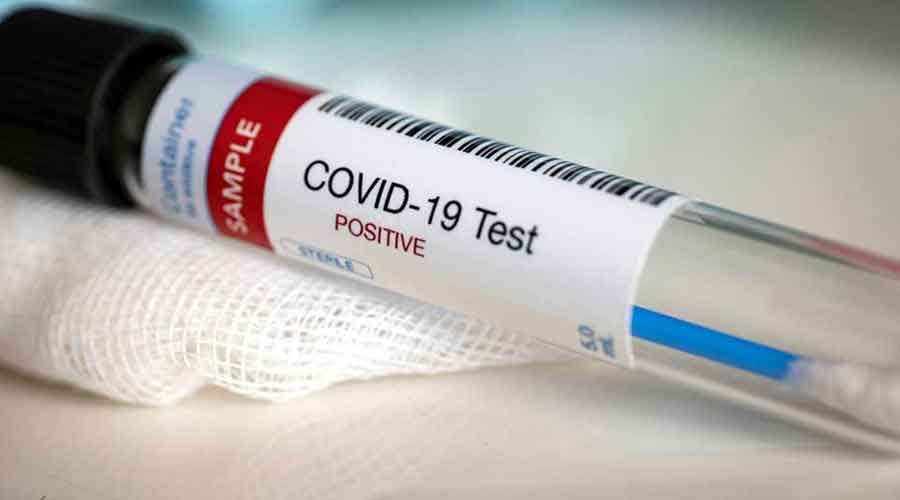 Bengal on Saturday reported 38 new Covid-19 cases, 41 recoveries and no death.
The state has 341 active cases of which 20 are in hospital. The positive confirmation rate on Saturday was 0.45 per cent. The recovery rate was 98.93 per cent and the mortality rate 1.05 per cent on the same day.