Master and Jack, in sync on road
Doberman minus leash runs from Alipore to Maidan and back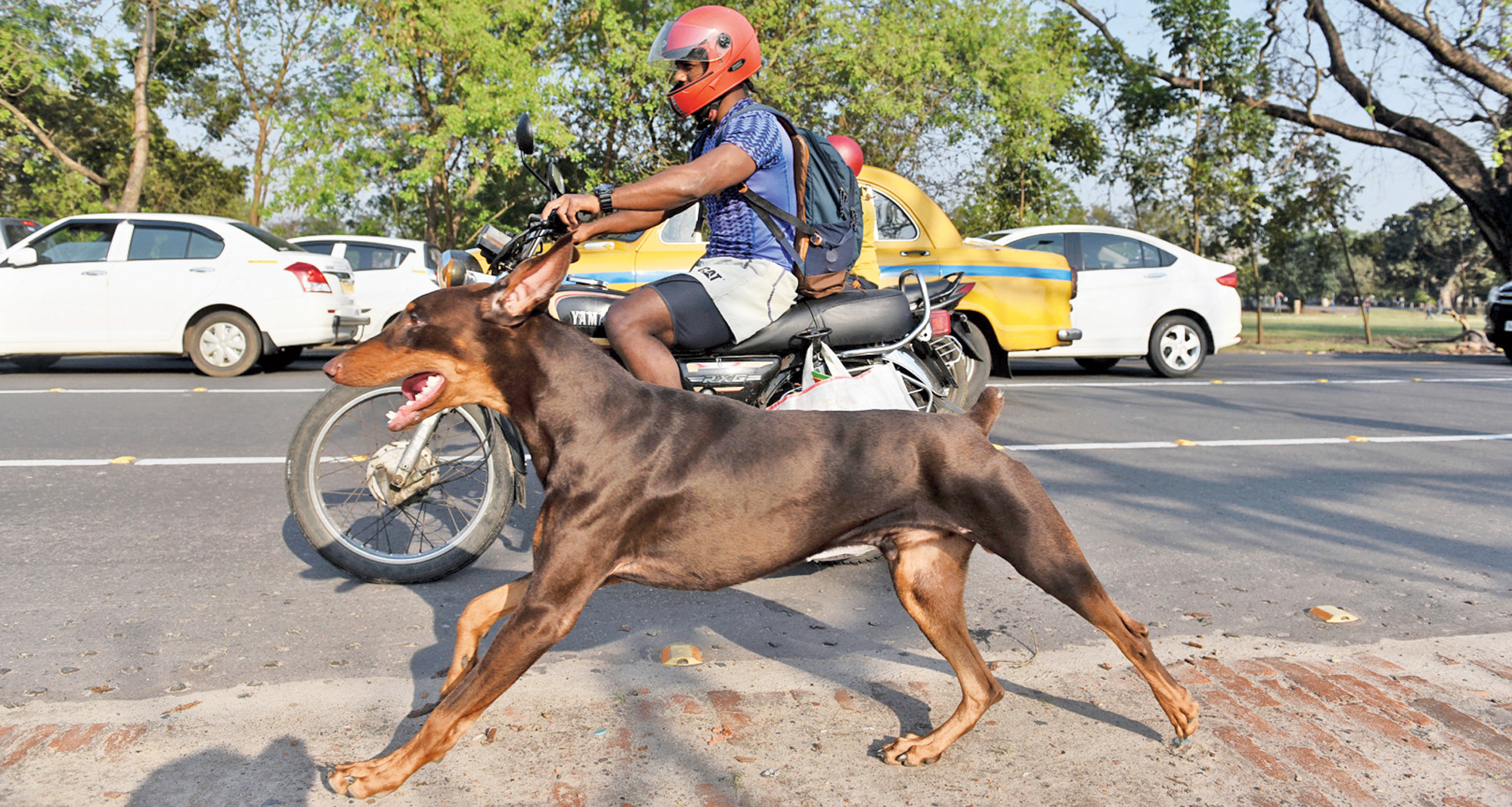 ---
|
Calcutta
|
Published 05.03.19, 09:31 PM
---
A lithe Doberman with a chocolate coat bounds beside the motorbike of its owner on a Sunday. It stops when the bike stops at traffic signals and is alert enough to start running as soon as the bike moves again.
Jack, the one-and-a-half-year-old Doberman, keeps to the pavement as far as possible during its run from Alipore to the Maidan and back. Where there is no pavement, it stays to the left of the bike to avoid coming in the way of any other vehicle.
Accompanying its master, fitness trainer and former rugby international player Sailen Tudu, to the Maidan and back has been part of the daily routine of Jack over the past few months.
Be it on the road or the Maidan, Jack unfailingly follows its master's orders. So, the Doberman is always without a leash.
"Jack has never been on a leash because I have trained it and have full confidence in it. On the road, it always keeps pace with the bike and its attention never wavers," said Tudu, who has taken a diploma course in sport at Hartpury College near Gloucester, UK, on a full scholarship.
Tudu at times cycles to the Maidan from his Alipore home and Jack has no problem in reducing its speed to stay close to him.
Tudu, however, has no experience as a dog trainer and Jack was his first pet. Shortly after the Doberman came, Tudu took in another dog, a Japanese Akita that he has named Oscar.
Oscar, however, does not enjoy the outdoors so much and stays at home. On the days Oscar goes to the Maidan, it remains on a leash.
Once Jack reaches the Maidan greens, it becomes a different dog. It goes prancing about to greet other dogs that are roaming with their masters, strangers included, and snuggles up to the vendors it knows.
If a tennis ball is thrown for any of its canine cronies to chase, Jack, too, gives chase almost compulsively.
"It was a little unnerving to see a Doberman running up to my dog but I quickly realised that it only wanted to play," a man with a Golden Retriever told Tudu on the Maidan on Sunday.
On the Maidan, when Tudu plays rugby with the trainees of the Adivasi Rugby Foundation which he has set up, Jack mostly minds its own business, till it gets bored and goes after the rugby ball.
It has to be allowed some time on the pitch before it can be persuaded to let go of the ball.
According to dog trainer and behaviourist Paromita Das, a breed like a Doberman has the capacity to run long distances and it is better off for them to have some exercise than to be cooped up at home.
That the journey of 3-odd km to the Maidan is not tiring for Jack is evident in the burst of energy with which it sets off once its paws touch the grass.