Mass webcast from archbishop home in Calcutta
Hundreds of Roman Catholic Christians pray from their homes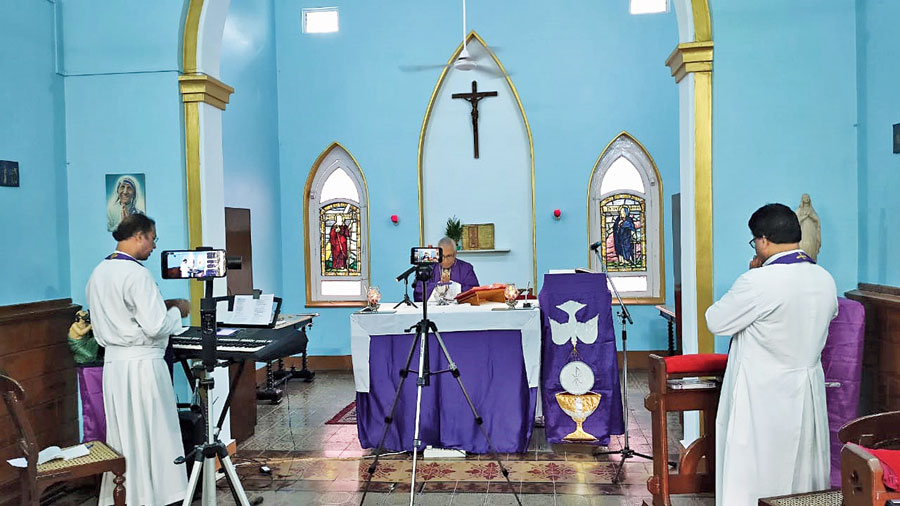 ---
|
Calcutta
|
Published 22.03.20, 09:58 PM
---
The Holy Mass on Sunday morning was webcast from the archbishop's house and hundreds of Roman Catholic Christians prayed from their homes.
Archbishop Thomas D'Souza had issued a circular on Friday morning asking the priests of the Roman Catholic archdiocese of Calcutta to suspend all public religious services in the 65-odd churches till March 31 in an attempt to prevent spread of the coronavirus. A decision was taken to webcast the mass through a link on the archdiocese website and YouTube.
"...for all of us it is a first experience when we are not able to celebrate the Holy Eucharist in our parish churches on a Sunday... as the entire world rallies together to battle against the invisible enemy called coronavirus, our response above all is one of faith and prayer. That is why I am confident this televised celebration of the Holy Eucharist will keep our faith in Jesus, the divine healer, alive and strong... at the same time I urge all of you to follow all the guidelines issued by the government cooperating fully with what is expected of us so that we all remain healthy and help one another remain healthy," the archbishop said in a statement.
It was a different experience for many, who said they could not go to the church but the Mass was live in their homes and they could pray together.
"Dear brothers and sisters, although you will be missing participation in the Holy Eucharist in your parish churches today... yet the Lord invites us today to a special experience to be in our homes with our dear and near ones, united as a family, and to participate in this Holy Eucharist united with the whole human family, with the Catholic Church throughout the world and pray for one another, so that the crisis which we are facing today may deepen our faith and also help us overcome it with the help of our lord and saviour."
The service went on for an hour. More than 3,000 people watched the webcast.
Father Dominic Gomes,the vicar general of the arcdiocese of Calcutta, received messages from those in the city and abroad about the webcast. "Because of this coronavirus, people are stressed and though we could not allow any large gatherings, through the webcast we were able to reach out to the community," he told Metro.
Before the service he said: "Let us from our homes... set aside the time, gather around, sing all the hymns, listen to God's word. This can be a fitting celebration, perhaps deeper than merely attending Holy Mass."
Joseph Chacko, a teacher of St James' School, said this was the first time the service was live. "We could not go to the church, the church was brought indoors. There have been occasions when archdiocese programmes have
been webcast but that has been for people who could not go. Today was different," he said.