Fear of Royal Bengal tiger haunts Gosaba residents
To catch the animal and prevent further attacks on livestock, foresters in South 24-Parganas have fenced the human habitat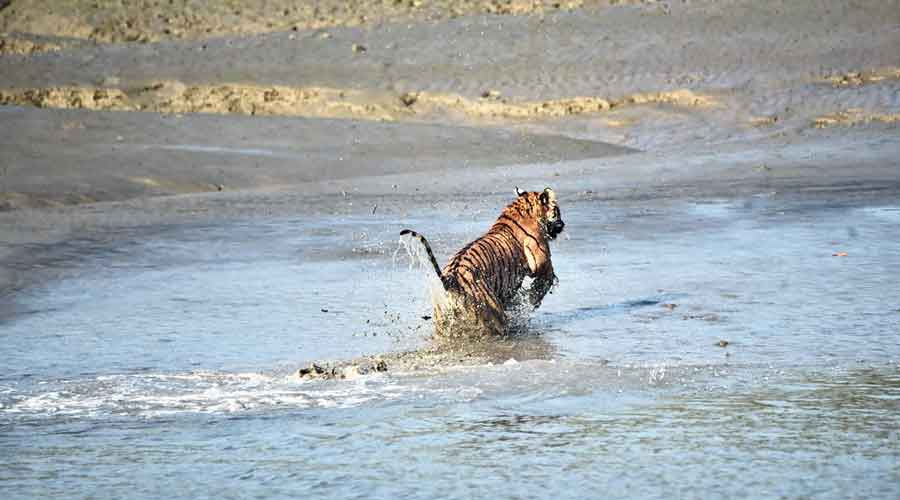 File picture of a Royal Bengal tiger.
---
Bolpur(Birbhum)
|
Published 12.01.22, 03:29 AM
|
---
The fear of a royal Bengal tiger returned to haunt residents of Gosaba in the Sunderbans on Monday when the big cat suspectedly killed three goats and a cow and remained untraced till late on Tuesday.
To catch the animal and prevent further attacks on livestock of villagers, foresters in South 24-Parganas have fenced the human habitat with nets and placed several trap cameras to spot the tiger.
Monday's attack is the third such case of big cat intrusion into human locality in Gosaba this year.
Foresters said on Tuesday they set up trap cameras at Mathurakhand village in Gosaba's Bali Island to observe the movement of the animal and compare the footage with tigers that had entered Chargheri and Kumarimari of Gosaba earlier this month.
"The priority for us is to identify the tiger and observe its behaviour. We need to know whether it is the same animal that had entered Chargheri or Kumarimari earlier. We have set up nets and installed cages to trap the tiger. If the tiger is not trapped by the end of Tuesday, we will start the process to tranquilize it on Wednesday," said Jones Justin, the deputy field director of Sunderbans Tiger Reserve.
Sources said villagers of Mathurakhand were alerted to the presence of a tiger when they heard its roar late on Monday night. As day broke, villagers on Tuesday morning spotted the pugmark of the animal.
The villagers also found that the tiger had killed three goats and a cow of Habal Das, a marginal farmer. This led them to inform officials of the STR.
"I heard the moos of the cow in the night and discovered the cow along with three goats killed," said Habal.
Soumitra Mondal, a social worker in Bali Island who visited the village after the tiger attack, said they suspected the tiger came to the village in search of food.
"As it killed four livestock it proves that the animal had come for food. We are very scared of the sudden presence of a tiger in our area. However, foresters have identified a mangrove near the village where the tiger might be hiding," said Mondal.
On the eve of New Year, a tiger had entered Chargheri village in Gosaba and foresters had to spend three days pushing it back to the core area on the opposite side of a river. While the push-back operation was on at Chargheri, another Royal Bengal entered Kumirmari village of Gosaba. The tiger was later tranquilised and released in the forest.
"It is really a matter of worry as the number of cases of entry of tigers into human habitat is increasing. We need to find out the reason and start a thorough probe to observe the behavior of the tiger," said a forester.