Mamata's task for Suvendu's dad
She entrusted Sisir with the job of getting rid of those involved in anti-party activities in East Midnapore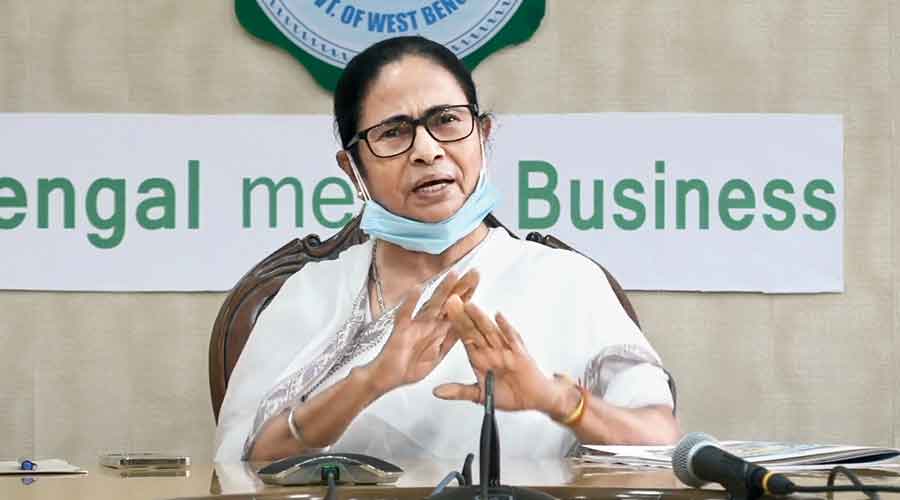 Mamata Banerjee
File picture
---
Tamluk(EastMidnapore), Calcutta
|
Published 05.12.20, 01:37 AM
|
---
Mamata Banerjee on Friday urged her party's Contai MP Sisir Adhikari, who is  Suvendu Adhikari's father, to weed out those allegedly engaged in anti-party activities.
At Mamata's virtual internal party meeting with the top tier of the leadership, district unit chiefs, MPs and MLAs, sources said she gave a lot of importance to the Contai MP.
Earlier, there were speculations on whether the 79-year-old MP, who is also a party vice-president and its East Midnapore chief, would attend the meeting, given Trinamul's growing distance from his son. But not only did Adhikari Senior attend the meeting, he also came across as "amicable and amenable".
"In her inimitable style, she (Mamata) entrusted Sisirda with the task of getting rid of those involved in anti-party activities in East Midnapore. This was to everyone's surprise, including Sisirda's. But he responded with enthusiasm," said a minister, adding that Mamata did not take the Nandigram MLA's name.
"She mentioned places like Nandigram, Haldia, Contai, Nandakumar and Ramnagar. She asked Sisirda to work with (Trinamul state president Subrata) Bakshi to ensure loyalists are posted as replacements," the minister added.
The patriarch of the Adhikari clan, a Rajya Sabha member said, has apparently kept a distance from his 49-year-old son's activities in recent times and has been responding favourably to every outreach from Trinamul.
"Sisirda is almost as inscrutable as Suvendu. But he seems earnest in his assertions that he does not want his son to leave the party," said the Rajya Sabha member.
At the meeting, Mamata also stressed the need for an "upright backbone" and the importance of courage against the BJP's "manipulative" politics. "They (the BJP) are at it again, with their manipulative politics, misusing (central probe) agencies to scare people. Those who cannot overcome their fears are free to leave. For every such departure, we will bring up one lakh others…. I need people with an upright backbone," she was quoted as saying.
Mamata also said she had four generations of leadership prepared to lead the state long after her generation. Getting emotal, she said some "within" were looking forward to her death. "What can I say… some from within want to see me dead so that they can attain the post. What can I do? My death is not in my hands, but in the hands of god," a source quoted her as saying.
The source said that on hearing this, Bakshi "broke down". "Bakshi got really emotional, he was almost inconsolable…. He kept saying she needs to live a long, healthy life, for the sake of Bengal. She calmed him down," he said.
Clarity on the Nandigram MLA's political future remained elusive. He is likely to clear his stand over a news meet on Sunday.
But a source close to the Nandigram MLA said that irrespective of what was being said publicly, the state government and the party are "clearly trying to give dada (Suvendu Adhikari) the message that they want him to stay".
He cited instances such as the transfer of IPS officer Sunil Kumar Yadav, against whom Adhikari allegedly had grievances, from the post of East Midnapore SP on Friday. Yadav was replaced by Praween Prakash. Also, last month, IAS officer Vibhu Goel, whom the former minister "likes", was brought in as the district magistrate of East Midnapore.
A south Bengal MLA said Adhikari would be in Calcutta for a slew of meetings with key loyalists on Friday and might meet a senior BJP leader too.
Additional reporting by Anshuman Phadikar