Mamata versus Modi in rakhi rivalry
The battle is on between Trinamul and the BJP — this time ahead of "Raksha Bandhan"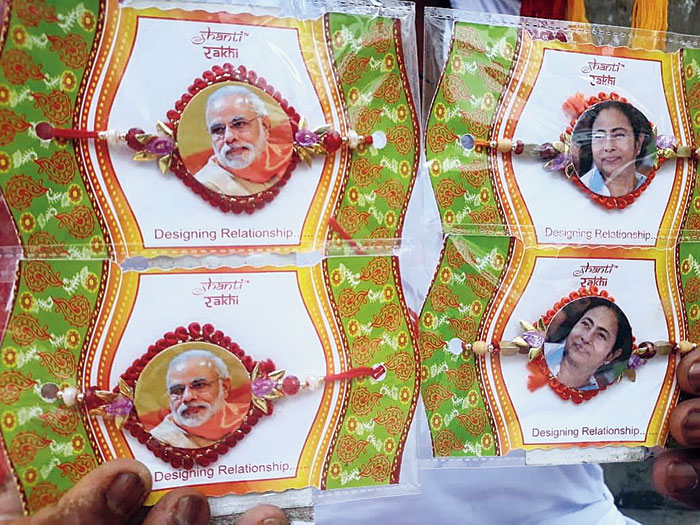 Rakhis with pictures of Modi and Mamata at a shop in Malda on Friday
Soumya De Sarkar
---
Malda
|
Published 09.08.19, 08:38 PM
|
---
The battle is on between Trinamul and the BJP — this time ahead of "Raksha Bandhan".

"Didi" rakhis are up against "Modi" rakhis in Malda. In Purulia, Trinamul leaders have stocked up on rakhis bearing "Jai HindJai Bangla," a slogan coined to counter BJP's "Jai Shri Ram" chant.
The Trinamul leaders plan to distribute these on August 15 when the festival will be celebrated this year.
The BJP has lined up rakhis bearing the "Jai Shri Ram" for distribution among people.
In Malda, "Modi" and "Didi" rakhis are the bestsellers this season, said Dhrupad Pramanik, a retailer.
"The idea struck me as Modiji and Mamata Didi are the most charismatic personalities of India and Bengal these days. They have innumerable followers and Malda is no exception. I made these rakhis with their pictures and sales have been brisk. Several people, particularly youths, are flocking to my stall," Pramanik said.
The rakhis, available in two varieties, are priced at Rs 10 and Rs 20.
Traders Ajit Ghosh and Kamal Mostafa have followed in Pramanik's footsteps. "Many people feel proud to wear rakhis with faces of their favourite leaders," said Ajit.
Ahead of the Raksha Bandhan this year, the Trinamul government has decided to distribute nearly 6.5 lakh rakhis, with "Jai HindJai Bangla" written on them in Bengali.
The BJP will hand out colourful ribbons with "Jai Shri Ram" written in Hindi and English .
"Using every religious or social festival by the BJP and Trinamul to show its strength has become a trend in Bengal and Raksha Bandhan is no exception ," said an observer.
In Purulia, such rakhis have been top draws. "We are getting good response to rakhis that have "Jai HindJai Bangla" and "Jai Shri Ram" written on them. Apart from political parties, common buyers are looking for them," said a trader.
Additional reporting by Binita Paul in Siliguri